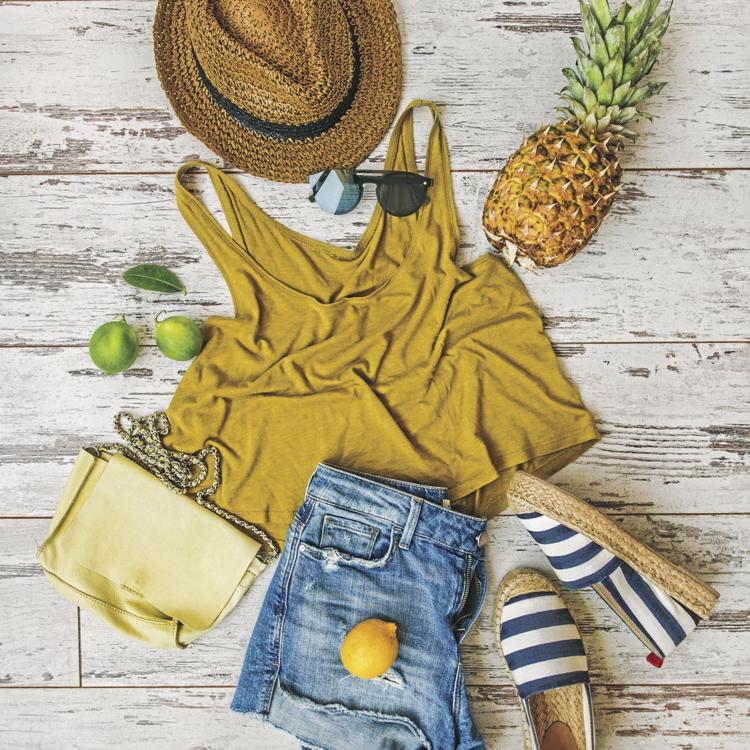 Now that summer is here, you are no doubt itching to step out of the house as restrictions are being lifted (as always, make sure you stay safe). During the summer it can often be a bit trickier to jazz up your looks because you don't want to pile on the layers when it's hot out. This means we need to spice up our outfits in other ways to create a more styled look that doesn't have too many parts. I've always been a huge fan of accessories because they're the easiest and least expensive way to bring your look together. I've summed up a couple of my best tips for sprucing up your outfits this summer while keeping cool.
Let your hair accessories out to play
Hair accessories have always been one of my favorite ways to enhance an outfit. I feel like a lot of people treat their hair like an afterthought but coordinating your hair with your outfit makes for a unified and fully styled look. There are always certain hair trends that are going on, and realistically it's the easiest way to up the "on-trend factor" for a basic outfit.
A few of the most current hair trends are barrette clips, headbands and scarves. I have all three of these accessories in my fashion arsenal. They come in handy when you need to do something to your hair in a rush, you want to change your look without doing something drastic or if you're just having a not-so-good hair day. Try adding one of these pieces to your next look and see the big change something so small can make. The right hair accessory can make a t-shirt and shorts outfit trendier and more fashionable.
Stack up on summer statement pieces
Summer is the perfect time to add some fun statement pieces to your look.
I'm a huge fan of straw hats and bags in the summer because they add that extra element of texture, and the bag's beachy vibe really helps your outfit match the season. This is something that is never going to go out of style either, so if you grab yourself a cute straw or wicker bag, you'll get wear out of it for years to come.
You should also try play around with color this time of year. If you're someone who loves spicing things up with a fun pop of color, then this is for you. Certain colors are on trend each season so you can follow that, but honestly any hue you like works as a way to make your look stand out. This season, yellows and neon shades are hot. You could easily incorporate some color into your shoes or handbag to enhance your summer look.
Go monochrome or go home
This last little tip is an easy one to implement. Monochrome outfits are trendy, classy and timeless. Pairing outfits together that are of the same color family, or one fluid color, and then adding a statement piece or hair adornment makes for a styled look that appears to be effortless. All-white outfits in the summer are perfect for something breezy and light. Then you can add texture with a bag or some contrasting color with a shoe to enhance your outfit.
As we safely venture back out into the world amid this pandemic, it's important to enjoy the little things to keep your mood boosted during such uncertain times. This summer use these tips to find joy in spicing up your outfits. They are simple to follow and will inject some fun into your everyday life. And you'll still look and feel as cool as a summer breeze.