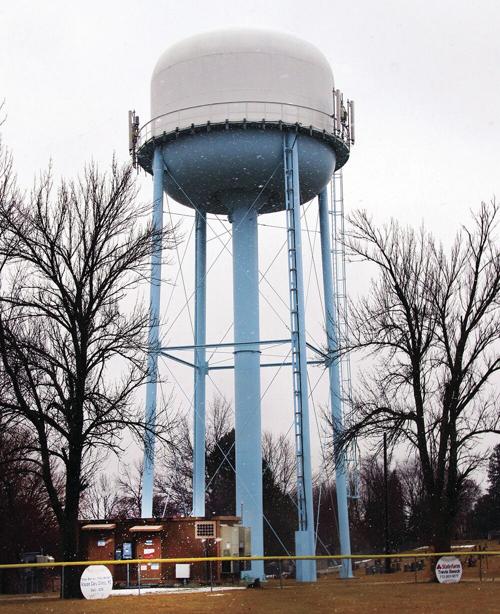 Issues with water pressure, fire-flow capabilities and water storage capacity are leading Denison Municipal Utilities (DMU) to the construction of a larger water tower on the northeast side of Denison.
But it will be a couple of years before a new tower is in operation because of the amount of planning, engineering and permitting work that must be completed before construction begins.
The new tower will replace the tower by the Little League/Senior League baseball complex just off North 24th Street. The existing tower, which has a storage capacity of a little less than 200,000 gallons, is located not far outside the left center field fence of the Little League field.
The proposed location for the new tower is not far to the north, near the Senior League field. The exact storage capacity of that tower has not been determined yet, but it will be between 500,000 and 750,000 gallons, said Jack Webb, manager of DMU's water utility.
For a size comparison, the capacity of the water tower near 4th Avenue North and North 16th Street is 500,000 gallons. The new tower may not be in the same shape as that tower but the capacity would be around that size, said Webb.
DMU's third water tower, which bears the "It's a Wonderful Life" statement and is located just west of North 18th Street in the area of Northside Rec, has a capacity of one million gallons.
A study done two years ago on the entire water distribution system is guiding DMU's planning process.
"We knew we had some shortcomings in some areas but we wanted to take a look at the whole distribution system to see what was needed, where it was needed and how to go about it in phases," said Webb.
"The biggest need is to increase the size of the tower in the northeast area because rural water feeds off that tower, and it's a small tower and a lot of water flows through there," he continued. "It would benefit us to have a larger tower for one thing, and along with that, if we would raise that tower, we would increase pressure in that area that is also of concern."
Webb said the results of the Water Distribution System Study indicated that the new tower would be approximately 63 feet taller than the existing tower, which is about 93 feet tall. The additional height will raise water pressures in the area by approximately 27 psi.
DMU General Manager Rory Weis said they looked at alternate sites for the new tower but found those sites would result in a loss of about 40 feet in elevation.
"When we're trying to increase water pressure, obviously that's not a good thing to lose elevation," he pointed out and added that the site being considered is key to the water system improvements.
You don't want to see your distribution areas get much below 35 psi anywhere, and we're just trying to boost it from that," said Webb. "Different areas will be affected differently according to elevations and pipe, but we know we need to increase the water pressure as much as we can."
Weis added, "If we can increase fire flows, it can improve the ISO (Insurance Services Office) rating, which will help people's property insurance rates."
A new water tower is Phase 1 of the equation to increase water pressure, fire flow capacity and water storage capacity for the northeast part of Denison. Phase 2, which will follow, primarily addresses the replacement of targeted water mains along with modifications to pressure zone boundaries, said Weis.
"There are a lot of old four-inch mains, as many towns have," said Webb. "That's the restriction we'd like to take care of in the future."
What's been described above takes time and also takes money, Weis pointed out.
Webb said, "We've been working for the past two years, since we got this report, on trying to figure out where we need to go with the tower.
"And we've yet to determine the location of the pump to serve the new tower. It can't be at the same elevation as the new tower because it needs to be downstream from that, at a lower elevation," he continued. "So we have yet to determine where that might be. Those things need to get done, and we don't know how long that might take."
The capital improvement plan for DMU's water utility has budgeted $500,000 for planning and engineering in fiscal year 2021-2022, $1.2 million in fiscal year 2022-2023 and $700,000 in the fiscal year after that, Weis explained.
The price for the new tower has not been estimated but Weis said it could be upwards toward $2 million.
Weis continued that the permitting processes needs to be done, including a construction permit approved by the Iowa Department of Natural Resources.
"We will be working through the permitting along with a consulting engineer," he said.
In the future, DMU will be selecting an engineering firm for Phase 1 of the project.
"Engineering is something that costs a lot of money, and we'll be sending requests for proposals to three or four firms," said Weis. "We want somebody that would be familiar with our water system and has done good work for us in the past, but we also have to look at the total cost."
The existing tower will be taken down, and DMU has no use for any of the parts.
Antennas belonging to communication companies are near the top of the existing water tower, and depending on a land trade between DMU and the City of Denison, the city could end up with the rent payments DMU has been receiving.
"We talked to the city about possibly swapping areas; none of that has been determined," said Weis. "If the city would take over the old spot, there's a potential for a communications tower going there that the city could get rent from, but all that is yet to be determined."
As DMU progresses with plans for the construction of a new water tower, updates will be provided to city officials.
Weis said, "We appreciate the mayor and city council working with us on the location of the new tower."