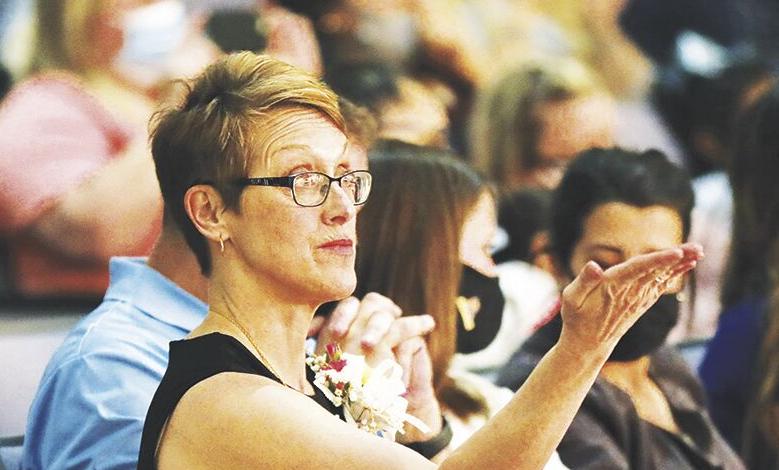 After 33 years of teaching, Ann Platt is set to retire when the current school year ends.
Platt is the transitional kindergarten (TK) through third grade music teacher at Denison Elementary School.
Her dad was a school superintendent and her mother was a music teacher – and she always knew she was headed for a career in education.
"I didn't know if it would be music but I liked the setting of being in a school," Platt said.
She grew up in Fayette and went to Luther College in Decorah.
"They're known for their music department and performance and education," she said. "I knew I did not want to be a performer; I'm a little bit too shy for that."
Platt took her first job as a teacher in Ida Grove in 1988.
She taught music for grades K through 5 and 9 through 12 for the first three years and then transitioned to just teaching high school for five years when the Ida Grove schools combined with Battle Creek's schools.
"I loved that setting and I especially loved the high school," Platt said. "But when I had my boys I decided I wanted to do a job that had more nine to five hours; high school is before school, after school, and weekends."
In the summer of 1996, Perry Bekkerus, former choir director at Denison High School, called and asked if she would be interested in an open position at the elementary school.
She called the school right away – and was told the interviews had already concluded.
"But they asked, 'Would you be able to come down today?'" Platt said.
She said yes and headed for Denison, where she met with Dr. Bill Wright, superintendent of schools, and Robert Meyer, elementary school principal.
Platt landed the job and went to work in Denison that fall.
"When I came here I taught kindergarten through fifth grade, which was all here at 20th Street when we were all in one building," she said.
When grades four and five moved to Broadway Elementary, she spent four or five years traveling between the buildings before she switched to TK through 3.
The kids initially received 40 minutes of music instruction every six school days, but she was able to convince the school district to increase that number by 20 minutes per week.
"Because of our strong high school program, especially, it felt to me a good time to keep fostering music," Platt said.
"That spoke volumes to me when they said yes. The school has really invested in our program and I am lucky and thankful for that. You just don't see that at other schools."
Platt said her own shyness has helped her understand the kids in her classes.
"People would not guess that I'm shy, but when it comes to singing in front of people it's sort of strange that it is not in my comfort zone," she said.
"When I look at kids who are willing and able and eager, at this young age, to stand up in front of people and sing, particularly a solo, I am in awe of it to this day."
She works to foster the confidence that allows students to perform in front of others.
"I wish we had opportunity to let everybody in elementary that feels that desire to get up in front and put themselves out there," she said. "There are way more kids that are wanting to do that than opportunities to give them."
She was often surprised when the students who seemed reserved or shy, who seemed content to sit in the back and listen, turned out to be the ones taking lead roles in middle school and high school productions.
"It's always a reminder to me that you just cannot discount anything from children," Platt said. "You just don't know what they are capable of or want to do. It's always a pleasant surprise."
The opposite is also true: some of the kids who shine in elementary school end up choosing other activities in high school.
"What I've learned is you can never tell with kids, so give them all the opportunities and they will find something that speaks to them," she said.
Teaching music has satisfied her own interests in music.
"When I taught at the high school what I liked was the caliber of music I could teach," Platt said.
"I take it as a personal challenge to relate with the kids, connect to the kids and get them on board so that the upper level teachers have those kids coming into the program eager and able to read music. My goal is not necessarily to foster the very best singers, but to foster a love of singing and wanting to be involved in it."
The strength of the middle school and high school music programs has helped her get the elementary school students excited.
Music teachers Patti Bekkerus (who retired a year ago), Tyler Schulte, Ruben Newell, Kandy Thompson, Mandy Lauderbaugh, Peter Bekkerus, and Claudia Rihner have shown kids that they have a complete music program to look forward to, she said.
"We have large numbers in our middle school and high school band and vocal programs," she said.
She points to the older students' performances to show her students what they can do in the later grades.
"It's easy when you have a strong middle school and high school program to be proud of," Platt said.
She thanked the school, the community and her students for the many years of memories they have provided to her.
Retirement will mean that she and her husband, Lynn, will travel to see family in the Des Moines area.
"They would love for us to get down there, and we will do that eventually, but for now I think the immediate future is going to find me letting Lynn retire a little bit from The Junkery (their antique store on Broadway in Denison)," she said. "I'll step in there because I'll have more time to be there working. Lynn will have more opportunities to fish and to read the paper. That's what we're going to do, for now."