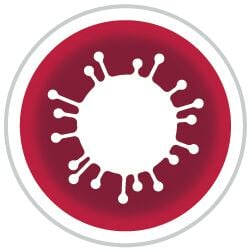 State's notification system source of frustration for public health director
The death of a fourth Crawford County citizen due to COVID-19 was announced by the Iowa Disease Surveillance System (IDSS) over the weekend.
Kim Fineran, director of Crawford County Public Health, said the individual was in the 61 to 80 age range.
She declined to give additional information due to privacy concerns.
Two of the previous Crawford County COVID-19 deaths were in that same age range; the fourth was an individual over 80 years old, she said.
Fineran said her office is notified of deaths through the IDSS but Crawford County Public Health is not a part of the process for determining COVID-19 deaths.
Death certificates are reviewed at the state level to make that determination, she said.
"It used to be if somebody tested positive – and passed away – they were giving us that notification right away," Fineran said. "Then they ended up having to take notifications away from places because it ended up not being due to COVID. Now they're waiting for the death certificates to process, and they're notifying us when the death certificates come through and indicate that COVID was a relating factor."
Crawford County Public Health is also not involved in local contact tracing of positive cases.
"The Iowa Department of Public Health (IDPH) is doing that for all of our positive cases," she said.
"If there are cases identified in the schools, we are helping with that process. We are not currently doing them for all of the cases."
Contact tracing involves looking at an individual's contacts and close proximity to other individuals.
Fineran said the state's notification system has been an ongoing source of frustration.
"We're not being notified of all of the cases in a timely manner and it just delays notification on our end to the school when those positive tests come through," Fineran said. "If we identify that they are school-age kids (with a positive test) and if it has been three or four days since that test – if it has just been sitting there and we didn't receive the notification – it just delays that process for everybody."
Fineran said the state is working on a new notification system that may help.
"I have access to the new system but I don't know how it works," she said. "They are going to be scheduling a training session for us but I don't know when the switchover is going to happen. Hopefully we'll see an improvement with the new system."
The current delay in notification allows time for an infected individual to infect others if the individual is not self-quarantined.
In May, Fineran reported to the Crawford County Board of Supervisors that many individuals don't self-quarantine while waiting for test results.
She said that is still an issue at this point.
"If you've been tested, stay home until you get your test results," she said. "Don't be out running around because if it comes back positive you've just contaminated a bunch of people."
Fineran said the only individuals who should not self-isolate following a test are those who were tested prior to a medical procedure as part of the process.
"We're not seeing a whole lot of pre-procedure test positives," she said.
Misinformation about the virus has complicated her job.
"When misinformation is rampant it makes people distrustful of the good things we're trying to do - and then it makes people less likely to follow those recommendations," she said.
"The virus itself is definitely not a joke. There are some people who have been very ill - and there are a lot of people who have not been very ill. We've seen the whole gamut of no symptoms, all the way up to hospitalized with very serious issues - and we have had deaths."
Centers for Disease Control (CDC) and Public Health guidance remains the same as it has from the start, she said.
"Keep your distance from people, stay home if you're sick, wash your hands and wear your mask," she said.
She noted that the recommendation for mask-wearing did not take place at the beginning of the pandemic – but is recommended now.
The CDC added the mask recommendation in early April.
Infected individuals may not show any symptoms but can still infect others, which is why social distancing is still necessary, she said.
"Keep your distance from people if you can," Fineran said. "I don't think we can say that enough."
She said continued outreach to the public is worthwhile if even one more person is reached.