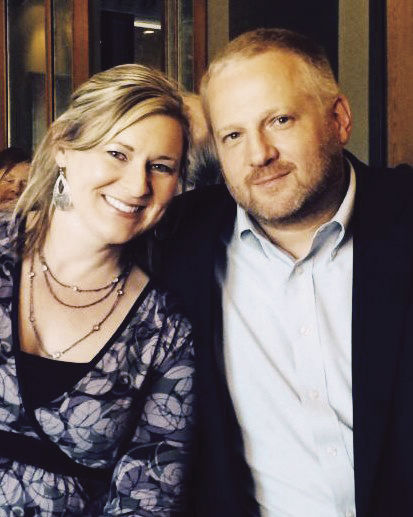 Brett Brodersen noticed something unusual while he was trimming his beard in November 2016.
"I noticed a lump on the side of my neck," Brodersen said. "It had no sensation; no discoloration. It was kind of hidden by the hair in my beard."
He could move the lump a little when he pressed on it, but there was no associated pain.
"I thought perhaps it was a fluid buildup of some type, so I went to my doctor," Brodersen said. "He said, 'Well, at least we know it isn't cancer,' which was ironic because it was and he didn't know it."
Over the next few weeks, the lump doubled in size.
"I could pinch it between my thumb and index finger and in early December I decided we should get it looked at by a second doctor," Brodersen said.
The second doctor ordered an MRI; the result was not good.
"They told me it was cancer in my throat and that it was already at stage 4," he said. "That will immediately set you into a panic when you don't smoke and don't drink."
The doctors told him the cancer should be attacked quickly and aggressively; their fear was that it would spread out and get away.
"The only logical place for it to go is down the throat and into the lungs," Brodersen said.
The surgeons located multiple tumors, but the cancer was restricted to his tonsils, throat and neck.
For two months following the surgery, Brodersen underwent dual treatment of radiation and chemotherapy.
"Much of my hair fell out and I dropped 85 pounds," he said.
He became "skeletal but still functional" and suffered severe discomfort, but the treatment was successful.
Hair doesn't grow on part of his neck where he received radiation, and he lost several salivary glands and taste buds in the process.
"Then it was a battle for recovery to good health and trying to put some weight back on and get my body back," he said.
"They were able, for the most part, to put me back to the way that I was."
Brodersen said that without immediate surgery and treatment, he would have been dead within a year.
Because the tumors were isolated to his throat, he had less risk of damage to his other organs due to the radiation treatment.
"They were able to shoot radiation fairly precisely into those tumors on my neck," he said.
Brodersen is considered today to be "provisionally cancer-free."
"You're not cancer-free until you have been tested consistently clear for five years," he said.
He was tested 90 days after the end of the radiation/chemotherapy treatment, again at six months and then again after 12 months.
"The really important ones are during those first 12 months," Brodersen said. "They want to look for any cancers that were small enough that they would not have been picked up by additional detection methods."
Between six and 12 months later the tumors would have grown large enough to be visible and would have been removed right away.
No additional tumors have appeared, he said.
His radiation/chemotherapy treatment ended three years ago, so Brodersen has another two years before he could be declared cancer free.
"I just count my blessings and live day to day," he said. "I'm very thankful that I was able to get treatment and that it was in a place where I could receive treatment without further endangering my life."
In the process, he became good friends with other fellow cancer survivors.
He also discovered that many people he already knew had gone through similar experiences with cancer.
"It was a lot more prevalent among friends and classmates than I ever knew until it happened to me," Brodersen said. "We rediscovered friendships based on cancer treatments and survivorship."
Brodersen had HPV (human papillomavirus), which can cause six types of cancers in men and women, according to the Centers for Disease Control (CDC).
A vaccine exists today for HPV; the CDC recommends two doses of the vaccine for all boys and girls ages 11 and 12.
Older children may need three doses.
The vaccination is recommended for individuals through the age of 26, according to the CDC.
The CDC recommends that individuals older than 26 speak with their doctor about possible benefits of the vaccine.
The HPV vaccine did not exist when Brodersen was in the age group for which it is most effective but he recommends that anyone with a child or grandchild in the recommended age range have the child vaccinated.
"It is simply a way to keep something that comes in like the common cold from developing into life-threatening cancer," he said.
Brodersen said his experience with cancer has changed his outlook on life.
He was always a "have things taken care of; plan for tomorrow, live for today" kind of person, he said.
"It makes me guard my time perhaps a little more stringently than I did before," Brodersen said. "It's very much about planning for the future and making sure that things are taken care of and that all the plans are made."
He tries to be thorough and efficient in everything he does.
"But always with the idea that there could be a repeat performance and one never knows how that might turn out," he said. "You plan optimistically and you live realistically."