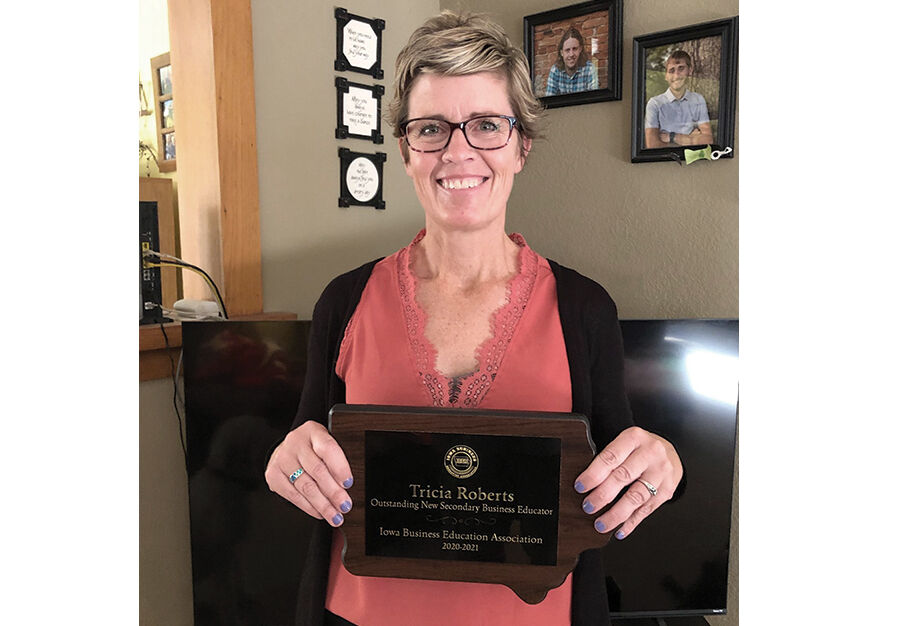 Tricia Roberts, Boyer Valley High School (BVHS) business teacher, was recently named the Outstanding New Secondary Business Educator for 2020-2021 by the Iowa Business Educators Association.
Carrie Kohl, a business teacher at Missouri Valley High School, nominated Roberts.
The award is presented to educators in their first or second year of teaching.
Roberts teaches seven different classes at BVHS: media productions (which includes the BVTV broadcasting livestream), career life skills, accounting, introduction to computers, introduction to business, marketing, and a business internship program in which her students are placed throughout the community.
In the second semester, she will teach accounting 2, entrepreneurship, and sales and merchandising.
She is now in her third year at BVHS.
Roberts said she has many philosophies of teaching.
"I do tell my students there's one thing that will always set them aside from the crowd," she said. "I tell them when they're in my classroom that I can teach them content; when they're at a job, a job can train them how to do the job, but nobody can teach them effort. Nobody can teach them how to try, how to care."
Roberts has a sign posted in her classroom that breaks the word "effort" into an acronym:
"E stands for enthusiasm, F stands for fun, the next F stands for failure because I expect them to fail and learn from it," Roberts said. "O stands for originality; I want them to have original work and be creative. R stands for resilience, and then T stands for tenacity."
"All students have different learning abilities but, for me, effort goes much further than getting a perfect score on a test because not everybody is capable of that," she said. "But if they give me their best effort, every single time, that's all I could ever ask for."
Roberts's career took many paths before it led her to BVHS.
She has a 1995 bachelor's degree in psychology from the University of Northern Iowa.
"I tell my seniors that if I had taken advantage of having some sort of internship or work-based learning to me in high school, I probably wouldn't have gone that route," Roberts said.
"I didn't really know until I got too far into it - and even then I didn't know what I wanted to do."
After several years in the business world, she decided she needed a business degree to be taken seriously by companies.
Toward that end, she attended Northwest Missouri State and received an MBA in 1999.
She spent the next 20 years in the business arena, with more than 12 of those years working for the same person.
"I lived in the Kansas City area for a couple of years right after graduate school and had a business mentor who I still talk about; I was fortunate to have her as a business mentor. I got to help her start and sell three different small companies," Roberts said.
"I was kind of her right-hand person, so I learned a lot about business along the way. When she sold the third company, I decided to go out on my own and that's when I started Check the Girls Foundation."
Check the Girls provides supplementary financial assistance for mammograms and other breast health examinations, and provides gas cards for people undergoing any type of cancer treatment and their caregivers.
She also provided small business consulting and taught small business owners about managing personal finances.
"People my age didn't learn that in high school," Roberts said. "There are some very basic principles we never learn about - and not having that foundation will start to affect how you run your business if you're not following some of those basic financial principles."
After 20 years in the business world, she decided she wanted to find something more fulfilling.
"My dad taught for almost 35 years – he taught high school science, physics – and I always said I would never be a teacher," she said. "Well, here I am."
Roberts was inspired to teach by a student she mentored a few years ago.
"She just needed some help getting to college and didn't really have anybody to help her do that," she said. "She inspired me to take that next step and want to become a teacher."
Her opportunity came when the former business teacher at BVHS retired two years ago.
"I had a lot of work experience; I was able to get what's called a CTE (Career and Technical Education) authorization, which lets me be a CTE teacher without having to get a full teaching license. I just had to take six additional classes to get my full CTE authorization," Roberts said. "The only downfall to that is it limits me in that I can't get any additional teaching endorsements or things of that nature; I would have to have a full-blown teaching license to do that, but that would require another couple years of school work, and I'm not sure I have it in me."
She started teaching at BVHS in the fall of 2019.
Roberts said she loves teaching personal finance to seniors at BVHS.
"I saw firsthand in the business world that if you don't have those principles, it can make running your own personal business a lot more difficult," she said. "I've always been a numbers person, so I would say my favorite classes to teach would be personal finance and accounting."
While those are her favorites, she likes teaching all of her classes.
"They all have different challenges," Roberts said.
Most of her teaching is through projects.
"I teach seven different classes and I only have books for one of them, which is my accounting class," she said.
Roberts gets projects from fellow business teachers and various nonprofit organizations that are set up to help educators.
"I try and create things that would be applicable to the real world," she said. "I like when they do things that are hands-on, versus just sitting there taking notes and completing a worksheet. I don't think they get as much from memorization as they do from completing projects and making things come to life."
Teaching has given her the fulfillment she needed, she said.
She appreciates the moments when students say "Ohhhh" because they understand.
"That's when the lightbulb goes on," she said.
Teaching is the most challenging and the most rewarding job she has had, which she said is a lot like parenting.
"You're not just teaching; sometimes you're acting as a pseudo-parent, a psychologist, a counselor, a nurse, a friend; all those things on any given day," Roberts said. "If teaching content was my only job, my gosh, my job would be a lot easier, that's for sure, but those are also the things that make it so much more fulfilling because it's an opportunity to build good relationships with the students."