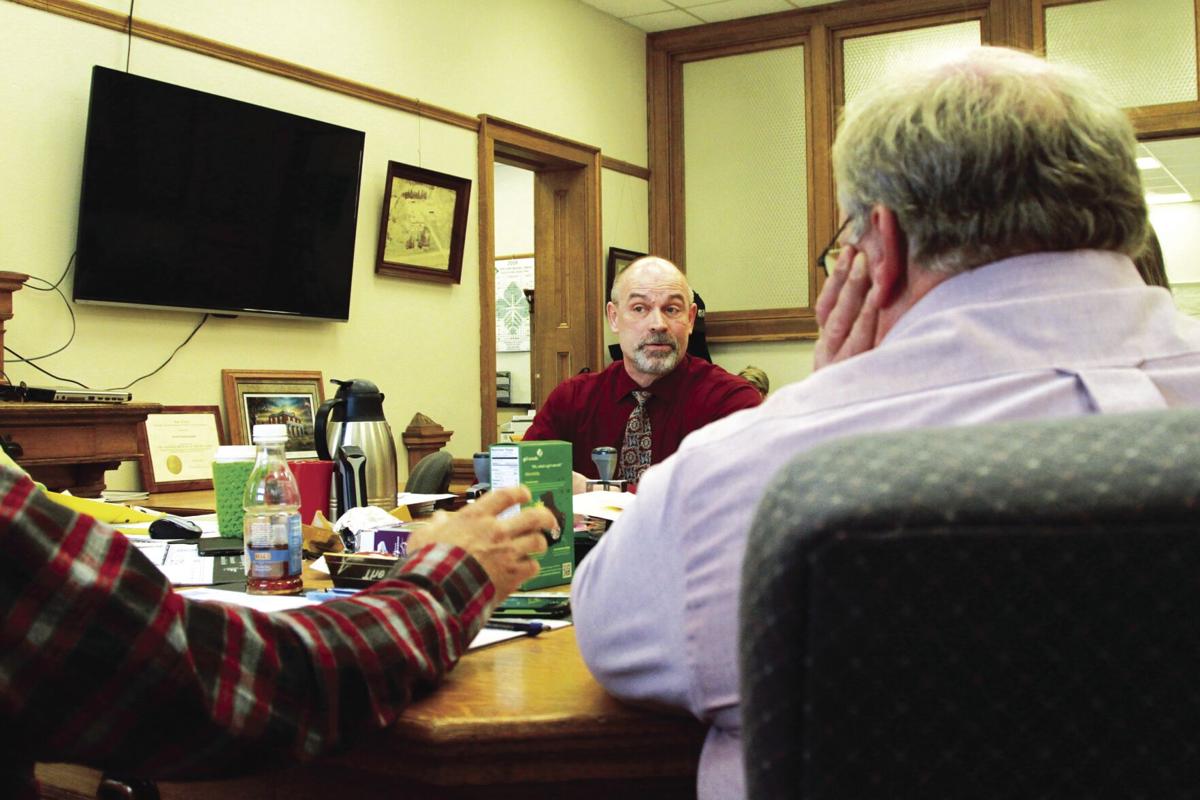 Glen Barngrover, Juvenile Court Services (JCS) officer for the Third Judicial District in Iowa, has decided to retire from his position on October 30.
He has been with JCS for nearly 34 years.
The Crawford County Board of Supervisors on Tuesday invited Barngrover to visit with them during their regular meeting.
Chairman Cecil Blum said the supervisors wanted to recognize his work for the county over the years.
Blum and Barngrover have gone head-to-head on several occasions concerning the JCS budget, but the discussion on Tuesday was in good spirits.
"It's just kind of ironic that you and I are going to retire at the same time - so you're going to lose your number one nemesis," Blum said, which caused laughter around the supervisors' table.
"That isn't the reason I'm retiring, though," Barngrover responded, bringing more laughter.
Supervisor Dave Muhlbauer asked if anything about his 34 years stuck out in his mind.
"Good or bad?" Barngrover responded, bringing yet more laughter.
Barngrover said that when he started in the job, the JCS office had no relationship with the schools.
"One of the biggest changes is that there are open-door policies at the schools, so I know all the principals," he said. "We work hand-in-hand with these kids instead of everybody going their separate ways."
He said that was one of the biggest positive changes during his tenure.
"Children spend eight hours a day in school, so the school has a wealth of information we can work with – and work to better these kids' lives," Barngrover said.
He noted that children today exhibit more defiance to authority and have a belief that they don't have to follow rules.
"Which is a lot different from when I started; it's a whole new mindset with the kids," he said. "Social media has not been a good thing, in my opinion."
"I think you've brought an even hand to the department," Blum said. "We applaud your efforts and we appreciate what you've done."
Barngrover said he enjoyed bringing a little humor to faces at the courthouse.
"I will miss all the people," he said.
Barngrover spoke with the Denison Bulletin and Review on Wednesday about his experiences at JCS and his decision to retire.
"I got started in a college work-study job at the Boys Club in Sioux City when I was a student at Morningside College," he said.
He worked there for two years and then took a job for three years at the Crittenton Center in Sioux City, which is a shelter for kids.
"I was the first tracker," he said. "Trackers go out and monitor kids' progress, check on them, do curfew checks and things like that. That is when I got involved in juvenile court. I did that for about six months and then this position in Denison opened up and then I came here."
Barngrover said he used a typewriter when he started – and the technology has changed immensely over the years.
"The actual working with kids part – that's still the same," he said.
"Children are charged with crimes, they're referred to our office and then we work from there to help them resolve whatever issues they may have."
The JCS services are all-encompassing, he said.
"We take a look at how the child is doing in school, how the child is doing in the community, what are some of the issues that are going on at home, and try to help resolve those so the family is working together and the child is being more successful wherever he or she may be," Barngrover said.
Some new programs have been brought into use over the years - and the state is streamlining programs so everyone is operating the same way, he said.
"But it's still the same – you work with the children and the families and try to resolve the issues they're having and hopefully rehabilitate the youth," he said.
Barngrover said he has received satisfaction from the job.
"I wouldn't have done it for 34 years if I didn't," he said.
He has been working with kids for almost 40 years when his time in Sioux City is included, he noted.
"There's satisfaction to helping children turn their lives around," he said. "Some of them are headed to prison or worse – and if that can be avoided there's a lot of satisfaction to that."
He said not every case has a happy outcome - and then kids graduate to the adult court system.
"But most of the kids I've worked with over the years – the huge majority of them – have gone on and done well for themselves," Barngrover said.
His sense of humor helped him do his job.
"If you don't have a good sense of humor you don't last very long in this field," Barngrover said. "There are the times to be professional and there are times you can loosen up a little bit."
Visits to the supervisors were times that called for the professional demeanor.
"That's one of those times, because I'm usually there asking for money," he said.
"There are a lot of times though… sitting down with the children in here is basically having a conversation with them about where they're going, what they're doing and how to resolve problems. It doesn't have to be a really strict regimen of how do you do this and how do you do that."
His plans for retirement changed when his wife, Coleen, passed away in April.
"So it's me, now," he said.
He'll retire to his acreage, which he calls the Farmgrover Funny Farm.
He plans to work with a neighbor who builds homes all around the county.
"I'm going to do some carpentry work for a while," he said.
In the spring, he plans to get on his Harley Ultra Classic to do some traveling.
"There are parts of the country I'd like to see, yet," Barngrover said. "I'll go see the grandkids; some are in Red Oak, and Omaha, and some are here in town, and then kind of do my own thing."