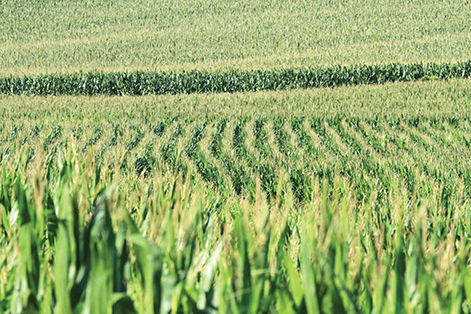 "The rain was about the best thing we could have possibly asked for," said Mike Witt, Iowa State University Extension and Outreach field agronomist for Crawford, Carroll, Greene, Shelby, Audubon and Guthrie counties.
Rain fell across Crawford County for several days about a week and a half ago.
"The crops – especially corn – were just starting to get into pollination season," Witt said. "Tassels have started to pop across the area and we're getting into the time in which crops need the most water of any other time. For pollination and silk development, as well as the start of kernel development, that rain hit us at about the best time possible."
Witt said he is cautiously optimistic about the corn crop at present.
"The corn crop is actually looking pretty good across the entire area," he said. "We've been riding that ridge of getting just enough water so we're not running into any issues."
Crawford and Shelby counties are in drought stage D0, which denotes "abnormally dry" conditions.
Carroll and Audubon counties are in D1, which is the first stage of drought; Harrison and Monona counties are not in drought conditions, but Greene County is in D1/D2, he said.
Corn that experienced curling in the hot days of early June may be slower developing – but is still coming along, Witt said.
Soybeans are in the R3 growth stage in which pods are developing, he said.
"Soybeans have been helped also by this rain," he said. "They've put on a lot more size."
August is when soybean pods develop and yields will be determined.
"We'll need rain in August," Witt said. "The crops are going to keep needing it and they're going to be utilizing it faster. We need to keep hosing shots of rain every week or two."
He said the soil has moisture now – and enough rain arrived earlier in July that the crops might be OK without any more.
One problem of note for the soybean crop is widespread damage from the herbicide Dicamba.
"It's been just pretty bad this year," Witt said.
He said the USDA has reported a 200% increase in Dicamba use across the Midwest this year.
Even when applied correctly, Dicamba can volatilize in hot weather and drift off crops, Witt said.
Not all soybean damage is due to Dicamba – but about nine tenths of it is, he said.
The damaged soybeans appear grayish and exhibit cupping.
"It's pretty easy to see around the area," Witt said.