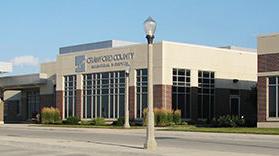 At a public hearing on the matter on Monday afternoon, the Crawford County Memorial Hospital (CCMH) Board of Trustees voted to reduce the hospital's tax levy rate from the current $1.74461 per $1,000 of taxable property to a rate of $1.69872 per $1,000.
Chairman Jay Mendlik said the reduced rate would result in CCMH receiving a dollar amount of $1,971,653.
Trustee Tom Gustafson noted that the trustees had considered the matter at the January meeting of the board.
He said the increase in county property values would result in the hospital receiving approximately the same amount in the next fiscal year as in the current year.
"It would be a wonderful idea to be able to not have to make a tax asking," Gustafson said. "I don't think there is anybody on the board that would disagree with that, but that, unfortunately, in this world and in the hospital business, it's not a reality. Not now."
He said he hoped some day the tax asking would not be needed.
"I think what the board is proposing, under all circumstances, is fair, necessary and reasonable," Gustafson said.
"I, for one, would support and suggest the adoption of what has been proposed."
CCMH CFO Rachel Melby explained in the January meeting that CCMH levies for funds to help pay for the ambulance service and for the Iowa Public Employees' Retirement System (IPERS).
Even with approximately $316,000 in tax proceeds levied for the ambulance service, the service still loses about $200,000 per year, she said; IPERS typically costs the hospital about $2 million per year.
As a public entity, CCMH must participate in IPERS, which Melby noted has been the rationale in the past for levying for funds to pay for it. She also noted that some public entities don't operate an ambulance service.
After Gustafson spoke, the trustees voted 6-0 to approve the new levy rate. Trustee LaVerne Ambrose was not in attendance.