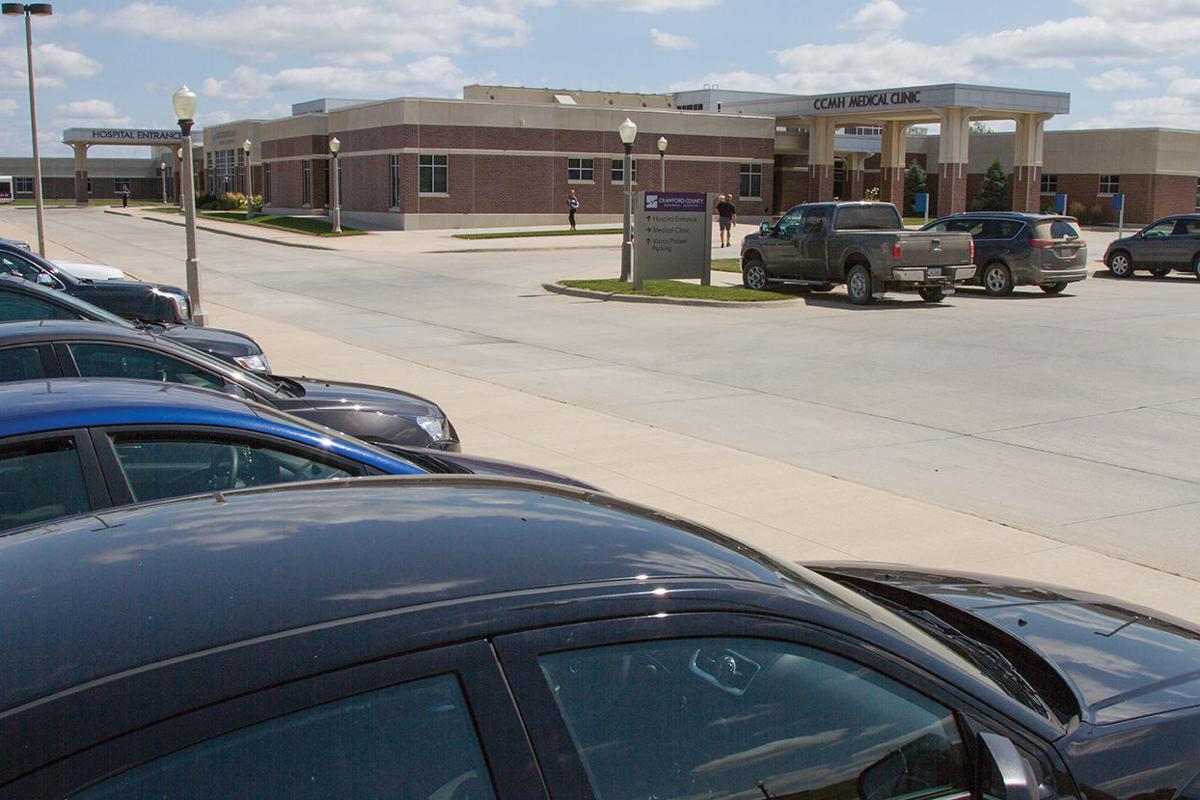 "When we first started seeing a lot of (COVID-19) positives within our community, about 70 percent of the tests we were running were coming back positive," said Crawford County Memorial Hospital (CCMH) President and CEO Erin Muck. "That has flipped the other way. Now we're seeing about 30 percent of the tests that we're running come back positive."
Though that decrease in positive cases is welcome news, Muck noted that CCMH has seen an uptick in positive cases in recent days.
She said the increase could be because of the relaxing of social distancing rules, but it could also be just an anomaly of the testing numbers.
"We'll watch and see how it's going," Muck said.
She said the number of positive COVID-19 cases the hospital has seen has been very manageable for the hospital, the clinics and the emergency room.
As of Thursday, CCMH had tested a total of 564 people; 179 were positive for COVID-19; 367 were negative and the results of 18 tests were pending.
CCMH was treating one COVID-19 inpatient as of Thursday; the patient was one of eight patients being treated for the virus in Regional Medical Coordination Center (RMCC) Region 4, which includes Adams, Audubon, Cass, Crawford, Fremont, Harrison, Montgomery, Page, Pottawattamie and Shelby counties.
"A lot of them have been able to manage at home," Muck said. "We do occasionally get pretty sick people."
CCMH has been able to do COVID-19 antibody testing for about the last two weeks; that type of test determines if an individual has already had the virus.
A physician's order is required, but Muck said individuals do not necessarily have to be seen to get an order.
Because antibody testing is new at CCMH, the staff is still unsure if it will be covered by healthcare insurance because a billing cycle has not been completed yet.
Insurance companies have been paying for the COVID-19 viral tests, Muck said.
CCMH has assigned a $120 cost to the antibody test if it is not covered by insurance; $95 for the test and $25 for the blood draw and lab.
The hospital currently has adequate supplies of personal protective equipment (PPE) and has taken steps to assure a supply of potentially scarce items, Muck said.
"There is a shortage across the entire United States of gowns and we know that eventually we may run out of them, so we have been making waterproof reusable gowns," she said.
The first batch of gowns was made with the assistance of several community members.
The CCMH surgery staff has made two additional batches.
"We have some amazing sewers on our staff, so when they are not fitting in surgeries they are making gowns," Muck said.
CCMH now has a good supply of gowns.
With the reopening of most venues and businesses in Iowa, CCMH is not changing the entry procedure for individuals visiting the hospital.
"We are continuing with the same we have had," she said. "We are screening at our front entrance and that entrance is closed when the clinic is closed. We are also screening at our ER entrance."
CCMH will continue to have "well clinic" hours in the morning and "sick clinic" hours in the afternoon.
The current hours are 8 a.m. to noon for the well clinic and 1 to 4:30 p.m. for the sick clinic.
Muck said CCMH will extend the well clinic hours until 2 p.m. and begin the sick clinic hours at that time starting Tuesday because appointments in the well clinic are filling up.
"It's a good sign," she said. "We're seeing fewer sick people than well people."
Members of the public should not become complacent about the COVID-19 pandemic, Muck said.
"I think we need to remain vigilant," she said. "We are seeing a downturn right now but it could easily go back up. We'll be watching what the relaxing of social distancing will do to the numbers."
Fall and the normal flu season are not that far off, she noted.
Positive case numbers are going up in some states and down in others, she said.
"We all need to remain vigilant with handwashing," Muck said. "If you are not able to social distance, wear a mask, especially going into buildings. If you can social distance you should still do it."
She said she would continue to hope for the best but the hospital will remain prepared for the worst.