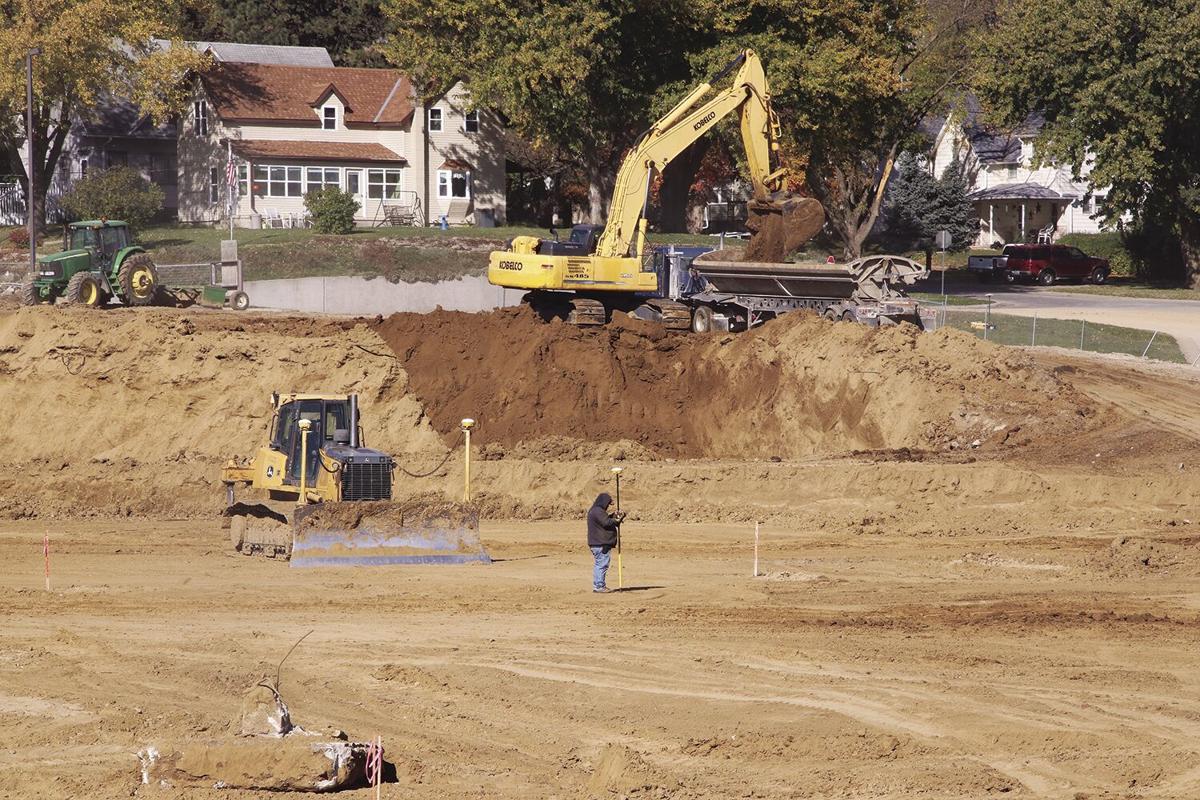 Evan Blakley's message at the annual business appreciation breakfast, hosted by the Chamber & Development Council (CDC) of Crawford County, was one of progress superimposed against a backdrop of obstacles created by the coronavirus pandemic.
This year the annual event was conducted virtually over Zoom, and Blakley, the CDC's executive director, showed a number of photos that depicted progress in the county.
"We talk about 2020 and all the jokes of what a terrible year it's been in many ways, and I can't disagree on a lot of those points, but I have to say we're pretty resilient here in Crawford County," Blakley said. "We're finding ways to innovate and move ahead, and the projects that we have seen planned in the community are moving forward. I think that deserves to be celebrated."
The largest project is Eventide's new skilled nursing facility. That project is nearing the end of the dirt-excavation phase. The groundbreaking for the $18.5 million, 84-resident facility took place on September 24. The excavation work began in late August. Completion is anticipated in December 2021.
"It's an amazing accomplishment and something we've needed in our community, as we see more citizens age and the need for different types of care," Blakley said of the Eventide project. "It's amazing to see this skilled nursing facility and the investment that will be made in our community. Seeing the plans and vision behind it, I know it's going to be phenomenal."
Blakley also spoke about the survival of small businesses during the shutdown for the pandemic.
"At the beginning of the shutdown I was pretty despondent about our small retailers and our small businesses, and I thought, thankfully incorrectly so far, this is really going to be the death knell for some of our small businesses.
"In fact, it seems that's the not the case and a lot of our businesses, smaller businesses, are doing quite well," he said.
Blakley attributed this to people traveling less, not wanting to drive to the city and wanting to stay safer and close to home.
"So we're seeing actually a resurgence of our central business district in downtown Denison, the largest community, and so this is where a lot of our smaller retailers are thriving," he continued.
He spoke about the lack of business buildings for rent on Broadway, and talked about new businesses start-ups, like Totally You Boutique.
Following are other points of progress Blakley made during his presentation.
 The restoration projects on two large houses near downtown Denison. One is the L.M. Shaw mansion at the corner of 1st Avenue South and South 15th Street. Ken Kahl took possession of the house last year and has been restoring the building since then. The other is a house at the corner of South Main Street and 3rd Avenue South. Richard and Cathy Christiansen purchased this house and have been restoring it. The houses had been in the Robert Janett Estate.
 The addition of a cabin at Yellow Smoke Park, through the efforts of the Crawford County Conservation Board, and the addition of a cabin at Nelson Park, through the efforts of Ben and Amy Segebart, in memory of their son, Kolton.
 The renovation of the mini golf course at the Denison Aquatic Center
 The construction of a new office and shop facility for Black Hills Energy at Valley View Business Park, near Yellow Smoke Road east of Denison. Valley View Business Park is a CDC project, said Blakley, and added that only two lots remain in the park. "We still own those two lots for future development, so now it just feels like a matter of time that those other two lots will be developed as well."
 The shop for Phil's Lawn, Landscaping & Nursery, located near GCC Alliance Concrete on 13th Avenue South. A Frito Lay distribution building is near the Phil's Lawn, Landscaping & Nursery shop. "We saw the Development Unlimited property - people were thinking is anything ever going to happen there," said Blakley. "These investments for the future are paying off. Sometimes they take a little bit longer than we would hope."
 Population growth as a component of economic development. "Historically, the community of Denison has seen a lot of progress (in population growth). It grew by more than 14 percent since 2000 and the county was ticking up for a while there, too," said Blakley. He added, though, that the population growth is slowing. "We need to focus on fixing that. We need to keep our population growing because we need to bring new workers into our workforce." He said the community is anxiously awaiting the results of the 2020 Census.
 A growth trend in retail sales from 2016 to 2017, following by a more than 12-percent increase in 2018. "That's phenomenal, and I was very pleased to see that from 2018 to 2019 we saw another very large increase," said Blakley. "My prediction now, and we have to see how things have played out, is I think we'll see another increase for 2020 even with the pandemic, because I think more people were shopping locally, and with all the stocking up."
 Substantial wage growth. "Some of that, unfortunately, is driven by a lack of workforce," said Blakley. "It's a double-edged sword. We love it when our workers are making a great living wage. They're spending that in our local businesses, but there's a balance there where our employers are happy and profitable as well." He said different large employers in the community have increased their wages to $17-$18 and in at least one case, $20 an hour for unskilled labor. He added the concern persists that employers can't find enough unskilled and skilled labor to fill their job openings. "We've got to do a better job of drawing people to the community," he said.
 The Gifts of Hope gift card promotion earlier this year put checks totaling $103,000 into the hands of local businesses, primarily ones that were struggling the most during the shutdown. Sponsors provided a $10 bonus to the gift cards.
 The workforce picture as of August (the most recent available data) shows Crawford County doing a little bit better than surrounding counties because the county has a little more workforce available, Blakley explained. He added that nobody wants people to be unemployed but when the unemployment number is at zero, the lack of available workers is a deterrent to businesses. Blakley said an optimum range is 4.5-5.5 percent unemployment. As of August, Crawford County was at 5.5 percent, a little lower than the state average of six percent. "That being said, we're struggling for workers," he added.