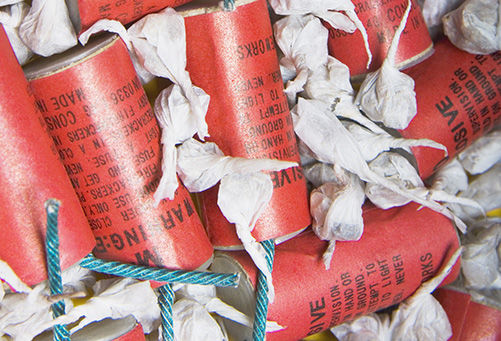 Just more than two years after debating and setting the days and hours that fireworks can legally be set off in Denison, the city council made a move Tuesday to ban the devices altogether and requested that the city attorney draft an ordinance amendment to that effect.
Councilman Corey Curnyn had requested the fireworks discussion be placed on the agenda and proposed banning their use in the city limits.
He said the number of fireworks complaint calls he received this year were numerous compared to last year's complaints.
"They (fireworks) were supposed to be July 3 and 4. It started the week before and went on days after," he told said.
Curnyn had requested Police Chief Dan Schaffer to research fireworks complaint calls from police departments in towns comparable to Denison. He said the police chief reported 51 calls for Denison, about the same number of calls received by Carroll's department; Carroll has a ban against the use of fireworks in the city limits.
The use of fireworks in Iowa became legal in 2017, with sales of most consumer fireworks from June 1 through July 8 and from December 10 through January 3. Local governments cannot prohibit sales but can limit where fireworks are sold and can limit the use of fireworks within their jurisdictions up to and including a ban.
After discussing the use of fireworks a number of times in May and June 2017, the Denison City Council adopted an ordinance to allow the legal discharge of fireworks from 1 to 10 p.m. on July 3; 1 to 11 p.m. on July 4; 1 p.m. on December 31 to 12:30 a.m. on January 1; and 1 to 10 p.m. on January 1.
Before they arrived at that point, council members had proposed a number of broader times for use but decided it would be better to start out more restrictive than lenient.
Along with the time and date restrictions, the council also set geographical restrictions, which Councilman Nathan Mahrt pointed to on Tuesday when he agreed with Curnyn to ban the use of fireworks. Mahrt had also agreed with Curnyn to have the item placed on the agenda.
"The way the code is written there are very few places in town where you can set off fireworks," Mahrt said.
The code says fireworks cannot be discharged closer than 50 feet from an occupied structure and cannot be discharged on city-owned or public property without the authorization of the fire chief.
Schaffer, who was not at Tuesday's meeting, left a message with City Clerk Lisa Koch about the agenda item. Koch said Schaffer would be in favor of not allowing fireworks because of the distance requirements, because people really don't know where to shoot them and because it is difficult for officers to enforce.
The banning of fireworks would not extend to novelty fireworks, which were allowed before the law changed in 2017 and still are allowed now.