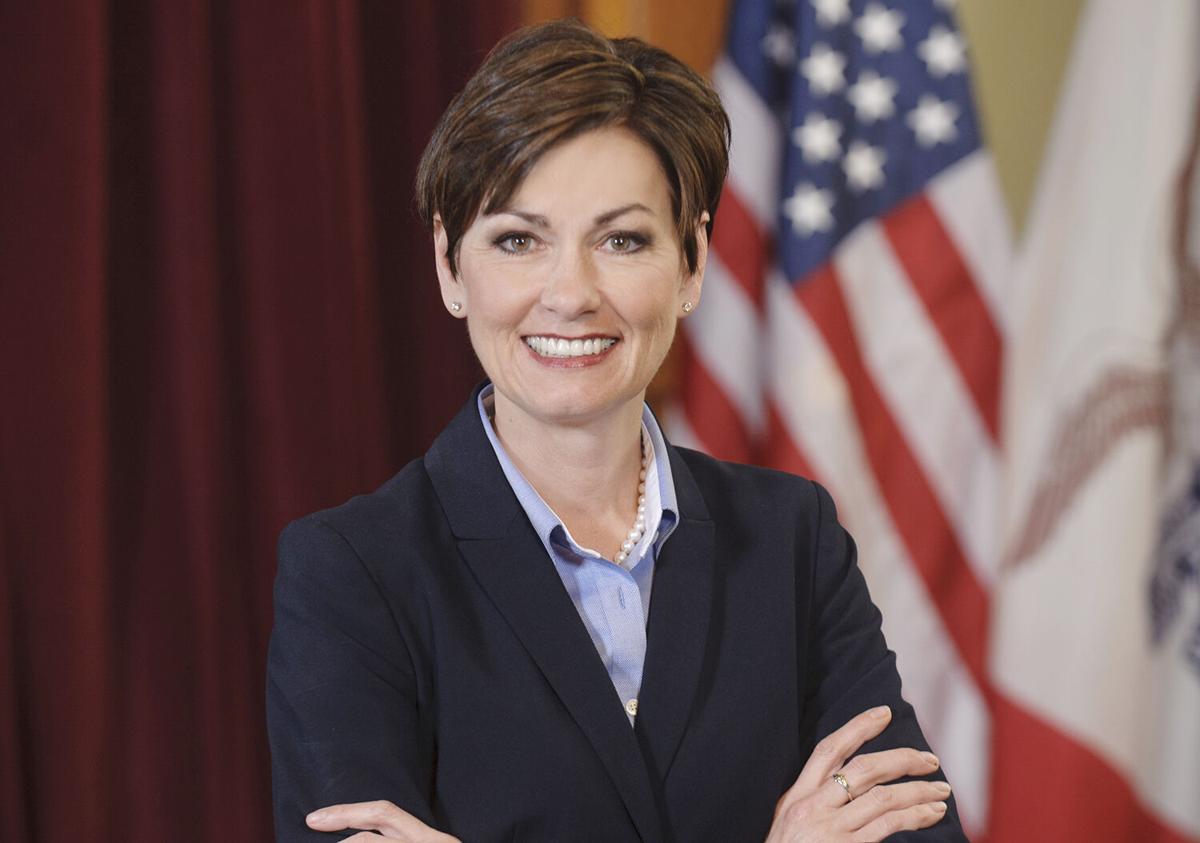 Gov. Kim Reynolds on Monday evening detailed new measures designed to slow the spread of the coronavirus in Iowa.
The new measures were set to take effect at midnight last night.
"Our state, like so many across the nation, is seeing a significant increase in the spread of COVID-19," Reynolds said, "and right now the pandemic in Iowa is worse than it has ever been."
The following are the new measures enacted by Reynolds.
 Masks are required when individuals are within six feet of one another for 15 minutes or longer in indoor spaces open to the public, and in state executive branch buildings.
 Social, community, business, or leisure gatherings are restricted to no more than 15 people indoors and no more than 30 people outdoors; these restrictions apply to wedding receptions, family gatherings, conventions, and other nonessential gatherings but do not apply to gatherings that occur during the ordinary course of business or government.
 Youth and adult group sporting and recreational gathering are prohibited, except for high school, college, and professional sports.
 During high school and extracurricular events, only two spectators will be permitted for each high school athlete, performer or competitor; spectators must wear a mask and maintain six foot distance from other spectators.
 Students may be closer than six feet and are not required to wear masks.
 Restaurants or bars, including a wedding reception venue, winery, brewery, distillery, country club, or other social or fraternal club, will close to in-person services at 10 p.m.
 No bar seating will be allowed; masks are required when individuals are not seated (while playing games, dancing, etc.)
 Six feet distancing must be maintained between groups; groups are limited to eight individuals unless a larger group is all from the same household; individuals must be seated when eating or drinking with limited congregating.
 Group fitness activities are prohibited at fitness centers, health clubs, health spas, and gyms.
 Masks are required, except when seated to eat or drink, at casinos and gaming facilities.
 Bowling alleys, pool halls, bingo halls, arcades, indoor playgrounds, children's play centers ("closer/prolonged contact establishments) will close to in-person services at 10 p.m.; masks will be required when not seated to eat or drink. Groups and individuals are to remain six feet apart at establishments. Groups will be limited to eight people unless larger group is all from the same household.
 Each hospital must reduce its inpatient, nonessential surgeries to a level that uses at least 50 percent fewer beds than that hospital did on average during September 2020.
"Over the last two weeks there have been more than 52,000 new cases of the virus in Iowa - and to put that into perspective we had the same number of cases from the beginning of the pandemic in March to mid-August," Reynolds said.
Because some Iowans have had mild cases of COVID-19, a complacent mindset has been created, she said.
"Because of the increase we've seen over the last two weeks, our healthcare system is being pushed to the brink," she said. "The number of Iowans in the hospital with COVID-19 has doubled to the point where one out of every four hospital patients has the virus."
As cases continue to climb, hospitalizations will also grow at a similar pace, she said.
New daily hospitalizations, which were approaching the 100-per-day mark in late October, have now topped 200 per day just a few weeks later, she noted.
"If our healthcare system exceeds capacity, it's not just COVID-19 we'll be fighting; every Iowan who needs medical care will be put at risk," Reynolds said. "If an ambulance is transferring a COVID-19 patient, it may not be available to respond to an accident on a rural county road. If hospital beds are full, a loved one who suffers a heart attack or a stroke may have to be transported miles away to receive life-saving treatment."
Other life-saving treatments will also be at risk, she said.
"That's why I'm talking directly to you tonight to ask for your help, not just as your governor, but as a daughter, as a mother, as a grandmother," Reynolds said. "It's up to all of us so that the worst-case scenarios that I just described don't become a reality."
She said the new mitigation measures were designed to have the potential to make a significant impact in a relatively short amount of time.
"That doesn't mean that these changes will be easy or popular, but they're necessary if we want to keep our businesses open, our kids in school and our healthcare system stable," Reynolds said.
The new measures will be reassessed in a week, and additional measures could be added based on hospital capacity at that time.
"I don't want to do this, especially as we're coming into a holiday season that is normally filled with joy," she said. "I cherish Thanksgiving with my family, and this year we're postponing that. My children and grandchildren will not gather together in my home as we do every year and as I'd hoped that we would do this year, but it's to keep them safe and it's to keep you safe."
Reynolds asked that Iowans work with her and think of their family, friends and other Iowans.
"Think of the healthcare heroes who have been taking care of us since the beginning of this pandemic," Reynolds said. "I know that it's been a long eight months, but there is light at the end of the tunnel."
She said she is hopeful that a vaccine will soon be available.
"But until then, it's important to step up and slow the spread to make sure that Iowans stay safe and to make sure that our hospitals can treat everyone who needs care," she said.
The new measures are not about mandates and government, she said.
"There isn't enough law enforcement in the country to make sure that every Iowan is wearing a mask when they should. There aren't enough sheriffs in Iowa's 99 counties to shut down every non-compliant bar," Reynolds said. "If Iowans don't buy into this, we lose. Businesses will close once again. More schools will be forced to go online, and our healthcare system will fail and the cost in human life will be high."
She said now is the time for Iowans to come together for the greater good and look out for each other, not because they're told to, but because it's the right thing to do.