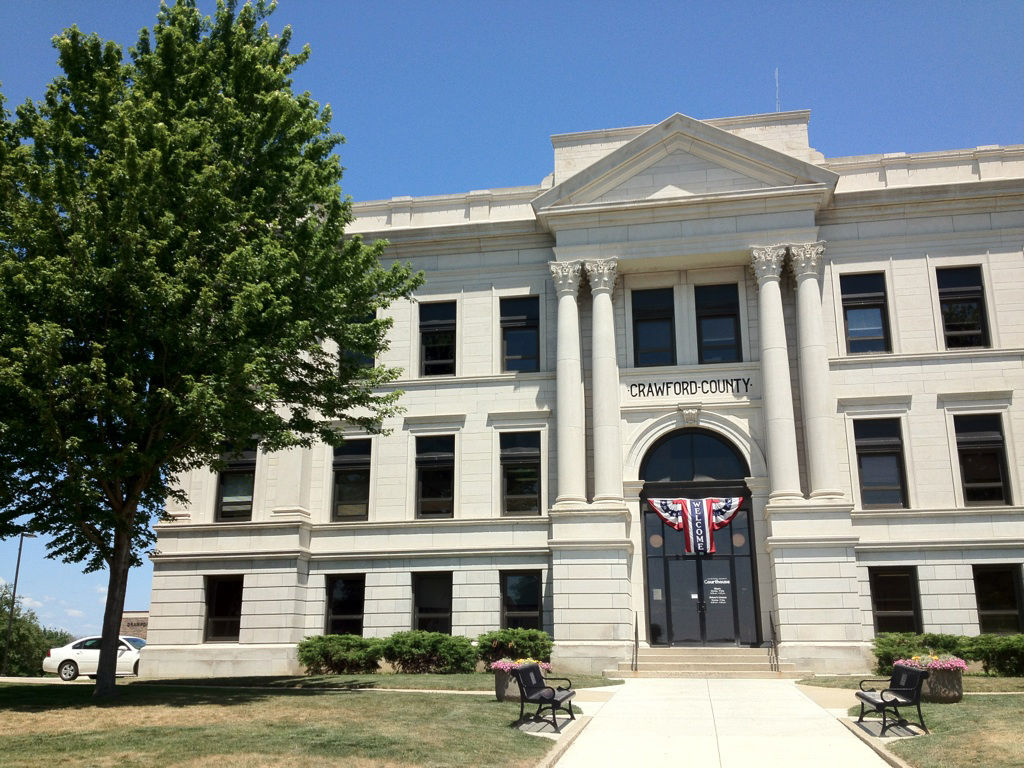 Jason Schultz, 9th District Iowa State Senator and Steven Holt, 18th District Iowa State Representative, visited the Crawford County Board of Supervisors meeting on Tuesday to discuss the issue of county employees' rights to carry guns in the courthouse.
At their July 21 meeting, the supervisors discussed a change to the county employee handbook due to legislation passed this year that allows anyone with a permit to carry a weapon in government buildings.
Current handbook language restricts county employees from carrying guns in the courthouse and in county vehicles.
The supervisors took no action last week and asked for additional information from the county's human resources consultant.
The lengthy discussion on Tuesday is edited and condensed in the account below.
Board of Supervisors Chairman Cecil Blum said he had received an email that raised a new concern. The email sender said that individuals can't wear a mask and carry a concealed weapon at the same time.
Blum said he had spoken to the sheriff's office about the question and was awaiting an answer.
Jason Schultz said he had seen the issue of masks and concealed weapons on Facebook but he said he had not heard of it in Iowa Code.
Supervisor Dave Muhlbauer asked if a bill from the Iowa Senate, that Gov. Kim Reynolds could sign, would give local authority over the courthouse back to the supervisors.
Jason Schultz said there isn't such a bill concerning firearms.
He said he and Holt were there to answer questions about the state preemption (that nullifies local control on the issue).
"We actually ran the bill in each chamber," he said. "So you have the floor manager of the House and the floor manager of the Senate here."
House File 2502, which was signed into law in June, was the latest of a series of preemption bills.
"The state has made it clear for 30 years that firearms regulation will happen at the state level," Jason Schultz said. "The first time was in 1990 - then people kept eroding away at it."
The state attorney general has chipped away at the law by finding reasons based on semantics, which is why the legislature has had to keep updating Iowa Code, he said.
The new law is the fourth in a series of preemption bills that make it clear that the state is the entity that will regulate firearms.
"I was a little bit shocked," he said (concerning the supervisor's discussion of the issue last week). "I heard a lot of language about how to restrict firearms but nobody standing up to say that citizens have a constitutional right to keep and bear arms, especially in their own taxpayer-funded building."
"I don't necessarily agree with the state dictating firearms regulations or allowing it," Muhlbauer said. "I think - at the local control - we know what's best for our people here."
"I could not disagree more," Holt said.
"It should be up to this board right here to decide what is best for us truly right here at the courthouse," Muhlbauer said.
"You don't supersede the Constitution," Jason Schultz said. "Neither do I."
"It is impossible for a law-abiding citizen to move about the state if there is a patchwork of different laws – county to county and city to city – regulating firearms," Holt said.
Iowa citizens have had the right, since April 5, 1990, to carry a firearm, with a permit, anywhere in the state except where prohibited by state or federal law, Holt said.
"What we did this legislative session is actually give you an opportunity – if you want to make this building a gun free zone – then you have the option of providing security if you choose to do so," Holt said.
No county has had the legal authority since 1990 to otherwise prevent a law-abiding citizen from carrying firearms in a courthouse, he said.
The county would have to provide a metal detector and armed security to make the courthouse a gun-free zone, he said.
Armed security would be real security, "as opposed to a sign that's simply going to keep law-abiding citizens' guns out while allowing a crazy person to come in and shoot up your building," Holt said.
The law also applies to employees in the courthouse, he said.
Muhlbauer asked if the DOT office is off limits; the supervisors discussed the issue last week after the question was brought up by Crawford County Treasurer Sheri Neddermeyer.
Jason Schultz said he had not heard anything about DOT offices being excluded.
"But the courtroom is?" Muhlbauer asked.
The courtroom has been deemed a separate branch of government and the legislature can't tell them how to run their property, Jason Schultz said.
The courthouse decision has no impact on the rest of the courthouse, Holt said.
Jason Schultz said he had spoken with the author of the legislation and was told that county employees were intended to be covered by the law.
He said he did not agree with the idea, brought up at last week's supervisors meeting, that the county could leave the employee handbook alone and wait for a lawsuit from an employee concerning the right to carry a weapon in the courthouse.
"In 2017 we also included a provision that if somebody outside of state law prohibits firearms, and a citizen is injured due to that, they have a cause of action to sue for damages if they restricted their rights and didn't provide security," Jason Schultz said.
"If you wait for a lawsuit, you're going to get one and you're probably going to lose," he said toward the end of the conversation.
Blum said that to make the courthouse a gun-free zone, the building would have to be limited to one entrance and an additional deputy would have to be hired, which would cost $75,000 to $90,000 per year.
"You'd almost have to have two," Supervisor Kyle Schultz said.
Blum said he would normally support Muhlbauer's position about the erosion of local authority, but not on the gun issue.
"I think with firearms-only I think it's best left up to the state," Blum said. "Everything else needs to stay in this room and every other boardroom across Iowa."
Uniformity is needed for firearms laws, he said.
A discussion ensued about what entities are covered by the new law.
Jason Schultz said it covers public employees – not private corporations.
He said he has been working on a bill that would allow employees of private companies to keep weapons in their cars in a parking lot because some corporations don't allow that.
"I think that's egregious because it disarms the employee all day long," he said.
He said he was also working on a similar bill for school parking lots.
"Because they have to drop the child off, they're not allowed to carry all day unless they go home and get a weapon afterwards," Jason Schultz said.
Near the end of Tuesday's meeting, Kyle Schultz asked if Blum wanted to put action to rescind the firearms section of the county employee handbook on the agenda for next week.
Blum said he wanted to wait to first hear back from the county's HR consultant on the DOT office question and from the sheriff's office on the mask question.