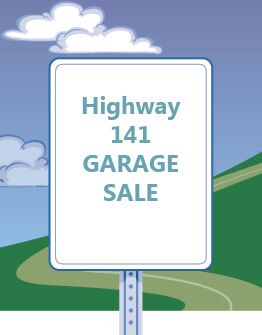 Sellers' deadline is Thursday at noon
The Iowa Highway 141 Garage Sale is going ahead essentially as normal this year – with social distancing encourage, according to Crawford County Tourism Coordinator Shani Bonner.
The event takes place on Friday, August 7, and Saturday, August 8.
Individuals in Denison have until noon on Thursday to register a garage sale for the event.
"July 30 at noon is the date that people need to submit their listings to me," Bonner said. "I just need the address of the sale, the items they want to list on the sale and the times and days – whether it's just Friday or just Saturday or varying hours. I just need to know those details."
Interested individuals should email Bonner at sbonner@cdcia.org or call 712-263-5621.
The listing and participation in the event are free.
The Iowa Highway 141 Garage Sale takes place on Highway 141 from Sloane to Grimes.
"It's 177 miles of garage sales and there are more than 20 different towns participating in it," Bonner said. "If you follow the whole route you can really do a lot of bargain shopping."
Social distancing will be encouraged due to the ongoing coronavirus pandemic. People should wear masks if they choose to.
If individual sellers want shoppers to wear masks, visitors should comply because the sales take place in private yards and garages, Bonner said.
"But I haven't heard of anybody particularly who is saying masks are mandatory at their houses," she noted.
The garage sales are a chance to do some shopping in an outdoor environment rather than in a store or a mall, she said.
More sellers are still needed in the local area.
"The more people we have selling the more people come," Bonner said. "If you need to get rid of some things it's a great opportunity."
Market in the Park will also take place that weekend and will also draw people to the area, she said.
Local amenities will be listed on the 141sale.org website.
"If people want to make a weekend out of it they can definitely stay at the different lodging places listed," Bonner said. "We'll have a listing of the different food vendors in the community – whether its restaurants or special-setup vendors in the park."
"The website has tabs at the top for lodging and concessions," Bonner said. "All the towns that are involved have listings also that day."
A map showing the location of all the sales in Denison will be provided this year.
On the Friday of the event, maps may be picked up at the Chamber & Development Council of Crawford County office at 18 S Main Street in Denison.
On both Friday and Saturday of the event, maps may be picked up at Casey's, the Country Store, Pronto, Ampride and the One Stop Shop in Denison.