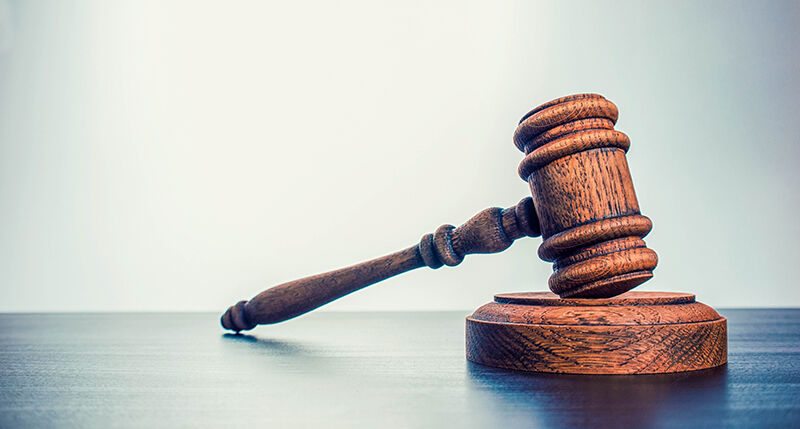 It took from 9 a.m. to about 1:35 p.m. today (Tuesday, April 13), with a few breaks, for a panel of eight jurors and one alternate to be selected in the lawsuit filed by Denison City Clerk Lisa Koch and City Manager/City Engineer Terry Crawford against former Mayor Jared Beymer and Councilman Corey Curnyn.
Jury selection was done at Grace Evangelical Free Church in Denison instead of at the Crawford County Courthouse because of its capabilities to maintain social distancing.
The suit, filed on April 12, 2019, says that Beymer and Curnyn defamed Crawford and Koch and that they intentionally inflicted severe emotional distress on the plaintiffs.
The claim is that Beymer and Curnyn made a concerted effort to emotionally abuse, harass and humiliate Crawford and Koch and to ultimately force them to resign their positions with the city, and that as a proximate cause of the conduct of Beymer and Curnyn, Koch was diagnosed with anxiety and high blood pressure and Crawford was diagnosed with insomnia and seborrheic dermatitis caused by stress.
Beymer and Curnyn filed an answer to the suit on May 2, 2019, citing protected and privileged speech. They denied the claims of defamation and intentional infliction of severe and emotional distress.
Their answer said the lawsuit failed to state a claim for relief; that any statements they made were true or substantially true; that any statements they made were their opinions, and as such, protected and privileged speech; that any statements they made were in the performance of their duties; that Crawford and Koch consented to the publication of statements about which they are complaining; that Crawford and Koch are public officials; and that any statements they (Beymer and Curnyn) made were not made with actual malice.
Mark Sherinian, with Sherinian & Hasso, Des Moines, is the attorney for Koch and Crawford. Doug Phillips with Klass Law Firm, Sioux City, is the attorney for Beymer and Curnyn. Judge Duane Hoffmeyer, chief judge of Judicial District 3, presided.
Hoffmeyer and the attorneys decided to wait until Wednesday morning to begin the opening arguments in the trial, which will be at the courtroom on the third floor of the Crawford County Courthouse.
The judge said it may be possible that the trial would conclude this week but that it was more probable that it would spill over to a day next week.
The morning for the pool of potential jurors started out with a 30-minute video covering the duties and responsibilities of jurors and courtroom procedure.
From that pool, an initial panel of 17 was called to the front of the church sanctuary, where they were distanced among two pews on either side of the center aisle.
The initial panel of 17 went through rounds of questions asked by Hoffmeyer and Sherinian.
After initial questions by Sherinian, five of the 17 were excused and replaced after a mid-morning break. Sherinian continued his questioning up until a lunch break. After the break, one more juror was excused, to be replaced by another person from the pool.
Phillips questioned the resulting group of 17 from about 1:15-1:35 p.m. After that, each attorney was allowed to strike four potential jurors, bringing the number to eight with one alternate.
Before questioning began, Hoffmeyer explained that the burden is on the plaintiffs to show a preponderance of evidence in the claims made in their lawsuit.
Hoffmeyer questioned potential jurors about their knowledge of the parties involved, knowledge of any of the witnesses that may be called and knowledge of the case itself.
Potential jurors were also asked they had been involved or had a family member involved in any civil case, if they were a board member of any insurance company that sold liability coverage, and if they had prior jury duty.
Sherinian also questioned the panel on knowledge of the parties involved; their knowledge of Beth Vogt, a person peripherally involved through her support of Beymer; if they knew about the case through the news media; if anyone had ever been accused of lying other than in a childhood experience; and if they would know if someone was lying.
Other questions posed by Sherinian focused on any incident of or belief that a person can experience extreme emotional distress due to their job and physical reactions to stress; if anyone had been suspended from their job; and if anyone had been publicly humiliated.
In addition, he asked if anyone had attended any Denison City Council meetings in late 2018 or early 2019 when the incidents central to the lawsuit occurred.
Sherinian spoke about punitive damages in civil cases, comparing that to a fine imposed in a criminal case as a deterrent, and reminded potential jurors that they were going to have to judge the testimony presented.
A number of potential jurors said they knew at least one of the plaintiffs or at least one of the defendants, and in some cases, at least one plaintiff and one defendant.
Sherinian's final round of questions was focused on learning more about each of the 17 in the pool of potential jurors. He asked about their jobs, hobbies and families, and also what he called a "zinger" - if they had any bumper stickers on their vehicles. In one instance, an affirmative answer to the bumper sticker question delved into the freedom of speech and when speech crosses the line to harm someone.
Questions asked by Phillips were more specific to individuals in the panel and seemed to be based on the answers they had given to Sherinian's questions.
His first question asked people if they said the Pledge of Allegiance each morning in elementary school and focused on the phrase "Republic for which it stands." Phillips said a republic puts the power in the hands of the people, and that power is implemented by elected officials
To another potential juror, Phillips asked what would happen if they believed that an elected official was not doing a good job. A response was to run for the job, to which Phillips added they could support someone who is running against the official in question.
In addition, Phillips asked questions about freedom of speech under the First Amendment and cancel culture.
He also asked what an elected official should do if that official discovered something about a high-level employee, even if revealing what they had found was unpopular with some segment of society.
The trial was originally scheduled for August 4 last year. A number of motions and documents have been entered in the case, especially since early March and particularly on Monday when 25 proposed exhibits were filed in district court.