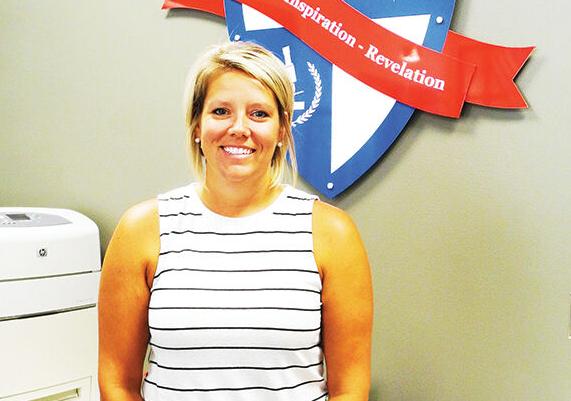 As a child, Angie Stangl knew she wanted to be a teacher. The realization came to her when she would play school with her nieces and nephews.
"All of my nieces and nephews were somewhat closer to my age," said Stangl.
She is the youngest of six children in her family and 11 years younger than her next closest sibling by age.
"Whenever they would come over for Christmas or other holidays, we would play school. I knew then that I wanted to be a teacher," she said.
Fast forward to today. It's Stangl's 16th year as an educator and 14th year at St. Rose of Lima Catholic School in Denison where she had taught and will now continue her career as the new principal at the school.
Stangl had already had some leadership roles at St. Rose in the past, so when Patty Lansink asked her to consider participating in a principal leadership program offered through the Sioux City Diocese, she agreed.
Lansink is the superintendent of schools for the diocese and a former principal of St. Rose.
"When Patty came to ask me to do the principal program, I had always been looking at what's next," Stangl said. "I was a kindergarten teacher here for so many years. I was third grade teacher for so many years, and I had been lead teacher here back in the day when we had a part-time principal.
"When we had a full-time principal I took on more of the technology duties, and I knew I loved the leadership piece of education, being on the leadership building team here. I knew that leadership was somewhat in my next steps," she added.
Stangl enrolled in a two and one-half year program at Creighton University in Omaha, Nebraska, to get an administrator's license. She completed that in May of 2020.
Stangl's career as an educator started in 2006 at St. Mary's in Storm Lake where she taught kindergarten for two years. St. Mary's is the school that Stangl attended from kindergarten through high school graduation in 2002.
The change from teaching at St. Mary's to St. Rose in 2008 had a lot to do with geography.
"My husband and I farm just outside of Manilla. You can't move the farm, so I came here," she said.
Teaching anywhere other than at a Catholic school was not a consideration.
"My parents instilled my love for God, and so I wanted to continue to teach my faith openly. That's what brought me to the Catholic schools," she said.
Other than four years at Central College in Pella, Stangl was a student of or has taught in a Catholic school from age 5 through now.
"I loved teaching so much in Storm Lake, one of my first places to apply was here (St. Rose) in 2008, just to continue to share my faith and my story of how my faith has grown," she said.
Reflecting on her passion for Catholic education and why she wanted to become a principal, Stangl recalled an administrators meeting a number of weeks ago when she and others were asked to share their "why".
"Why we chose teaching or why we chose to become a principal," she explained. "It goes back to my parents instilling in me the importance of our faith, and that's one of my big 'whys'."
In the classroom, Stangl has drawn upon deeply personal experiences to share her faith with her students.
One of those is the passing of her father during her first year of teaching.
"There were some different experiences that happened when he passed away," she said. "My five brothers and sisters and I are very close and we shared those experiences, and I got to share those things that happened with the students when I was teaching third grade. And it made my faith grow even more in a really hard time.
"It shows that God is the ultimate planner and we are just a part of His plan. Whatever happens is up to Him," Stangl said.
"I use those experiences to show the kids that there really is a God. I experienced these really close, intimate experiences with my dad passing, and that's one of my biggest 'whys'. I want to make sure that these kids are being led by experience to be disciples of Jesus and to instill in them why it's important to act in this way."
Although her duties as a full-time principal will keep Stangl busy, she will still be around the students that she loves.
She will not be teaching, unless it's to substitute in a pinch, but Stangl added if a teacher asks her to co-teach a lesson, she would love to do that.
"Just so I can make sure I'm in the classroom still, or reading at the library once a month, for example, so I still get that teaching piece."
After all, she pointed out, it was the kids that drew her to a career in teaching in the first place.
"It's not like I took teaching out. It's still part of the profession," she said.
Stangl likes the close bonds that are possible in a small school like St. Rose, although she has seen the enrollment grow in her years there. She said when she first started in 2008, she can remember enrollments of 54 students. This year the K-5 enrollment will be up to 98; that doesn't include preschool.
"That's the beauty of St. Rose. We've really grown but we're still small enough so that I know everybody's name, and all the students know all of the teachers, so we create that relationship with the students, and we remember them," she said.
Stangl was familiar with some of the leadership duties when she accepted the position of principal but added it's different once you are in charge. She is checking off things that have to be done before school starts and is making sure she's not forgetting about anything she has to do.
"And I'm reminding people that I'm still learning, even though I've been here for 13 years," she added.
The school year is fast approaching. Registration begins August 3. Professional development days will run August 17-19. Stangl will talk at the August 22 Mass about the beginning of the school year, which will be the next day. That is also the feast day for St. Rose of Lima, although a celebration honoring St. Rose will actually take place after Mass on the 22nd.
"It works out great that the students can learn about their patron saint here at school," said Stangl.
She added, "I'm looking forward to the new school year and am excited for the opportunity to continue to grow and share my faith with everybody."