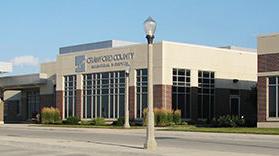 The COVID-19 positive case rate at Crawford County Memorial Hospital (CCMH) from September 13 through September 26 was 25.4 percent, according to CCMH President and CEO Erin Muck.
She said the positive rate for the recent two-week period has not yet been calculated, but she believes it has dropped somewhat.
"The county's two-week positivity rate (as of Monday) is 15.6, so Crawford County is currently at 13th (in the state), which is better than we were last week," Muck said.
Crawford County was fifth in the state last week.
"We do anticipate when we calculate our two-week rate it will be down some," she said. "However, what we're seeing is our emergency room has been pretty steady with COVID symptoms and COVID patients.
"Admissions fluctuate (in the CCMH COVID unit), but we've had steady streams there, as well."
Three patients were hospitalized with COVID-19 as of Monday, which was down from seven last week.
"We're definitely seeing it in our older community members, and they're much sicker," Muck said.
"In our previous influx we had more young people in the hospital, but that's just because we didn't really have it in the older community like we do now."
As of Thursday, CCMH had tested 2,224 individuals; 404 were positives and 1,820 negative were negative for COVID-19.
The sick clinic remains full at CCMH.
"Some days it's fuller than others," Muck said. "There was one day last week when we had openings and it was kind of shocking – but the next day it was absolutely packed again."
Many of the patients in the sick clinic are students who have been sent home with symptoms and have to be tested prior to returning to school.
Most of the younger individuals who test positive are able to manage at home.
Muck said there is about a two-week lag between exposure to the virus and when more serious symptoms may appear in some individuals.
"A lot of times what you'll see is the first week of their symptoms it isn't so bad and then the second week is when it hits them harder," she said.
"I think that's entirely the result of COVID having more infections in the elderly population, however," said Don Luensmann, CCMH executive director of Marketing and Development.
Luensmann said that even though the CCMH sick clinics and ER are busy, people should not put off regular healthcare.
"We take every precaution to make certain that everyone is safe, including our patients, staff, nurses and our physicians," he said.
"We don't want people to put off care that they should be receiving because they're afraid they might come here and run into something."
Muck noted that the sick and well clinics don't come into contact.
"They are very separate," she said. "Nobody who is sick sits in our waiting room at all. They are out waiting in their cars to be called in. They are brought in through a different entrance, which is sectioned off from the rest of the clinic. We have good processes in our emergency department, as well."
The inpatient side of the hospital is also isolated from the COVID area, she said.
Luensmann said all of the hospital's specialty clinics are in operation.
"People should feel very safe, regardless of what area of the hospital they are coming to," he said. "We are doing everything we can to make certain people are safe. They shouldn't be afraid to come
out here, see their physician, and get the care they need."
Everyone in the hospital is required to wear a mask, Muck said.
"I can't stress it enough – the masks work," she said. "Our staff has been completely safe taking care of COVID patients by wearing proper PPE (personal protective equipment) - and masks are one of the most important things."
Mask use by members of the community will help slow the spread of the coronavirus, she said.
"I would encourage our community members, anytime they are out in public, to be wearing masks, especially when they're unable to social distance," Muck said. "We should be social distancing as much as we can so we can get these COVID infections slowed down and under control, especially now that it's in our older population."
She said the county is likely to see more COVID-19 deaths in the future.
"This isn't just about protecting ourselves, it's about protecting our community members, and we need to do this together," Muck said.