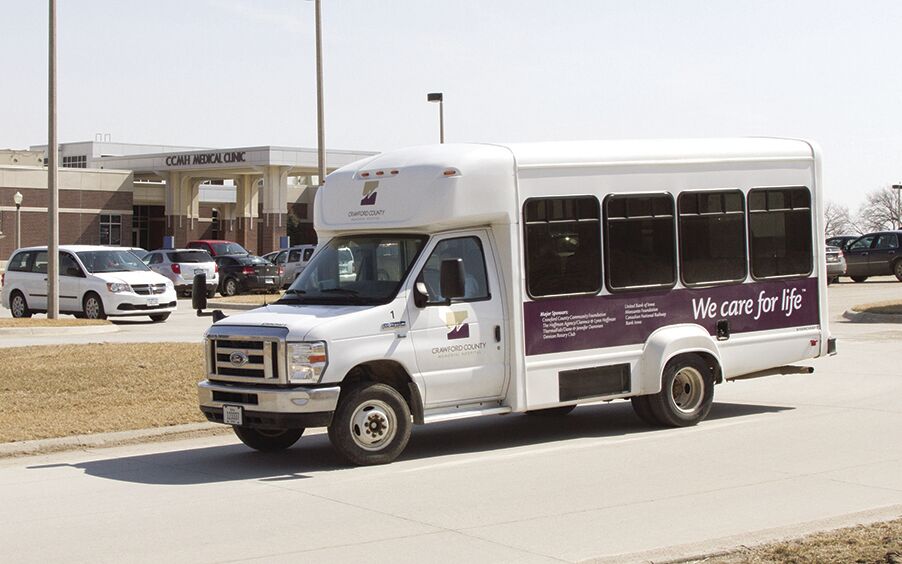 The deadline for the Hospital Foundation of Crawford County (HFCC) "Envelope Challenge" was to have been this Friday, but has been moved to December 5, according to HFCC Executive Director Don Luensmann.
The purpose of the challenge is to provide funds for a new handicapped-accessible van for the Crawford County Memorial Hospital (CCMH) Community Cares Patient Transportation Service.
"Of the vehicles we currently have, one has over 90,000 miles on it and the other has over 75,000 miles," Luensmann said. "We need to start replacing those vehicles, and the Envelope Challenge is a way for us to encourage the community to get involved and support the service that we provide."
The transportation service provides rides to patients and is provided through the efforts of CCMH volunteers.
Beginning in 2013, HFCC raised more than $140,000 to begin the program.
In the first five years of the program, the transportation service provided free rides to more than 8,000 patients to see a care provider, for lab draws, physical therapy sessions, and specialty clinic appointments.
Volunteers have provided more than 14,000 rides and driven more than 160,000 miles.
Each of the service's two buses can hold up to ten passengers, with eight seats, a wheelchair lift and room for two wheelchairs.
The vans are each staffed by a driver and a host or hostess.
"The service currently isn't running (due to COVID-19 restrictions), but we're hoping that in March we will be able to restart it," Luensmann said.
HFCC is also looking for more volunteers to help operate the service.
"But right now the more important thing is the need for a new vehicle," Luensmann said.
The Envelope Challenge consists of 200 digital "envelopes" progressively marked from $1 to $200. If all 200 envelopes are purchased, more than $20,000 will have been collected.
"The way that you get involved is to sponsor an envelope or a series of envelopes for a certain amount of money," Luensmann said. "We've raised about $10,000 so far toward our goal of $20,000, so there is a significant number of envelopes out there that haven't been purchased and sponsored yet."
The challenge began on November 2.
The deadline was extended due to the disruptions caused by the ongoing coronavirus pandemic and the upcoming holidays.
"We realize not everyone is in a situation where they are able to support the purchase of a new bus right now, and we certainly do appreciate that," Luensmann said.
A donation of any amount is welcome.
"You can sponsor one envelope, and we have people who have sponsored more than one envelope," he said. "Maybe they've sponsored the $5, the $10 and the $20 envelope for a total contribution of $35."
The total amount can be paid online or by mailed invoice.
HFCC is a non-profit 501(c)(3); all donations are tax-deductible and go exclusively to the Community Cares Patient Transportation Service fundraising campaign.
"Depending on how the transportation service has impacted you or your family, you might want to sponsor more than one envelope," Luensmann said.