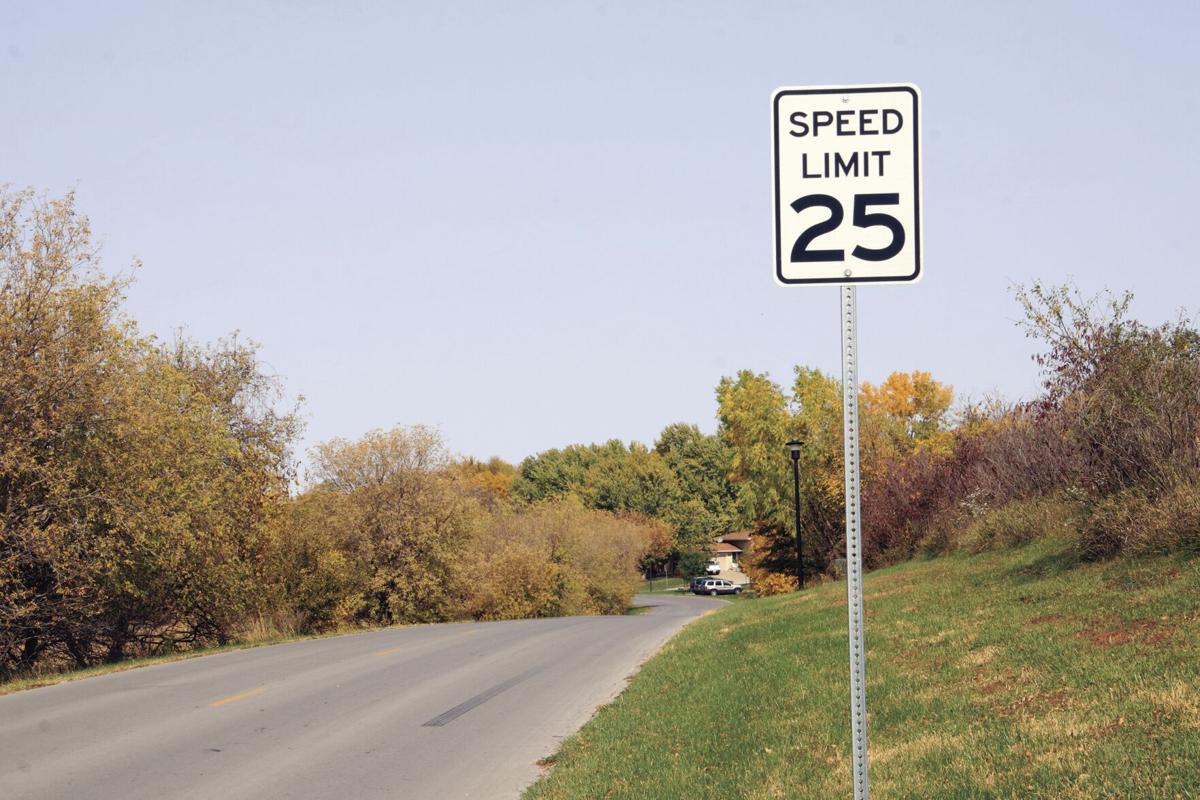 Articles can be viewed in two ways.
Read the individual stories below or
click on the PDF attached to this post.
Denison City Council decides expense to
change N. 10th St. speed limit too much for
distance involved
As the saying goes, time is money, but what is the balance of time versus money when it comes to spending taxpayer funds to increase a speed limit by 10 miles per hour?
More than a quarter of a mile, at least, based a consensus from the Denison City Council on Tuesday.
A request had been made to the city to increase the speed limit on a portion of North 10th Street north of Hilldale Estates to 35 miles per hour. The speed limit is currently 25 miles per hour.
But after getting an idea of how much it would cost to change the speed limit, the consensus of council members is that money could be better spent elsewhere, considering the distance that would be affected by the speed limit change is a quarter mile.
When requested for an estimate of cost, City Clerk Lisa Koch said it would probably be less than $500 for the time for the city attorney to draft an amendment to the city ordinance (his fee is $150 an hour), to publish a notice of public hearing on the speed limit change and to update the city's code.
That does not include the cost of any signage that would be needed.
At the start of the discussion, Denison Police Chief Dan Schaffer said he and City Manager/City Engineer Terry Crawford concurred that a 35-mile-per-hour speed limit in the area is not a safety issue.
"It seems to be a speed that people would feel comfortable traveling. In fact a lot of the speed limits are set considering the 85th percentile. Traffic tends to flow with what feels comfortable. About 85 percent of the people flow within a certain speed range," Schaffer explained.
Councilman John Granzen asked if Schaffer was concerned that when people reach Hilldale Estates and the beginning of the 25-mile-per-hour zone, they will continue to travel at 35 miles per hour.
"It actually may help that a little bit. They don't know because they still feel like it's a comfortable speed, but when a speed reduces there, the fact that there's a sign right there and it is a change of speed for them, it may slow them down. It may not. Certainly, that area to the north of Hilldale, no issue there," Schaffer responded.
Councilman Corey Curnyn said he want on a ride-along with Schaffer that mimicked the scenarios of traveling the street and indicated changing the speed limit does make sense.
He added, "When reaching Hilldale, people are already going faster. They're just going to continue. Maybe having some kind of slower speed may actually cause them to slow down."
"I think when they are traveling that, especially north of there, that's in the speed range they're traveling. They're just flowing," said Schaffer. "Now we're changing speed zones. It may or may not work but it reduces the area where a penalty is assessed where they are."
Councilman David Loeschen said he was in favor of drafting an ordinance.
"Driving out there, you get past there (Hilldale Estates) and driving 25, and there's nothing around there, it feels like you are crawling," he said.
Schaffer pointed out that a lot of residents who live in the residential areas farther north use North 16th Street now, which he believes likely has reduced the traffic flow on North 10th Street, to the north.
"But if you're a person who lives out there and travels that road every day, you notice that difference more than you or I would that passes through there less frequently," Schaffer said.
While it seemed up to that point consensus was building for an ordinance change among some council members, that switched when the cost of adjusting the speed limit was explored.
"When it comes to the dollars for a quarter mile, I think it's a waste of money," said Councilman John Granzen. "It would be different if we're talking a 3-mile, 4-mile stretch."
He said the city could use the $500 to fix six or seven potholes.
Councilwoman Jessica Garcia said she respected what Schaffer said and that she would agree with whatever decision the rest of the council made. She added she could see both sides, increasing the speed limit or leaving it the way it is.
After Granzen spoke about the cost, Garcia said she agreed with him on that aspect.
Councilman Greg Miller also wanted to leave the speed limit the way it is.
Asked for his opinion, Curnyn said he could go either way on the issue but added the cost outweighing the distance involved made sense.
Miller said he spent 30 minutes on the phone on Tuesday with someone who is in favor of changing the speed limit. Miller said he didn't like to spend the amount for the footage of street involved.
Loeschen wanted to acknowledge that people approached the council to request the speed limit change and that the council had taken what they had to stay into consideration.
---
Council discussion reveals helpful information
about paying invoices and disposing of larger
items
A Denison City Council discussion on Tuesday about a reducing the amount of an invoice for a code violation provided information that can be helpful to all Denison residents who have no means to take large items to the landfill and for those who may have difficulty paying a municipal fine all at once.
The discussion was initiated by a request from Nancy Medina, speaking on behalf of her mother, to have all or part of a $230 invoice forgiven.
Her mother had a couch in her back yard that she intended to get rid of. Medina explained that her mother had been off work for more than a month because she came into contact with someone who had COVID-19. She is back working nights at Smithfield and is trying to catch up on bills and loan payments. She is also trying to help pay for the funeral expenses for her father, who died last month.
Medina's mother and her little brother are the only ones living at the residence on North Main.
Medina said her mother had received a couple letters about the couch but her mother didn't understand them. Medina said she's usually here to help her mother, but when she got back to Iowa, the city had already removed the couch.
City Clerk Lisa Koch said a notice was posted at the residence on September 25 to remove the couch within 48 hours. When the city checked back on September 30, it was still there, so the city disposed of it and sent the invoice.
Councilman John Granzen asked if the letters or notices are also sent out in Spanish.
Notices are printed in English, he was told, and Granzen said that might be something the city has to work on.
Koch said that if someone gets a notice or letter and cannot read it, they can come to city hall and city staff will call somebody in to read it to them.
Councilman Corey Curnyn wanted to make sure that someone tries to talk to the residents and not just leave a notice on door. Koch said the city's code enforcement officer tries to make contact with residents, but if no one is at home, he will post the notice on the door.
However, if people are working, they will not be at home at the times the code enforcement officer is working, Granzen indicated.
Helpful for the discussion on Tuesday and for any other resident to know, Koch explained that the city will take payments on invoices and will not charge interest or late fees.
"As long as they are making a payment every month to the city, we will let that continue," she said. "If they miss a month, then we assess it to their (property) taxes and then interest and penalties apply at that point."
A second bit of helpful information for city residents is that Denison's contracted solid waste collector, Carroll Refuse Service, will pick up and dispose of certain larger items, like a couch. To do that, a resident has to go to city hall and purchase a special tag for $15 or $20 (depending on the size of the item), put the tag on the item and take it to the curb.
City council members wanted that information to be publicized more through a number of methods as they didn't believe many people are aware of it.
In the end, Granzen said he was in favor of reducing the amount of the invoice, and Councilman David Loeschen moved, given the circumstances, to reduce the amount due to $100.
---
Denison mayor thanks census enumerators
During her report at the Denison City Council meeting on Tuesday, Mayor Pam Soseman thanked the three enumerators who went door-to-door in Denison to complete the census county. They are Peter Machok, Kayla Miller and Christy Welch.
Soseman said she was able to thank the three individuals in person when they dropped off their census materials.
The mayor said the enumeration is at 100 percent and she is eagerly waiting to see if the census count will show a population increase in Denison.
According to the U.S. Census Bureau, as of October 19, 99.98 percent of all housing units and addresses nationwide were accounted for in the 2020 Census. The self-response rate online, by phone or by mail was 67 percent. Noneresponse Followup (NRFU), or enumerators, accounted for 32.9 percent of the response.
The U.S. Census Bureau said that in all states, the District of Columbia and the Commonwealth of Puerto Rico, more than 99 percent of all addresses have been accounted for, and in all but one state that number tops 99.9 percent.
The Census Bureau said it is working to process data to deliver complete and accurate state population counts as close as possible to the December 31, 2020, statutory deadline.
Expressed sympathy to families of individuals who have recently died from COVID-19
Is working to bring back the bike safety instruction and inspection events that used to take place in Denison.
Presented information about the sidewalk repair program. Building Inspector Chris Flattery had drawn up a plan to mark sidewalks in the city that are in extremely bad repair.
Told of an incident in which someone brought smoldering material to the city's yard waste disposal site. She said last Saturday a citizen made her aware that someone had brought the smoldering material to the site. This individual stopped them, doused the material with water and spread the smoldering items out. She advised those who use the yard waste disposal site to do likewise and stop people who try to dump smoldering materials.
---
New air lifting bags for DVFD will allow for a
wider variety of uses
The Denison Volunteer Fire Department will be getting a new set of five air lifting bags.
On Tuesday, the city council approved the purchase of five Paratech Air Lifting Bags for an amount not to exceed $17,322.47 from Feld Fire, of Carroll,
People most associate the use of the bags to lift a vehicle off an accident victim, said Denison Fire Chief Cory Snowgren.
But he pointed out that they have many other uses. One example he gave at the city council meeting was to assist in removing a person who has part of his or her body trapped in industrial equipment.
Other uses listed in information shared by Snowgren are to stop leaks of hazardous material and in trench rescues and structural collapses in a construction or agricultural setting.
Alex Air Apparatus, of Alexandria, Minnesota, was the other company that responded to the fire department's request for proposals. That company's bid was $20,206.
In all, four companies received the request for proposals. Two declined because manufacturer agreements prevent them from selling air bags in Iowa.
Currently the fire department has a three-bag set that was purchased prior to 2010.
Snowgren said among the new set are some smaller bags.
"We're getting a few more bags and will be better prepared for a wider variety of uses," he said.
Councilman John Granzen, a firefighter, added that the new bags will be a lot easier to work with.