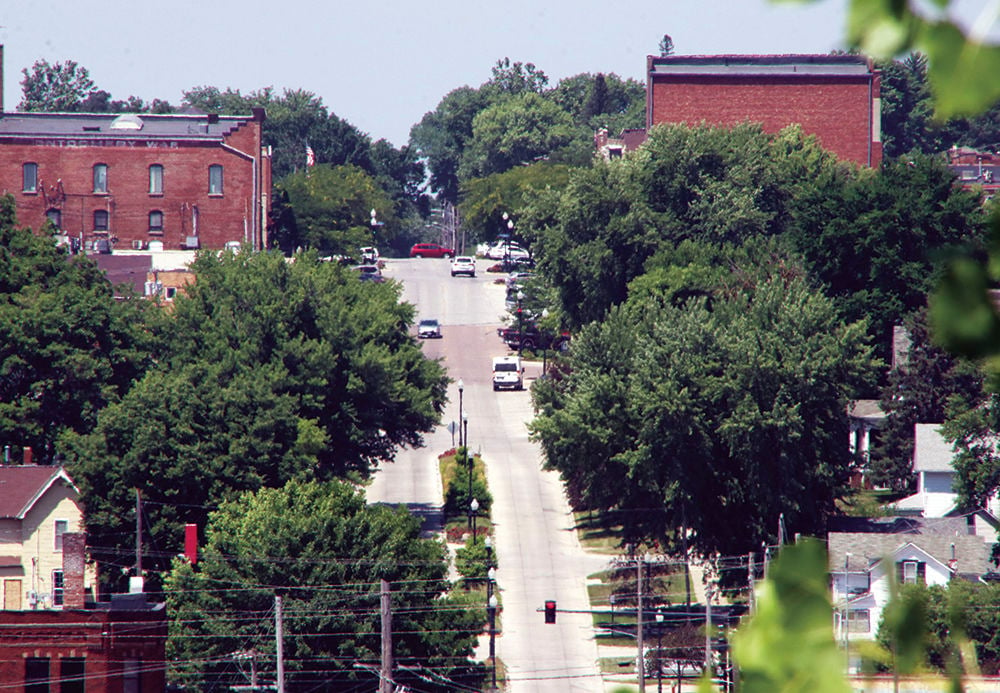 Denison Mayor Pam Soseman said the Downtown Improvement Committee is probably her favorite committee to work with.
"There are some very interesting things going on but it takes a long time to get things done and it takes an army," she said.
One improvement project that is currently underway is the search for a company to "rebrand" Denison.
"We have sent out five RFPs (request for proposal) to different branding companies throughout Iowa to see what their vision would be on rebranding Denison," Soseman said. "We're also actively moving forward with grant applications. One has been sent to the State of Iowa tourism and one to local tourism."
Several other grant applications are in the works, she said.
Ann Platt, of The Junkery, Taylor Borkowski, of The Cottage, Jim and Carol Segebart, new owners of the building where Iconic Screen Printing is located, are members of the Downtown Improvement Committee.
Sara Woerdehoff, assistant marketing director for WESCO Industries, is the chair.
Chamber & Development Council (CDC) of Crawford County Executive Director Evan Blakley and Crawford County Tourism Coordinator Shani Bonner sit in on the meetings.
"I look for fresh faces and voices," Soseman said. "My committee is small but mighty. They have great ideas and they see the importance of it."
She said she is looking for one or two more people for the committee.
Part of Soseman's personal vision is to have an outdoor dining space downtown.
She noted that a proposed outdoor seating area in front of the Bake Shop and Hollywood Café may fulfill part of that vision.
Woerdehoff said she recently met with Denison City Manager Terry Crawford about working out the logistics and layout of the dining node in front of the bake shop.
WESCO Industries manages the Bake Shop and Hollywood Café
"We have a plan that I believe will appease everyone as we have taken all concerns brought up in the last city council meeting into consideration and addressed them all," Woerdehoff said.
"I am excited to work with a city council that wants to see changes and improvements as much as I do."
Soseman said she would also like to see an outside seating area for people who bring lunch to work.
"I envision an open green space with picnic tables or benches just to take their lunch out there and sit down and eat," Soseman said.
"I think that would be very healthy for our community to supply something like that. I want to see our downtown fully utilized and for everyone to enjoy."
She said another goal of hers was to bring a new restaurant to the downtown area.
"About the time we were getting started with this we heard that Buck Snort was coming in," she said. "So if we get our outdoor dining space, if we get our restaurant, those are two huge steps."
A new Buck Snort restaurant is taking up residence in the former Robin's Nest/Denison Realty building to the west of Thrifty White Pharmacy; Chris and Carrie Polley, owners of the Buck Snort in Harlan, plan to open the new restaurant in early 2021.
The Denison Buck Snort will feature rooftop dining, which Soseman said will help increase downtown foot traffic.
She said she agrees with several recommendations made by the Iowa Economic Development Authority, which visited the community two years ago at the request of former Denison Mayor Jared Beymer.
"I was invited to go to that wrap-up meeting and I was very intrigued at what they had to say," she said.
One of the recommendations was to add wayfinding signs around the local area.
"There is nothing that really points to where the downtown is," Soseman said.
Adding wayfinding signs would be a major improvement, she said.
Another recommendation she agrees with is to have more housing located in downtown buildings.
"I would love to have more housing – condos, apartments – in the upstairs of some of those buildings," she said.
Denison could utilize a program available through the Region XII Council of Governments, she said.
"We would have to identify those who own a building who would be willing to rent their upstairs space and we could revitalize the front of their building," Soseman said.
She said she believes the Denison City Council is working well together and at least two of the council members are excited about downtown revitalization.
"I encourage lots of discussion, either way," she said. "Then we move forward with our decisions."
People will have to work hard to make the downtown improvement program happen.
"And we have to encourage people to let it happen," Soseman said.
"The downtown area is beautiful and we're working hard on having it maintained; that was an improvement we made at the city level this year. So we'll try to keep Denison moving forward and in a positive light."