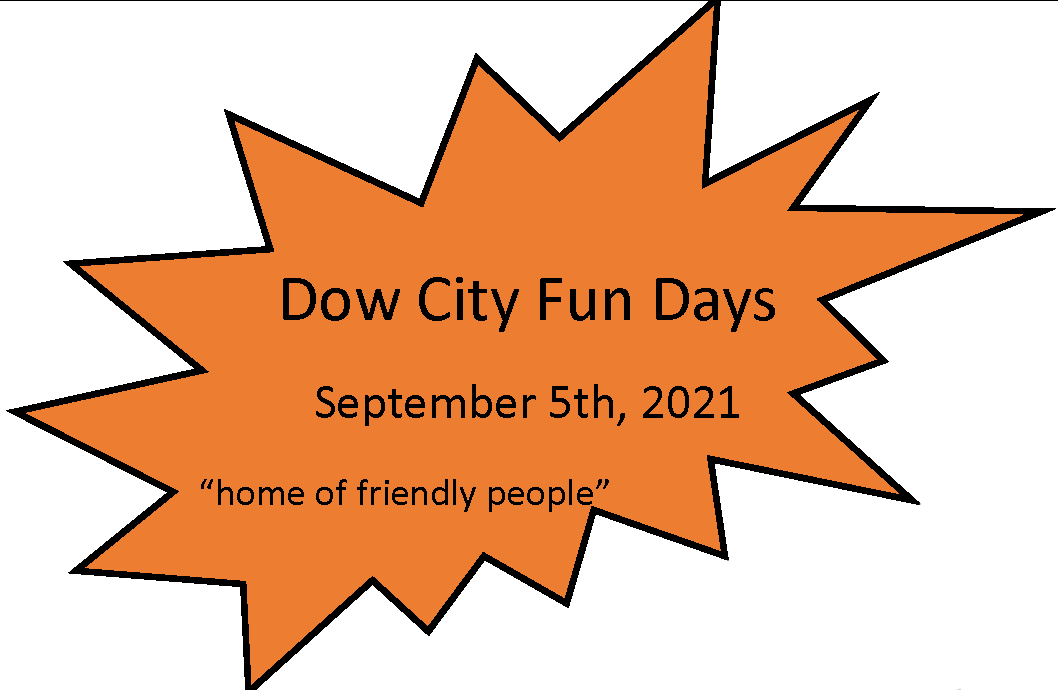 "In years past, Dow City has had fun days but this is something a little bit different," said Pat Brink.
Brink is a member of the board of the Dow City Community Building, which is sponsoring the event.
She said her husband, Kenny, used to be involved with the Arion Buffalo Days event.
"We kind of wanted to have another time when we could serve buffalo burgers, and Dow City was very enthusiastic about it," Brink said. "They wanted another event for their citizens and local community. We took lots of different past events and merged them all into what we hope is one fun day for the community."
People are ready to get out and have some fun, she said.
"They've been cooped up for the past year; we've had to cancel a lot of events and we're hoping maybe this will be a good start, a good omen for the future," Brink said.
"We have adult games and activities, as well as activities for children, and we're hoping that they will bring their families out and have a wonderful day from morning until night."
She said everyone in Dow City has pulled together for the event, including the Community Building Board, the City of Dow City, the fire department, the Dow City Business Club, O'Meara's Food & Spirits, Cheers Bar and Grill, and Ettleman's Town & Country Store.
"It's just all come together from all the elements in Dow City," Brink said. "Lots and lots of individuals have donated their time and efforts to run the various events and games. We couldn't put this together without all the volunteers."
The event begins with a fireman's breakfast from 7 to 10:30 a.m.
Registration for a car show will begin at 9 a.m.
"The car show is in memory of Donald Beam, an Arion resident who passed away last fall," Brink said. "He was a very community-minded person."
Registration for the car show is $10; the first 250 entries will get a dash plaque, and many prizes will be given.
Awards for the car show will be presented at 3 p.m.
Questions about the car show may be directed to Roger Waderich at 712-263-9685 or Kenny Brink at 515-230-1858.
A flea market, with more than 20 vendors, will take place on the Community Building south lawn from 9 a.m. to 3 p.m.
A rubber duck/egg race will take place at the river at 10 a.m.
Events will take place all day at the Dow City Park, starting at 10 a.m., including volleyball, a three-on three basketball tournament, a cake walk, kids' games, a sand pile in which kids can dig for money, a pedal pull and a tug of war.
Starting at 11 a.m., buffalo burgers, hamburgers, hot dogs, desserts and refreshments will be served at the community building.
"We'll go all day until they're gone," Brink said. "We will also be shuttling beer, sodas, hamburgers and buffalo burgers up to the park."
The food costs from $1 to $6. The games cost a dime or a quarter.
Tours of the Dow House will take place from noon to 4 p.m.
A street dance, sponsored by Cheers and O'Meara's, will take place from 8 to 11 p.m.
Music will be provided by Sweet Nothing, which is billed as the "ultimate party band with an eclectic set that ranges from the '60s to the present."
The band covers a range of music from Tenacious D and Weird Al Yankovic to Queen, Pink Floyd, and Prince.
"It's going to be a fun day, all day," Brink said.