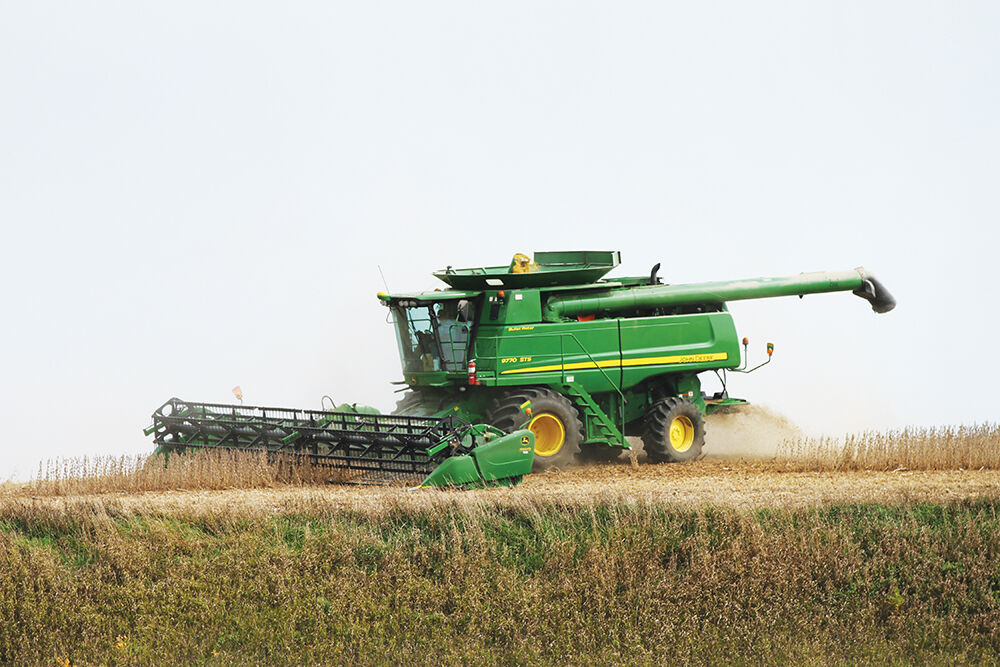 Harvest has gotten underway around Crawford County in the last few days.
ISU Extension Field Agronomist Mike Witt said this year's harvest timing is somewhat ahead of the five-year average and well ahead of last year.
"Last year, for the running average we were probably at around 80 percent as far as corn dented and about 15 percent of corn mature," Witt said. "This year we're at 99 and 68 percent, so I would say we're 50 percent ahead on the corn mature as compared to last year at about this time."
Soybeans are running about 20 percent ahead of the five-year average, he said.
Farmers have started harvesting beans, but they may soon need to switch to corn.
"I think we're going to see people switching from beans to corn quite a lot because people are really concerned about stalk quality and they want to get the corn out," Witt said. "It's just a little too wet, yet, but as soon as they're able to go, they're going to switch to corn because corn is going to be a lot harder of a situation with it being downed."
Farmers will be "sprinting" to get beans out now so the corn can come out as soon as it's dry enough.
"It's going to take a lot longer with corn and the corn is going to deteriorate a lot faster," he said.
"If people have downed corn, they have to look at the economics of getting it out on time."
The stalks are only going to get worse.
"If the wind comes up and hits us, those cornstalks are going to fall over," Witt said. "You have to harvest everything in the order you want to - knowing that your corn crop probably isn't going to stand for the whole season. It might – and I'll be very happy to be wrong – but I'm not betting a lot on it."
Downed corn can only be harvested in one direction, which will take a lot more time.
"They have to go extra slow so they can get underneath that corn, pick it up and feed it into the head," Witt said. "If they go too fast, it will jam and then they have to get out, clean out the head, shut everything down, and then fire back up."
Farmers are going to be frustrated by the amount of time some fields take to harvest, he said.
Safety concerns also increase when harvesting downed crops.
"There are always opportunities for jammed corn to catch on fire," Witt said. "The biggest safety issue I see a lot of times is when you first plug up the combine - that's not an issue. When you really have the issue is when you've plugged it up four, five or six times during the day – you've been doing it for a week and a half or two weeks straight – it's 10:30 at night and you just want to get done – and you forget to shut everything down or you think you can just grab it real quick. That's when a lot of the safety incidents happen."
Combine operators need to make sure the stress of harvest doesn't become overwhelming.
"I don't want to tell people how to do farming, but take your time," he said. "Have some kind of stress relief. I don't care what it is – do whatever you need."
Witt said a positive note is that he thinks yields will be better than some might expect.
"What I've seen and heard about is the yields for corn have been surprisingly good for the situation," he said. "That is not saying they are record-breaking yields by any means, but we've seen some of the flattened derecho corn a little further east – anywhere from 100 - 120 (bushels) to upwards of 180, which again isn't groundbreaking by any means. But in that downed corn, in those situations where it's pretty flat, that's pretty good."
In areas where the corn is still standing, the drought knocked off some of the top-end yield, but he expects decent yields.
Witt said he expects soybean yield to be off by about five to 10 bushels per acre from last year.