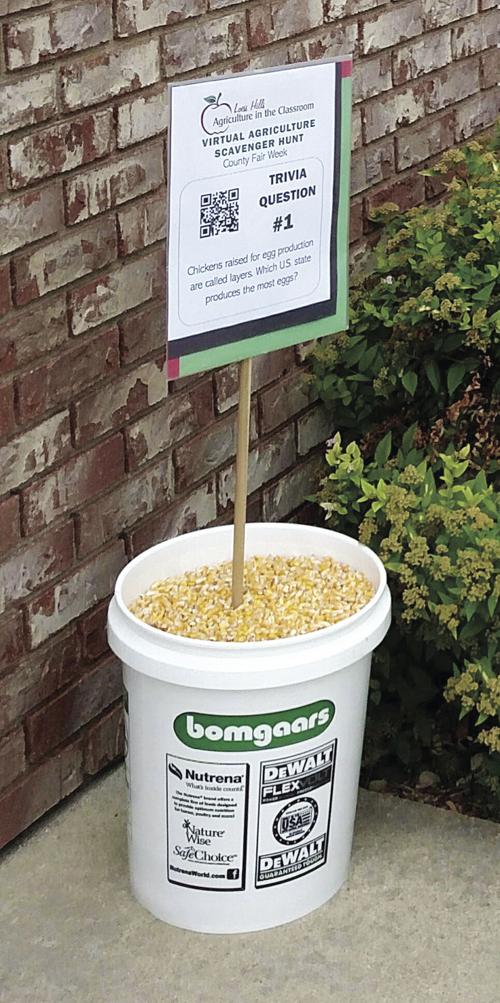 County fairs will be doing things a little differently this year, and agriculture education is adapting as well. In order to extend Agriculture in the Classroom efforts into the summer, Melanie Bruck, of Loess Hills Agriculture in the Classroom (LHATIC), and her team came up with a scavenger hunt to include the entire community, even beyond the fairgrounds.
Agriculture trivia stations will be set up in all five counties each fair week and remain in place during the week of the county fair. The agriculture scavenger hunt will consist of five questions that can be answered by watching a short video.
The links to the recorded can be accessed via QR code at the trivia station on any smart device. Participants will visit each of the trivia stations around the town or county and look for a sign with the trivia question and QR code.
Answers to the trivia questions can also be found in the My Family's Farm book series available from the Iowa Agriculture Literacy Foundation.
Signs and the locations of the trivia stations can be found at the county fair offices, at the county Extension offices, at various agribusiness or at other supporting businesses of LHATIC.
The displays will be easy to identify and will be located outside the business to ensure social distancing.
Once contestants answer all five questions, they will need to email a photo of their completed questionnaire to mbruck@iowaagliteracy.org.
A drawing will be conducted for participants to win an agriculture activity bag. One bag will be given away in each county and mailed to the winner.
Participants are encouraged to take pictures of themselves completing the scavenger hunt, without revealing their answers, and use the hashtag #LoessHillsAITC on Facebook, Twitter, or Instagram. Each photo with the hashtag will earn participants an additional entry into the prize drawing.
Questionnaires can be picked up at the Farm Bureau offices in Carroll, Crawford, Harrison, Shelby and West Pottawattamie counties or at any of the trivia stations. Students can begin their scavenger hunts at these locations:
• Shelby County, July 12-20 at 908 6th Street, Harlan
• Carroll County, July 13-18 at 829 Griffith Road, Carroll
• Harrison County, July 21-25 at 115 North 3rd Avenue, Logan
• West Pottawattamie County, July 22-25 at 126 East Broadway, Ste.1, Council Bluffs
• Crawford County, July 22-26 at 204 North 7th Street, Denison
People can also email a request for an activity questionnaire to mbruck@iowaagliteracy.org to receive a copy to print at home.