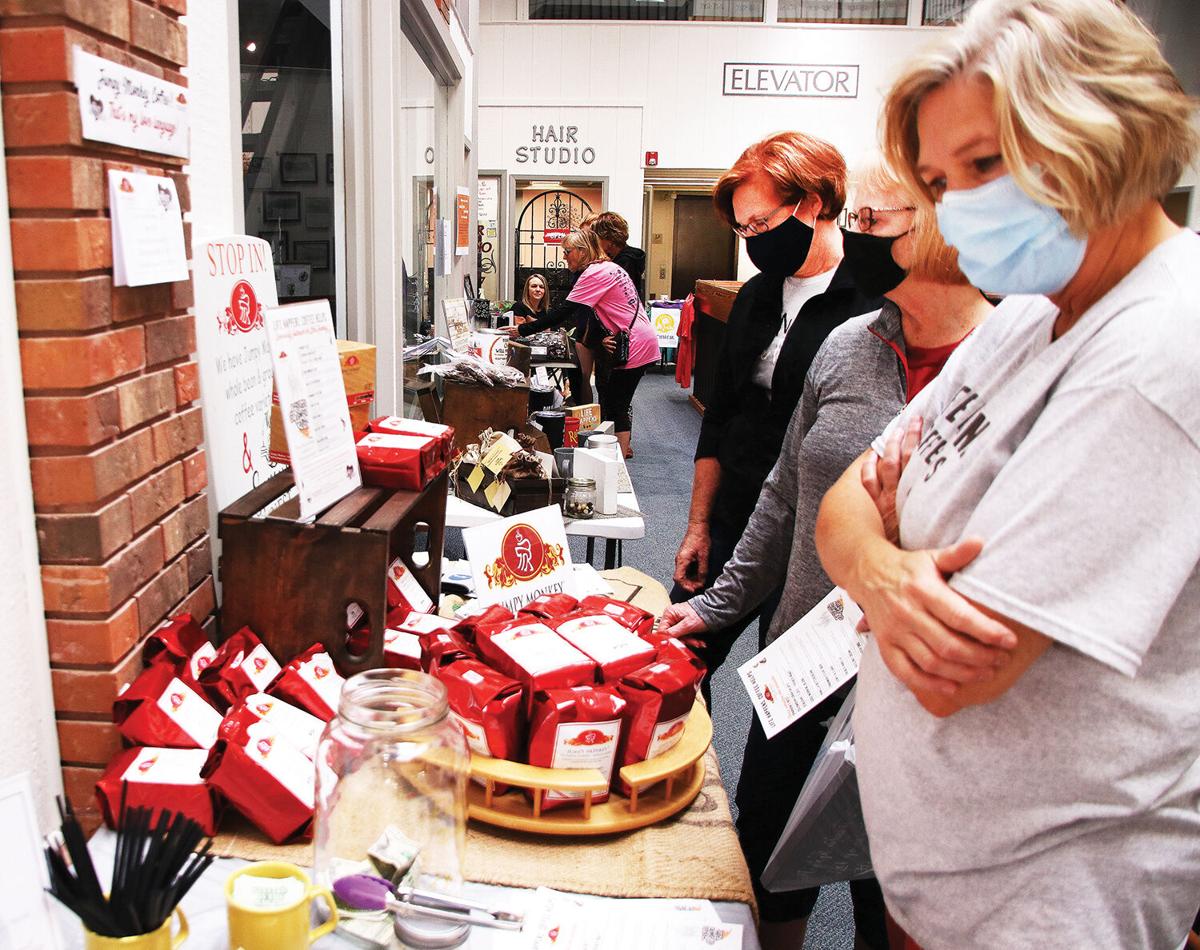 "Market in the Mall" is a new vendor market that takes place in the Broadway & Main Mall in Denison on Saturday mornings.
"This is not affiliated with Marked in the Park," noted Jill Popham, owner of The Boutique in the mall, "but it just made sense to call it Market in the Mall."
Popham is the driving force behind the new vendor market.
She said the arrival of Heather Eischeid's "Totally You Boutique" as her neighbor in the mall helped make the market possible.
"We were talking to each other about creative ways to get more people into the mall and more business into our stores," Popham said.
They talked about the benefit of having a mini vendor show - and that vendors have not had many options during the ongoing coronavirus pandemic.
Market in the Mall is a spinoff of the vendor show they put on in the mall during the Backyard Brew & 'Que in September.
"When I bought the store in the mall, (mall co-owner) Rick Franck made it very clear that should I ever want to have events in the lobby that he was all for it and would have no issues," she said. "He was actually kind of excited that I was willing to put together something."
Market in the Mall will take place from 10 a.m. to 2 p.m. on Saturdays through mid-December, except on November 21 and 28 when other activities were already scheduled for the mall.
"We're limiting it to six or seven vendors," Popham said. "With the current situation, we feel that allows everybody ample space to do social distancing and keep everybody safe without it being crowded."
Vendors must bring their own setup and may use tables up to eight feet in length, she said.
There is no charge for vendors.
The lobby opens at 9 a.m. on Saturdays for vendors to set up.
"We are leaving it open to anybody that has handcrafted items or is a small business entrepreneur," Popham said.
Pampered Chef, Scentsy, Mommy & Me and Tastefully Simple are some of the home-based businesses that will have vendor tables.
Inexpensive jewelry, designer cloth face masks, shirts, hammered copper, and essential oils are among the products a shopper may see from week to week at the market.
Popham said she and Eischied – and their businesses – have been a good fit as neighbors in the mall.
"We complement each other," she said. "My customers go in there and people who aren't even aware of my business come over."
Popham said she and Eischeid help each other out when one or the other is running late or can't make it in.
"It's all about a community, cooperative spirit," she said.
Popham said Market in the Mall will likely take place again during the spring.
"We hope to do a spring series, but we will not do anything in the summer because we do not want to compete with the Market in the Park," she said.
Vendors interested in joining Market in the Mall may contact Popham through her personal Facebook page, The Boutique Facebook page or at 712-269-0205.