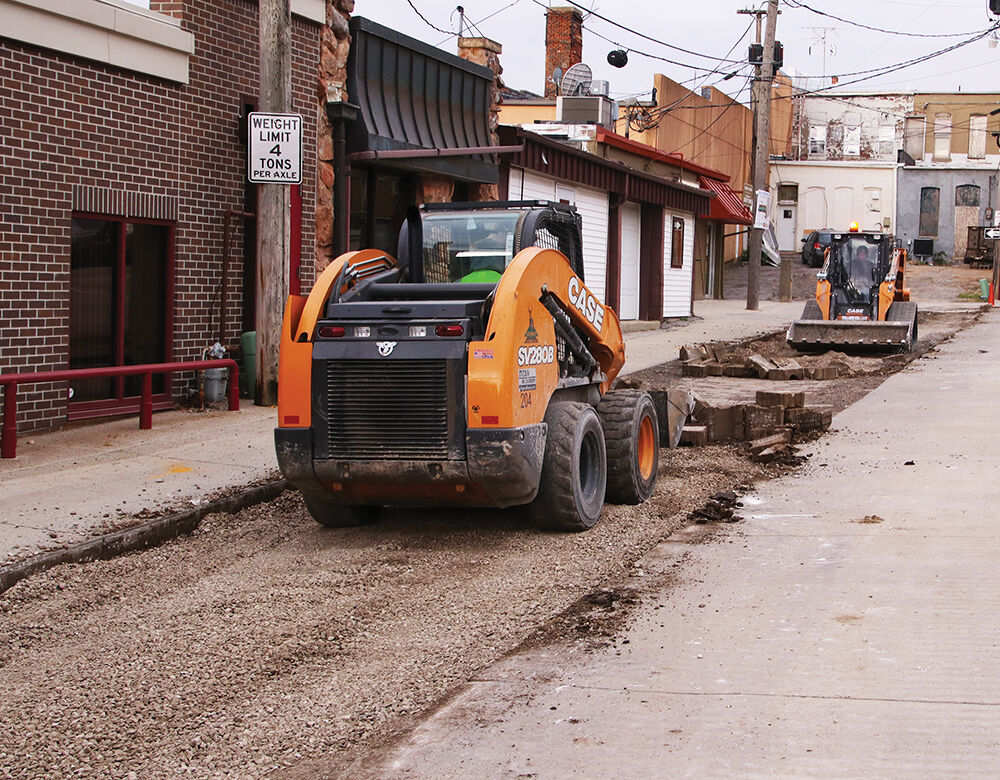 With just more than $1.2 million in American Recovery Plan Act (ARPA) funds to spend, the Denison City Council continued last week to prioritize projects that would qualify under the act's regulations.
The funds could be spent now, but they must be spent by the end of 2026. The city is required to identify the uses of the funds by the end of 2024.
Of the $1,228,551 allotted to the city, $609,461 has already been delivered. The city will receive the remaining $619,090 in July 2022, according to a discussion at a council meeting on September 7.
A Denison Municipal Utilities water project, a wellness center, street projects and affordable housing are among the uses discussed last Tuesday.
At the September 7 meeting, partnering with Crawford County in a new facility for county public health and also in a wellness center was discussed, as well as improvements to Kids' Kastle at Washington Park.
Last Tuesday City Manager/City Engineer Terry Crawford provided a list of possible uses of the ARPA funds.
He mentioned street replacements at the sanitary sewer manholes as a use.
"We seem to have a lot of problems at our intersections with those," he said, adding that this project could involve replacing the major parts of intersections.
He also mentioned storm sewer projects but added he doesn't know if the city would have that much to do that would qualify for use of ARPA funds.
One storm sewer project that was recently done is the replacement of permeable pavers behind Thrifty White in the Safety Zone parking lot. The pavers were installed in 2017 as part of a biocell project but the pavers have deteriorated. They are going to be replaced with a system that uses a narrow, continuous drain.
Mayor Pam Soseman wondered if Road Use Tax funds could be used for the replacement of the pavers. She pointed out that it had to be done this year before the city knew it had ARPA funds.
Crawford's said that storm sewer projects are eligible uses of the funds and he thinks the paver replacement is a perfect project.
"If there's money that could come from a different account, we could use some of the American Rescue Plan funds for these other projects," Soseman added.
"The problem is we're looking at fixing intersections and sections of street all over town, so my thought was to take advantage of this while it's available," Crawford said.
Councilman Corey Curnyn agreed with Crawford.
"We've got a lot of problems in town. Every avenue that we can use to make improvements is a good idea," he said.
Crawford also mentioned a storm sewer project that needs to be done is on 12th Street from 2nd Avenue South to Highway 30. He said that project would put intakes on each corner to take in the storm water.
Crawford said that now, during a heavy rain, the storm water will jump the curb and go through the Carlyle Memorial building, which is located on the east side of 12th Street at the Highway 30 intersection.
"They've kind of been waiting for years for us to do something about it," Crawford said.
He continued that is just one example of storm sewer projects that would be eligible for ARPA funds.
Councilman John Granzen also spoke in favor of using ARPA funds for streets.
"As bad as our streets are, as bad as we don't have money, we should be trying to spend as much money on the streets more than we spend on other things at this point. Some of this other stuff can actually wait," he said.
He added that the public complains about the condition of the streets, and Councilman Dustin Logan said using the funds on streets is something that the public can see where the money was used.
Evan Blakley, executive director of the Chamber & Development Corporation of Crawford County, offered a different use for the council to contemplate.
"I would encourage the council to think about what we need to attract people. I don't think folks are moving to places because they have the best streets. They'll move there and complain about the streets once they arrive," he said. "They move to places that have a great quality of life, great amenities and places to live.
"Talking to our employers, who are our tax base, and we want to keep them here, they are crying out for workers. So if you can influence workers to move here with this, that would be a lasting element that grows your tax base for decades. You spend on these streets, they are going to have to be repaired again in a matter of time. They always do. I would encourage you, just my perspective, let's invest in something that would be lasting, which is people coming here and growing that tax base, and using that tax base to improve your streets. Just my perspective."
Curnyn suggested finding out what other communities are going to use their ARPA money for.
One project on the list that appeared to have a low priority was the use of ARPA funds to bring broadband internet services to the uptown businesses. It was pointed out that this was an eligible use of the funds.
Councilwoman Jessica Garcia said, "When I look at broadband and see the amount of money we have to spend, we've been talking about Kids' Kastle, housing, DMU. Everything on this list, in my opinion, would take precedence over broadband."