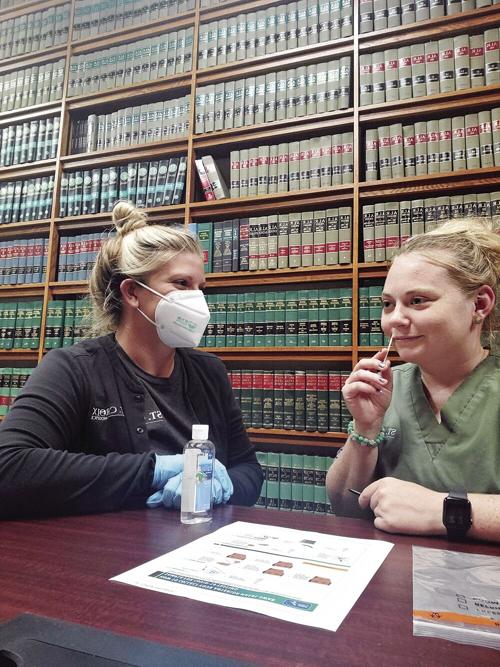 "This week at St. Croix Hospice we rolled out weekly COVID-19 testing for all of our field staff," said Tracee Gettys, manager of clinical services at the St. Croix Hospice Denison branch.
"We are proactively testing all St. Croix Hospice field workers in an effort to support our partner nursing homes, who are already busy testing their own staff."
The Denison branch of St. Croix Hospice, which is one of 10 branch offices in Iowa, opened in June; the 10 branch offices serve more than 80 percent of the state.
On August 26, the Centers for Medicare & Medicaid Services (CMS) released new guidance requiring nursing homes and skilled nursing facilities to regularly test all residents and staff for COVID-19.
"Our community partners no longer have to test our visiting hospice staff in addition to their own staff, now that we have brought testing into our branches," Gettys said.
Collection of testing samples from St. Croix Hospice staff takes place in-house.
Testing takes place on Mondays and Thursdays; staff members arrive at the branch office between 8 and 9 a.m. on those days.
Gettys, an RN, or another branch nurse, supervises the collection of samples.
Each of two nasal swabs takes about 15 seconds.
"The swab goes into the vial, we put a label on it with the requisition, and it gets FedExed out," Gettys said. "We get results rather quickly – within 24 to 36 hours."
No St. Croix Hospice staff member at the Denison branch has tested positive to this point, she said.
She said staff members appreciate the reassurance provided by the weekly tests.
"We take our negative results and we fax them to the individual nursing homes so they're able to pull it up," Gettys said. "When we walk in the building they know we're negative and they're happy to see us."
The testing is part of the St. Croix Hospice Safe+Care Promise program, which includes a variety of safety precautions aimed at preventing the spread of COVID-19 and other contagious illnesses.
Keeping a safe distance is one of the requirements.
"Unless we are providing direct patient care, we practice social distancing in all situations," Gettys said.
The organization also offers telehealth technology for virtual admissions and visits when needed, and makes tablets available to partner facilities upon request to facilitate telehealth care.
"We help wherever we're asked, wherever we're needed," she said.
Education is an important component of the Safe+Care Promise.
"We have ongoing training in preventing the spread of infection, including COVID-19 - knowledge staff can then share with our community partners," Gettys said.
All St. Croix Hospice staff members wear personal protective equipment (PPE), which includes gloves, eye protection and face masks, when providing direct care.
Staff members also undergo a daily self-screening.
"All staff perform daily temperature checks and daily screenings for COVID-19 symptoms and we will continue to test our staff weekly," she said.
Since opening in June, the Denison branch has had a steady caseload.
Gettys said opening the branch in the middle of a pandemic had its challenges, but no patient has been turned away.
"We admitted every referral we got," she said. "We were able to implement important safety precautions and we went into the facilities and the homes, and we took care of our patients."