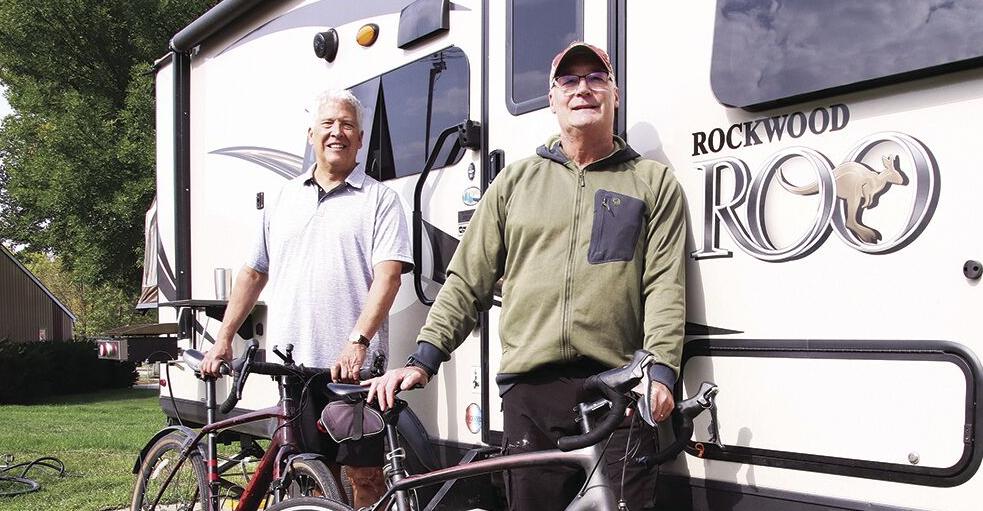 Friends and neighbors Mark Dean and Dr. Rob Liddell are scratching off an item from their bucket list mile by mile as they pedal their bikes across the United States, from Seattle, Washington, to Washington, D.C.
And with them they brought Tim Salley, now renamed Cookie Tim because he tows the camper from each day's starting point to the ending point and does the bulk of the cooking.
The journey brought the three men to Denison on Thursday, where they were spending a day off before heading to Perry today (Friday, September 25). Mark and Rob ride their bikes 60 to 70 miles per day and travel three days with every fourth day as a rest day.
When interviewed at Sunset Village RV park in Denison, Mark and Cookie Tim were at the camper, and Rob had taken advantage of the day off to go to the Henry Doorly Zoo in Omaha.
All three are retired, which makes the trip possible. Mark was an investment banker with Citi Group, Rob was a radiologist and Tim was in sales with Sodexo, a food service company.
The bicycle trip across the United States started with an idea five years ago.
"Rob and I are bicycle buddies and we've ridden our bikes together a lot and we said we were going to ride across America in 2020," Mark explained.
While riding, they decided to raise money for a charity, too, and chose the National Elks Veterans Fund. They have raised around $7,500 so far, donated via a link on their Facebook page. The donations go directly to the Elks Veterans Fund.
Mark said he and Rob got serious about planning the trip two years ago.
"Our wives just figured out we were serious about it three months ago," he added.
That was about a month after Mark and Rob bought a Rockwood Roo camper to follow them on their trip.
"They thought it was all BS. Then it was like, 'Holy smokes, you're serious about this!' My wife was mad at me for probably a month because she didn't think I was going to do it," said Mark. "But yet they are very supportive and will meet us in Washington, D.C."
The target date for arrival in the nation's capital is October 26.
The ride started in May when Mark and Rob dipped the back tires of their bicycles into the waters of the Pacific Ocean. But the trip soon went into hiatus for two months when Mark had heart problems while traveling in Montana. The group returned to Seattle for June and July until Mark got a clean bill of health, and then they started again where they had left off in Montana.
The coronavirus pandemic has changed some of the plans for the trip. One of the plans was to do fundraising at local Elks Clubs along the way. That hasn't transpired yet, but they still have over 1,000 miles for that to happen.
The coronavirus pandemic also changed the ending point of the trip from New York City to Washington, D.C., because of the number of COVID-19 cases in New York.
Mark said the cross country trip started because it is a fabulous way to see America.
Becoming "grounded" is another reason for the journey.
"It's pretty easy if you live in a big city to get jaded and to really miss a lot of what the country is about," Mark said. "I mean, if you're just living in a big city, you expect the worst.
He said the trip is a great way of seeing the country and meeting people.
Mark and Rob were only on Day 2 of their journey when they received their first lesson in becoming grounded.
"We met a guy (Jason). If I would have met him on the street in Seattle, I would have crossed the street to avoid him," Mark explained. "He was scary looking, but we ended up riding with him a little bit after having lunch with him. It was just a meal, but it was a great way to ground yourself and see what's important and what's going on in the world."
Weather has offered the greatest challenges so far, and Montana provided the extremes in weather-related bicycling experiences.
"We rode through the Continental Divide in Montana in a snowstorm," said Mark.
That was at the end of May and the temperature was 27 degrees.
Montana also served up some 95 degree days of riding. Of course, it took two weeks to cross the state by bicycle.
Another weather-related challenge happened just on Wednesday.
"We were traveling from Decatur, Nebraska, to here, and about 15 miles into a 60-mile ride, there was all this mist and fog, and it didn't clear until about 11 a.m. or 12," Mark said.
He had to take off his glasses to see clearer because of the mist on the lenses.
Other than that, the experiences have been great, especially when encountering people.
"Motorists have been fabulous. Truck drivers, in particular, will pull over to the next county (as far across the road as they can go) to avoid you," said Mark.
"And people have been great," he continued. "We met a woman in Johnstown, Nebraska, who was telling us her story, and that's what this trip is all about, the stories from people.
"She bought a bar and put a café in it because there was no place to eat in town. And I thought that was pretty remarkable, because, again, a jaded West Coast investment banker, which is what I used to be, would say, 'Why the heck would you ever do something like that?'
"You get a different sense of community," Mark admitted.
Rob has been the route planner and navigator, and selected a combination of roads and rail trails for the route between Seattle and Washington, D.C.
Mark said the most scenic trail they've been on was through the Black Hills in South Dakota.
"It's just gorgeous. I told everybody that's on my Facebook page that if you haven't been to the Black Hills, you've got to go, and if you can ride a bike through it, it's even better," he said.
The most recent trail the duo have been on is the Cowboy Trail in Nebraska.
Mark said when people hear they are riding across the United States on bikes, they think they are roughing it. But they aren't. Their trailer extends out and has three queen beds.
"So right now the only hardship is being away from your family," he said.
Adding to the fun of the journey are those people who ride with them.
"I had a college roommate that I hadn't really spent a lot of time with for 30 years," said Mark. "He came out and spent the whole day riding with us."
That was around Coeur d'Alene, Idaho.
Mark and Rob have also had some friends - farmers in Washington - that they stayed with when crossing the state.
"That was fun and you are able to kind of rekindle some relationships," he said.
For Mark and Rob, that's what the adventure is about.
"It's all about trying to meet people. Even with COVID, we're still able to do it," he said.
Although Mark and Rob are the riders, the most important member of the trio, Mark said, is Cookie Tim.
"Imagine, how many friends do you have that you could say, 'Hey, why don't you leave your family for 90 days and drive a truck and trailer,' but he's only driving maybe at the most 90 minutes a day, because we're riding 60 to 70 miles a day."
Mark said the only expectation for their trip that hasn't become reality is the amount of time they've spent talking with people they meet on their journey, and that's because of COVID-19.
"We had expectations of more one-on-one time with people in cafés or taverns, and that has been significantly less, but the quality of that time has been everything we expected."
Mark encouraged people to follow them on their ride via their Facebook page and through a smartphone app called "Relive." It gives a three dimensional satellite picture of their route. It also incorporates videos they've taken, like their visit to the third-largest ball of twine in the nation.