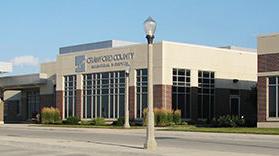 The Crawford County Memorial Hospital (CCMH) Board of Trustees decided on Monday evening to authorize the purchase of two new ambulances for the hospital's ambulance service.
Jason Franklin, CCMH director of emergency services, spoke to the trustees about why he recommended the purchases.
He noted that this year's capital budget already had $200,000 slated for the purchase of an ambulance.
CCMH currently has three ambulances and the goal is to continue with three; the hospital staffs two and the third is used as a backup.
One of the current ambulances is out of service due to multiple mechanical issues.
"The best estimate to repair it is more than it's probably worth to repair," Franklin said.
Another ambulance has multiple problems.
"We actually had an issue transferring a patient today (Monday)," he said. "They couldn't get the back door of it open; they came back and got it fixed, but it just kind of keeps going. There's a 'check engine' light on, and the money to get it to go off is almost more than it's worth."
Maintenance costs are up because of the problems.
Based on the approved budget of $200,000, Franklin looked to see what was available.
He was able to get a quote for two ambulances from Feld Fire, of Carroll, for $210,028.
The less-expensive ambulance, quoted at $86,199, is a Wheeled Coach Type III Ford E350 van-type vehicle.
"It's built on a different chassis so it's better for transfers for long distance," Franklin said.
He said a major complaint about the current ambulances is they have a rough ride, which can be a problem for patients during transfers to Omaha, Sioux City or other locations.
"I did a transfer a couple weeks ago and the patient was uncomfortable for about a half-hour of the drive," Franklin said.
The van-type ambulance is built for patient comfort and is a little bit easier to drive; it can also be used for 911 calls, he said.
Mercy Sioux City uses that type of ambulance and the City of Omaha is purchasing some, he said.
The van-type ambulance is becoming more popular because they are less expensive to purchase and operate, according to Franklin.
Clarinda, Shenandoah, and Red Oak each have one or are purchasing one, he said.
The second ambulance, quoted at $124,829, is a Wheeled Coach Type 2 Ford Transit 250 truck-type vehicle.
"(It) would be one like we have; it's physically smaller, but the inside is only an inch (smaller) on each side (than) the current model that we have," Franklin said. "You wouldn't even notice the difference."
The box is physically smaller and the vehicle is easier for the driver, he added.
He said he hopes to get the price down a little from the quote for both vehicles.
The bid was $160,000 for the basic model of that type of vehicle from a previous vendor, he said.
The van-style ambulance doesn't have a lot of options, but Franklin said the ambulance crews would be able to get involved with setting the layout of the other vehicle.
Due to the motor vehicle industry chip shortage, the first ambulance will likely not be available until the end of January or early February, and the second might arrive in the middle of March, he said.
Both will be gas-powered and the Ford components can be serviced in Denison; Feld Fire would service their components at CCMH.
"They would pull up to our driveway and fix it here … so we wouldn't have to take it and drop it off," Franklin said. "I think the service level will be a lot higher."
Feld Fire sells many different kinds of vehicles and was the only vendor that offered options, he said.
Trustee Greg Kehl asked if, considering the current problems, he thought the ambulance service could get by until January, February or March.
"I do," Franklin said. "We're kind of working ahead on maintenance and … instead of waiting for something to happen, we're trying to be a little more proactive, doing the small things to prevent the larger costs."
The trustees voted unanimously to purchase two ambulances, with the total price not to exceed $220,000.