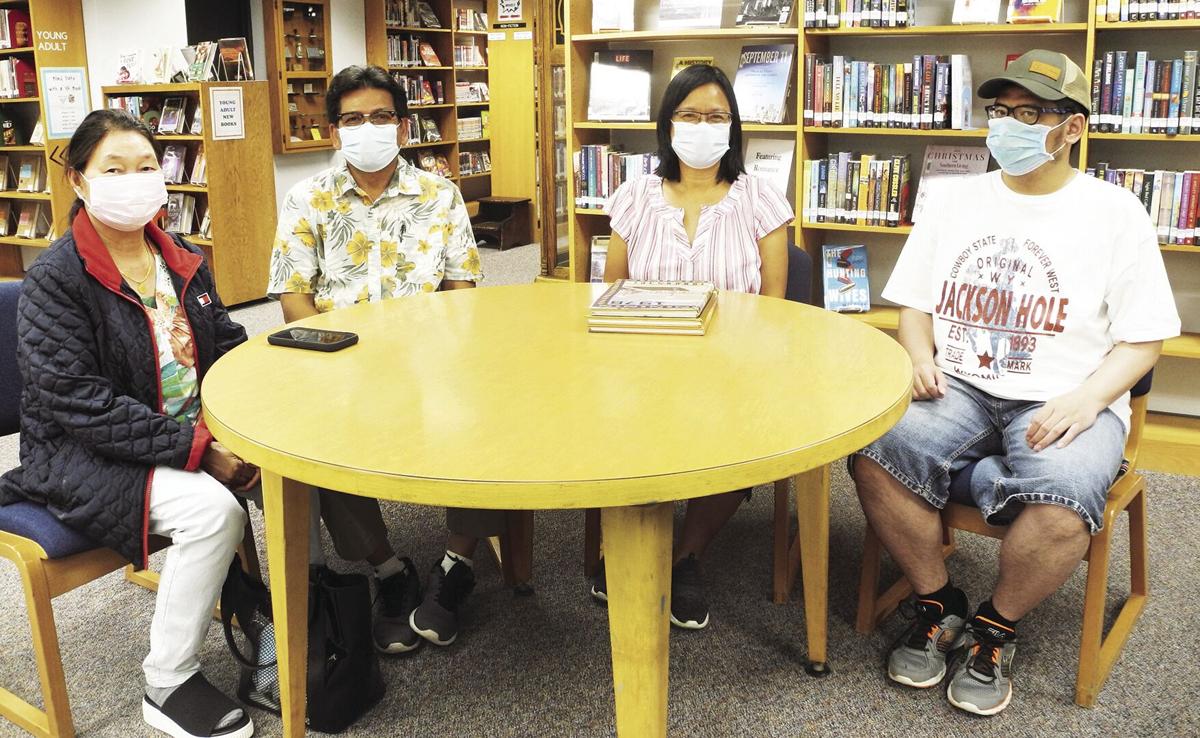 In October 1976, a nine-year-old Ouane Tanhmanivong (now Ouane Cam), her eight siblings and her parents left Thailand, where they had been in a refugee camp, and came to Denison.
They remained in Denison only three months and then moved on to Fort Dodge.
But they always thought about the people who sponsored them to come to the United States and Denison, but because of the language barrier they had at the time, they are no longer sure who their sponsors were.
Ouane has been thinking about finding the sponsors for about three years and mentioned it last year to her sister, Kay Roeun, who was 23 when the family came to Denison.
They have been conducting searches since that time. One leg of their search brought them to Norelius Community Library in Denison on Monday to find anything that might give them a clue who their sponsors were. They did not have much success.
Accompany Ouane and Kay was Kay's husband, Soriya, and their son, Charlie.
The Roens live in South Sioux City, Nebraska, and Ouane lives in Dakota Dunes, South Dakota.
Their parents have passed on and all the other children are spread across the United States.
"We're trying to look at our family history, how we came to the United States, if there are any newspaper articles and who sponsored us," said Oaune. "We want to acknowledge them and let them know how grateful we are."
Ouane added that they know a church helped them but didn't know if a particular family was their sponsor.
Kay recalled a Pastor Stanley Jones whose wife was named Jackie, and another pastor whose first name was William and whose wife was named Mary.
Ouane said it was easier for the younger children in the family to adjust quicker to the move to the United States.
"It was hardest for my sister (Kay) with the language barrier, because she had to go to work, and it was difficult for my parents, as well," said Ouane. "For the younger children, we adjusted well, we took to the language and went to school, and we all went to college."
The family is Tai Dom and lived in the mountainous rural region of Laos before going to the refugee camp in Thailand.
Once they left the refugee camp they flew to Hong Kong, then to San Francisco and finally to Chicago where their sponsors picked them up and drove them to Denison.
It was very confusing, said Kay.
"We were raised in a rural community, so to see Hong Kong with its lights, and San Francisco and Chicago, with their lights, was very challenging," said Ouane.
She actually thought she and her family were going to France after leaving the refugee camp because the younger children in the camp were being taught French.
Soriya Roeun is not from Laos but is Cambodian. He met Kay at the refugee camp in Thailand. Soriya and Kay's family flew to the United States about a week apart. Soriya went to Washington, D.C. where he stayed for about three years after marrying Kay. Then they went to Houston, Texas, for work and then to Fort Dodge where he studied for two years at the community college to become a mechanic. He now serves as a pastor.
Kay works at Tyson Foods and Ouane is a registered nurse. Ouane had lived in San Diego, California, for a while when she was studying and then working as a nurse.
Of the other siblings in the family, one sister is retired, a brother is a software engineer, one sister is a dental hygienist and another sister owns her own business. Two siblings joined the U.S. Navy; one is a social worker now and the other is in law enforcement. They did not say what another sister's occupation is.
Ouane pointed out her last name is now Cam but when the family was in Denison, their last name was Tanhmanivong. Tanhmanivong was their mother's last name but she has now taken her father's last name of Cam.
"At the time we were here we had a language barrier and couldn't thank our sponsors well," said Ouane. "We just want to let them know we are grateful that they took the time to invest in us."
Ouane provided her email address for anyone who might have information about her family's sponsor. The email address is icurn_2020@yahoo.com.