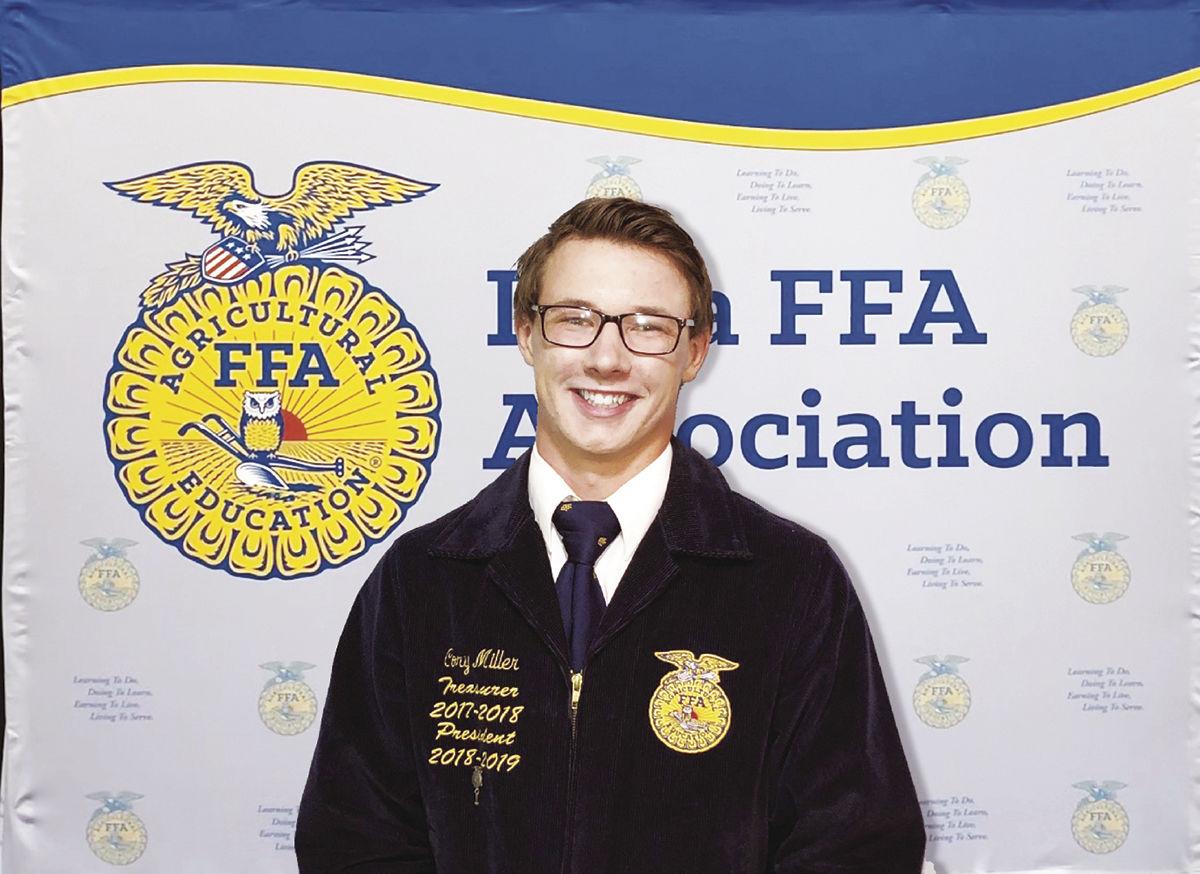 Cory Miller, 2019 Denison High School (DHS) graduate, was recently named South West State vice president of the Iowa FFA.
Miller is one of six FFA vice presidents in Iowa.
"All six of us are each part of the state team but also we're president of our district's officer team," Miller said.
As a board member of the state FFA, he is in charge of planning major events throughout Iowa and is in charge of CDEs (career development events).
As president of the Southwest District, he is in charge of the 212/360 and Greenhand Fire-Up leadership programs.
"We build off of our organization and teach (younger students) the leadership experience I received throughout high school," Miller said.
Dana Weeda, his former ag teacher, said, "I think the biggest thing is he is so personable and he talks to everyone. He was always helping the younger FFA members if they had questions. He was truly a people person."
In her 11 years as an ag teacher at Denison High School, Miller is the first student to be elected as a district FFA officer.
Miller grew up outside of Denison and has family farmed at a different location, so he has been around cattle and hogs his whole life. He and his brother showed pigs at the Crawford County Fair.
Agriculture wasn't necessarily a good fit from the start, however.
"I found myself surrounded by cows and at first I didn't really like it at all," he said. "I remember going out to the farm and hating getting gates and chores in general."
Finding out that cows have four stomachs made him interested in the science behind agriculture, he said.
"Learning all the different aspects of how to properly maintain it, you kind of grow an appreciation for what agriculture really is and how the science behind it backs it up," he said.
Of all the clubs available at DHS, Miller said he was most interested in FFA.
"That was mostly because of the three-part aspect of your SAE (supervised agricultural experience), which leads you into the real-world agriculture career; FFA, which builds your leadership; and the classroom style learning, which gives you the education," he said.
DHS FFA advisors Dana Weeda, Alise Meyers, and Tim Baughman had a positive impact on him.
"Especially going into freshman year, I had no idea what FFA was or what it could offer me," Miller said. "Throughout those years I kind of got hooked."
He was president of the Denison FFA chapter in his senior year.
"Through that I got a scholarship at DMACC (Des Moines Area Community College)," he said.
He has completed one year at DMACC and will return this fall to finish his associate degree.
In the fall of 2021 he plans to attend Iowa State University to being work on a degree in agricultural engineering.
The most important part of FFA for Miller has been the leadership training, which is what he hopes to help promote in his new position.
This summer he is working for Denison Hardscapes, which is where he worked for the last three summers for his SAE.
"It's an enjoyable job," Miller said. "I love workout outdoors and getting dirty and gritty."
When he starts attending ISU in a year, he hopes to gain additional experience through an internship.
After graduation, he wants to work in the aerial application industry.
"Crop dusting in general is my passion," he said.
Along with the engineering, he also wants to do some of the flying.
"I'm hoping to take pilot courses, too," Miller said.