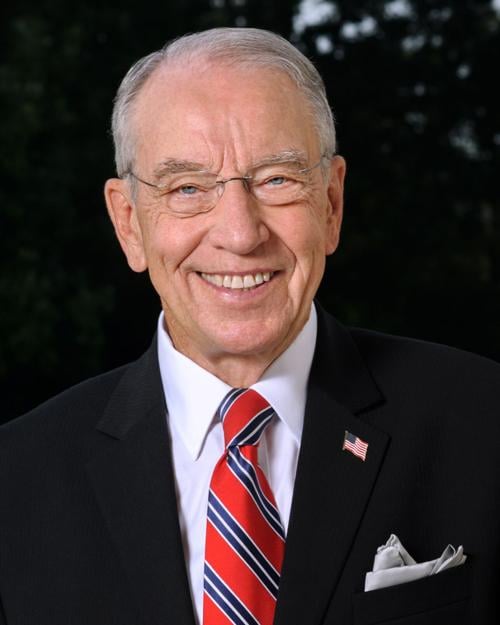 from the Gazette Des Moines Bureau
Iowa Sen. Charles Grassley, Iowa's longest-serving U.S. senator, today announced he will see re-election to an eighth term.
Grassley, 88, a Butler County family farmer from New Hartford, made the announcement at 4 a.m. via Twitter.
"Serving Iowans in the United States Senate is a tremendous honor," said Grassley.
"I'm working as hard as ever for the people of Iowa and there's more work to do. In a time of crisis and polarization, Iowa needs strong, effective leadership. I'm focused on serving the people of Iowa as your senator and fighting for policies that will make Iowa an even better place to raise a family and grow a business.
Grassley has served Iowans in the Senate since 1981, holding major committee assignments and formerly serving as the chamber's second-highest presiding officer. He famously has established the "full Grassley," a tour of 99 counties that he makes every year.
"As I travel throughout Iowa holding Q&As at my annual 99 county meetings, Iowans have encouraged me to continue my work representing them. I'm glad to have the support of Iowans and I will work as hard as ever to earn their continued support in the months ahead," said Grassley.
"Iowans know how seriously I take my work representing them in the U.S. Senate to solve problems, which is why I never miss a vote," he added. "For example, I'm leading the effort to lower the cost of prescription drugs, give independent cattle producers a fair market, secure our border, protect the renewable fuel standard, and hold government accountable to the people. Barbara and I look forward to talking with Iowans across the state as we build a winning campaign focused on issues that are most important to Iowans."
Grassley could face a GOP Primary challenger next year. State Sen. Jim Carlin, R-Sioux City. announced earlier this year he's running for the U.S. Senate.
On the Democratic side, former Congresswoman Abby Finkenauer of Cedar Rapids and Dave Muhlbauer of Manilla, former Crawford County Supervisor, have announced plans to run for their party's 2022 U.S. Senate nomination.
Reacton from Iowa Democratic Party chair
 "Grassley has changed," said Ross Wilburn, a state representative from Ames who is chairman of the Iowa Democratic Party.
"He pretends to be independent from politics, but Iowans know better, Wilburn said in a statement. "Chuck didn't think working families deserved the Child Tax Credit, he voted against a bipartisan investigation into the deadly attack on the U.S Capitol, and he flip-flopped to get Trump's nominee on the U.S. Supreme Court.
"He's turned into the typical Washington politician he claims to despise," added Wilburn. "Chuck now faces his lowest approval ratings heading into a campaign because Iowans know he stopped working for them a long time ago."