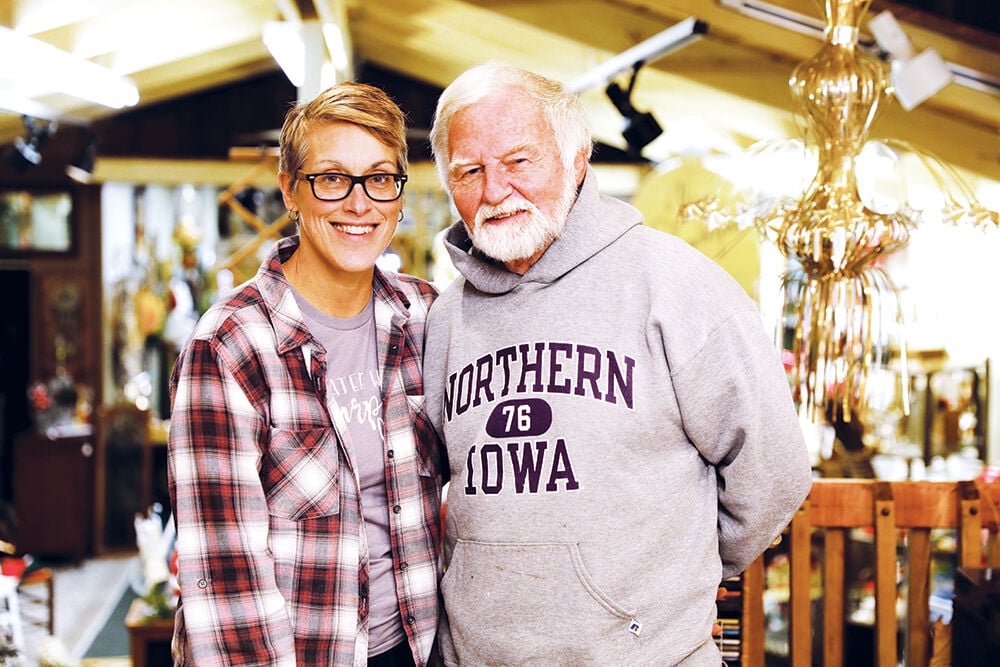 Lynn and Ann Platt are finalizing the sale of their home in Denison this week.
They purchased a house in Bondurant this summer and will soon move to that community to be closer to family in the Des Moines area.
"We have four grandkids down there, between five and eight," Lynn said.
"They have three elementary schools in Bondurant, so there will be plenty of opportunities for me to substitute teach," said Ann, who retired this spring from teaching transitional kindergarten through third grade music at Denison Elementary School.
They will soon be making plans about vacating their Denison house, which will require that they make some decisions about their business.
Lynn and Ann have run The Junkery, on Broadway in uptown Denison, since 2013.
Their preference would be to sell their inventory to someone who will take over the shop.
"They could have our clients, reputation, everything – that's what we would like," Lynn said.
"This community has been really good to us, and we would hate to move all this stuff out and lock the door. That's what we're trying to avoid."
"Mostly we also don't want to move it," Ann joked. "Actually, we do, but we don't have a place to move it."
She said Bondurant doesn't have a suitable space in their uptown business district.
"So, in the meantime were going to try to run The Junkery just like we have," Lynn said.
He said they may make some adjustments once they are out of their house.
"We could have shortened hours, we could hire somebody, or we could open a couple days a week," Lynn said. "But we hope somebody will step up and say they're interested in the store."
They both said they have bittersweet feelings about leaving Denison.
"We've been here in Denison 23 years," Ann said.
"We have lots of friends and connections with the school and the church," Lynn said.
"And, now, this store," Ann said.
"We've met so many people through this store – I never expected that," Lynn said. "It's been a lot different than I thought it was going to be."
He said they started out in the business because they liked buying stuff - and started accumulating things.
Ann talked to the owner of the Your Treasure Chest in 2012 about setting up a small section of items for sale in their lower level.
"She soon ran out of room, but she was liking what she was doing," Lynn said. "That led us to look at places, and this place appeared."
The building had been vacant for a while, and owner Scott Ferguson was anxious to get something in it.
"He was cooperative and helped us," Lynn said. "We took over the lease on July 1 (2013) and we opened the first week in August. In between, we were sometimes going to three sales a weekend because we really didn't have a whole lot of inventory to start with."
"It's just like a house – you accumulate," Ann said. "Scott Ferguson was so good to us to let us try this out. We didn't know what we would see in profits or if we could make rent. He was very supportive of us doing this and made it possible for us. After he passed, Deb and Joe (Ferguson) have continued and have been wonderful people to rent from."
When they first opened the shop, they filled the upper level but the lower level was empty.
"When we started this, we walked through here and thought we'd have so much storage," Ann said.
"But now every corner downstairs and every corner upstairs is filled up," Lynn said.
Lynn said one of the reasons the store has worked is Ann's passion for arranging the displays.
"Just about every day, somebody would come in and say, 'I've never been in before and this is set up better than any antique shop I've ever been in.' She has a passion and she has a talent – and she's going to have to replace that with something because she dearly loves doing this."
Lynn said he has enjoyed his interactions with customers and taking care of the business end.
"If we can, we'll find a way to continue buying and selling, just not maybe the hours and the days we've been putting in," Ann said.
Anyone interested in continuing The Junkery may stop by the business or call Lynn at 712-263-7595.
"We really appreciate the support that Denison and the surrounding areas have given our business and it's something that we hope will stick around in Denison," Ann said. "We're very proud of what we've built."