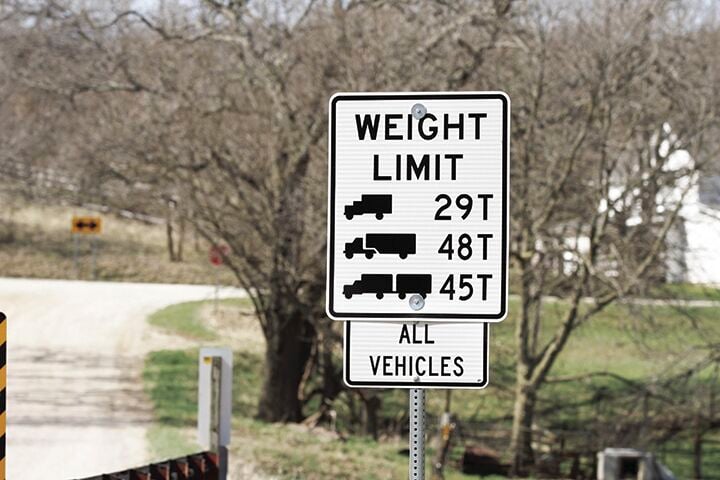 A 2018 law enacted by the Iowa legislature allows much heavier vehicles to travel on county roads.
The law required counties across the state to post new signs restricting "special haul" vehicles from crossing bridges that can't handle the weight.
According to Crawford County Engineer Paul Assman, a total of 36 bridges in Crawford County were impacted.
Eleven of the bridges could be dealt with by posting "one truck on bridge" signs.
The rest of the bridges required multi-sign postings.
"The full sign regime is a sign at each end of the bridge and a sign at each end of the mile - so four signs," he said.
The total cost to the county for all materials, labor and capacity rating was just over $30,000.
Assman and other county engineers worked to have the law changed, but their efforts were not successful.
"It was legislation that we felt perhaps could have had a little more discussion; there may have been a better way to solve it," Assman said. "At the end of the day it (the law) didn't get changed and we had no choice. If we want to continue to get federal bridge money and participate in bridge programs we have to post accordingly."
Assman said that when he took the county engineer job, one of the first things he did was to create a map of all the county bridges.
Each bridge was marked with a black or red dot on the map.
"Black dots were bridges that had capacity to carry all legal loads and the red dots were the ones that didn't," Assman said.
He also created a spreadsheet that included vehicle count, condition rating, surface type and other parameters to help determine the schedule for bridge repair and replacement.
Assman said his overall goal has been to remove the red dots from the map.
"We're trying to eliminate red dots because they're restrictions on the roadways where traffic can't flow freely if it has loads that exceed what a bridge has capacity for," he said.
"These bridges are perfectly fine for whatever we'd normally see out here but they're not for those special haul vehicles, so we have to put postings on them. These are bridges that by all account are in excellent shape – they just aren't strong enough to carry those loads."
Adding to the frustration is that the new postings are for vehicles that will not likely cross any of the bridges that received the new signs.
"You just don't see a dump truck with six axles on the rear of it running around out here; those are the ones that are a problem," he said. "The legislation was obviously geared toward urban and metro areas but it impacted all of us."
The bridges that received the new postings will not be given red dots on Assman's map.
"We put red circles on because I'm not putting red dots back on," he said.
In the past, the red dots were an indicator of a bridge that had condition issues and may have been of lighter construction.
The red circles will differentiate between bridges that are deteriorating and the ones that were posted because of the new law, he said.
"These are bridges that are still in good condition – they just can't carry that heavier load," Assman said.
All the signs were put up last summer.
"Sometimes you win and sometimes you don't and you have to move on," he said. "We said, 'Let's put the signs up and move on and focus on other things.'"