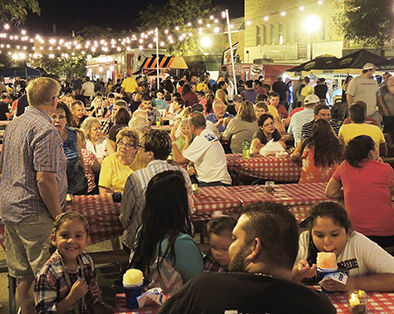 As of Monday, the Tri City BBQ Fest had reached 83 percent of this year's sponsorship goal, according Chamber & Development Council (CDC) of Crawford County staff.
Although sponsorships will be accepted up to the time of the event, this Friday is the cutoff for sponsors to be included in the full of range of marketing that accompanies the BBQ fest.
Crawford County Tourism Coordinator Blair Weigum said one of the lessons learned at the 2018 festival was that package sponsorships were very popular with local businesses.
Packages for the Friday and Saturday main stage music, people's choice barbecue awards and kids' zone sponsorships went quickly last year.
Taking a certain amount of ownership over part of the festival was a popular way to support the event.
New packages were added this year, such as the beer garden sponsorship, which includes naming rights for the beer garden, a company logo on all the cups and wrist bands and special recognition at the event.
Food court, "meet and greet" and photo booth sponsorships were also added.
As of Monday, the beer garden, "meet and greet" and photo booth sponsorship packages were still available.
The CDC staff members have listened to feedback from past BBQ fest events, which meant getting rid of some types of sponsorships.
VIP seating sponsorships were sold in past years – but the sponsors didn't end up using them.
"Our sponsors don't expect favoritism," Weigum said.
Seating will be completely open this year.
Other sponsorship opportunities are still available.
Sponsors may also choose from a variety of other types of sponsorships, ranging from $500 to $25,000.
"We have opportunities in any amount," said Shani Bonner, CDC administrative assistant.
Sponsors receive logo placement within the event, listing on event sponsor registries/brochures, wristbands for the kids' zone and VIP dinner passes.
Logo placements on street decals and on event banners are other benefits that are available.
Higher dollar sponsorships receive more of the perks, Bonner said.
"We want to give back to the sponsors as much as the sponsors are giving to us," she said.
The VIP dinner takes place on Thursday, September 19.
"The VIP dinner is something we started because we want sponsors to know how much they are appreciated," Weigum said.
Sponsors of $500 and up receive VIP dinner tickets.
The dinner will feature catered barbecue with drinks and will take place at Yellow Smoke Park.
"It will be more of a relaxing time before the big party starts," Weigum said.
"It's a chance for us to give back to them," Bonner said. "They are doing so much for us that we feel it would be nice to treat them right."
About 3,000 staff hours go into putting on the Tri City BBQ Fest.
None of the sponsorship money goes to the CDC.
"All of it goes into the event," Weigum said.
The Tri City BBQ Fest has grown into a signature tourism event in the last five years.
"It has brought people from all over the country to Denison," she said.
Weigum said she has heard comments from people who return year after year.
"As a sponsor, you and your brand are a part of that," Weigum said. "You are supporting the community and bringing people here and in turn growing the visibility of Denison and Crawford County."
Visit the CDC office at 18 South Main Street, Denison, or call 712-263-5621 for information about sponsorship opportunities.
The 2019 Tri City BBQ Fest takes place on September 20 and 21.