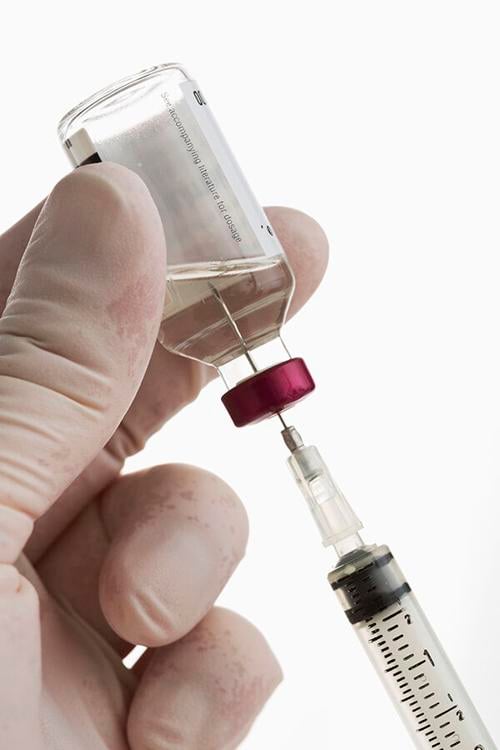 During her news conference on Wednesday, Gov. Kim Reynolds announced that the federal government will be distributing an additional 2.5 million doses of COVID-19 vaccine, on top of the 11 million that are currently being allocated nationally, for a total of 13.5 million doses distributed weekly among all the states.
That's the information she received during the White House conference call on Tuesday.
"For Iowa, that means our allocation of 49,900 this week will be almost 62,000 doses next week, which is an increase of 24%," Reynolds said.
The White House also projected that emergency authorization use for the Johnson & Johnson vaccine would be approved by the end of the month.
Reynolds said the amount of vaccine will be limited to just a few million doses at the initial rollout, but that Johnson & Johnson's goal is to distribute 100 million doses by the end of June.
The governor also said that the White House is committed to providing states with allocation projections beyond the current three-week time period that has been talked about the last couple weeks. She said this will make a positive difference at the state level and will also enable the local public health departments to plan longer-term to coordinate clinics in the communities.
The most recent information about vaccine availability in Crawford County has come from Crawford County Home Health, Hospice & Public Health. That message is that COVID-19 vaccine is available at CCMH Medical Clinic, St. Anthony's Denison & Westside Clinics, Denison Family Health Center, and Thrifty White Pharmacy.
Crawford County will receive 300 doses each week for the next two weeks; it is anticipated that the vaccine allocation will increase in March.
"Please be patient as your vaccine providers distribute these doses," Public Health asked.
As a reminder, those age 65 and older who receive their medical care at CCMH Medical Clinic can call 712-265-2700 to schedule an appointment.
"However, scheduling is being done based on the number of doses available each week. As more vaccine doses become available, we will be adding to the number of vaccinations we can do on a weekly basis," said Don Luensmann, executive director of marketing and development for Crawford County Memorial Hospital.
"There is a great demand for the vaccine and we are getting in as many people as we can who qualify in the Phase 1B rollout. That specifically includes anyone over the age of 65," he added.
Denison Family Health Center, St. Anthony Denison and St. Anthony Westside Clinics will call their patients to schedule appointments.
Thrifty White Pharmacy in Denison also has vaccine available for people age 65 and older. A link to schedule an appointment is available on the public health office's website, www.crawfordcountyhealth.com. If the site says no appointments are available, it means they have all been filled. People are encouraged to check back frequently.
Statewide statistics for vaccinations are as follows, as of 7 pm. 2-18-2021.
Total doses administered: 529,445 (was 487,281 on Monday)
Doses administered to Iowa residents: 508,648 (was 467,798 on Monday)
First dose administered: 266,445 individuals (was 241,019 on Monday)
Two-dose series completed: 131,500 (was 123,131 on Monday)
In Crawford County, the number of residents who have completed a two-dose series of a COVID-19 vaccine, either Pfizer or Moderna, was 540 as of Thursday, 19 more than compared to Monday's number.
Following are vaccine statistics for area counties, as of Thursday.
Series initiated (1st dose only)
Carroll: 1,793 (was 1,538 on Monday)
Crawford: 1,307 (was 1,121 on Monday)
Harrison: 1,119 (was 1,096 on Monday)
Monona: 823 (was 631 on Monday)
Sac: 1,059 (was 1,045 on Monday)
Shelby: 1,103 (was 815 on Monday)