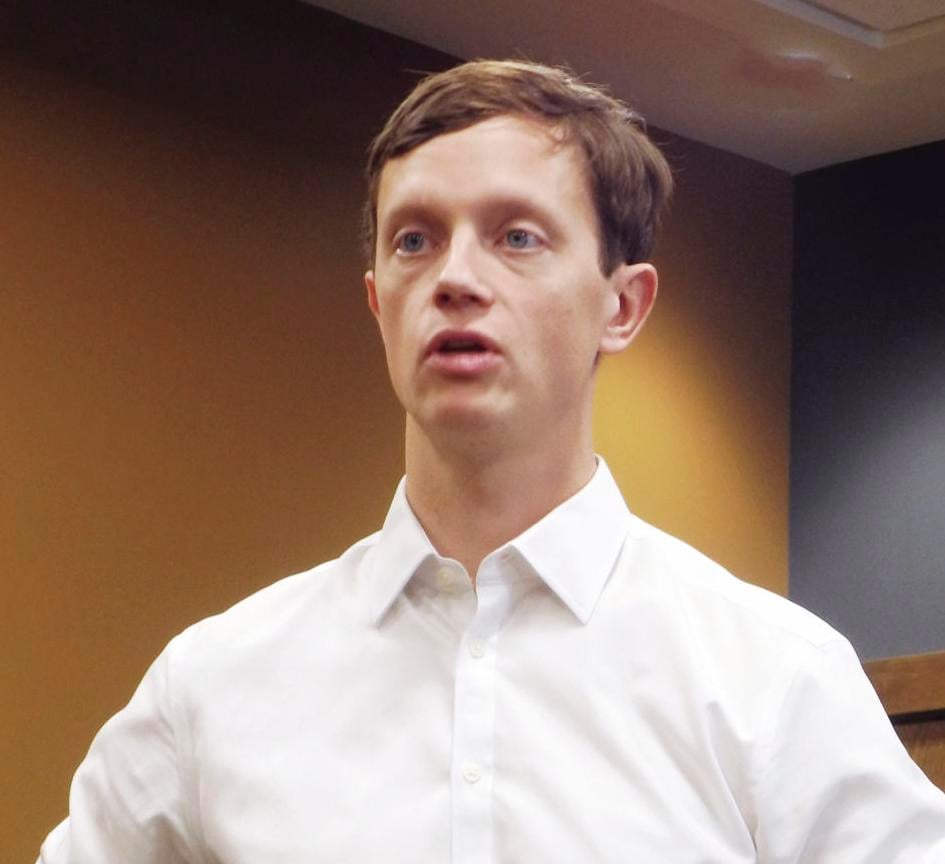 A reason Iowa Auditor of State Rob Sand likes conducting a 99-county tour is also the reason he was late for his Crawford County town hall at Denison City Hall on Wednesday.
"It's good for the state auditor to be traveling around and talking to folks because we work directly with cities and counties more so than a lot of state offices, but No. 2, because sometimes people say, 'Hey, I know some things I would like to share with you,' and they don't want to put it in an email or call on the phone," Sand explained.
That's what happened after his town hall in Carroll; people wanted to talk to him in person.
Sand, who is from Decorah, became an assistant attorney general after graduating from the University of Iowa College of Law in 2010. He ran on the Democratic ticket for the state auditor's office in 2018 and is nearing the end of his first year in office.
He said another reason for his tour is every statewide official should give updates to people about what they are doing where those people live.
His update in Denison centered around topics designed to make government more efficient, to save money and to make sure that those convicted of the theft of public money spend some time in prison.
Sand also spoke about the assumption by some that partisanship is a part of serving in a statewide office.
He said people who work at the city government level work with people from the opposite party and just figure out what needs to be done and then do it.
"Yet we tend to think at the state level, and I don't even want to think about (Washington) D.C., you have to do just what your party wants you to do. You can't do a good thing if it makes the other people look good, which is backwards. You should do things to make everybody look good," Sand said.
He added he registered as an Independent when he first registered to vote because he doesn't like party politics, but to be able to vote in the primary election, he had to choose a party.
"So I picked my poison and I'm sticking with it, and while I do have that party affiliation as every other state auditor has always had, it's something I think we have way too much of in politics," he said.
The Public Innovations and Efficiencies (PIE) program has three components.
Sand described the PIE chart as a checklist for city- and county-government and school administrators to check off money-saving measures they are already taking and to inspire them to initiate more money-saving measures.
The PIE contest lifts up and recognizes those city and county governments and school districts that improve from year to year on their money-saving measures.
PIE recipes share the money-saving measures that other entities in the state are using and provide a contact name and phone number.
Sand said the PIE program that he initiated was probably the single biggest reason he wanted to run for the office of state auditor.
"I knew there were things I wanted to do differently, but what actually got me really excited about it was helping the state auditor's office to do more for taxpayers than what it currently was doing," he explained.
Chapter 11 of the Iowa Code sets out a number of ways that the state auditor's office can work with local and county governments to help to make them run more efficiently, Sand said.
Checking items off the PIE chart list and sending them into the state auditor's office is driven by the incentives to be recognized in the PIE contest.
"We can't force anyone to do it," said Sand. "On the other hand if they don't do it, everyone in town that cares to learn will see that they didn't do it and might be annoyed with them and ask them why they didn't do it.
"What we're trying to do is to create a system that gives people the incentive to do it (fill out the PIE chart), in part by offering recognition, but the end of the day, accountability for local government rests with local citizens," he added.
Statewide work/statewide jobs program
Sand said this program will allow employees of the state auditor's office to live wherever they want to in the state after they have a year's experience and training.
"We do statewide work so we should have statewide jobs. There's no reason that an office that services every county in the state by physically showing up in that county doesn't just let its employees live anywhere in the state," said Sand.
He said currently most of his staff lives in Des Moines; others live in Iowa City and Ames.
Those who choose to live away from the Des Moines, Iowa City and Ames offices will be assigned to work within 60 miles of their home.
Allowing employees to live anywhere in the state will save money. Trips out to counties mean mileage payments and hotel fees. These costs are passed on to the city and county governments and school district's that use the state auditor's office to conduct their annual audits.
Sand said this measure will also help slow the turnover rate among his staff. He pointed out that accounting is one of the most in-demand professions in the nation right now. He explained many people work at the state auditor's office for two years and then decide to get a job for which they don't have to travel as much.
When turnover is reduced, that means the state auditor's office employees will have more experience and be more efficient in their work.
The employees benefit from being able to live where they want to in the state and can be home every night instead of spending about a third of their time away from home. Even on those days when the employees work late, they can still be home for part of the night.
Sand said the statewide work/statewide jobs program has the opportunity to have an impact on smaller towns when a person with a college degree, a steady income, a pension and maybe a young family, lives there, that the same employee would have in a bigger city like Des Moines.
Since the program was started this year, Sand won't know how many employees choose the statewide work/statewide jobs opportunity until after January. But he pointed to an interoffice survey that revealed that about 10 percent of the eligible workforce is willing and interested in the option.
"It's going to be especially good for recruitment for a lot of folks who grow up in a small town and head off to the University of Northern Iowa or the University of Iowa or Luther or Central, who would like to go back to their hometown if only they had the right economic opportunity," Sand said.
Prison time for theft of public money
Sand prefiled a legislative bill to make sure that those who are convicted for the theft of public funds spend some time in prison.
"Right now it is very hard to see people actually held accountable for the theft of public funds," he explained, adding later that many people who have embezzled public money into the hundreds of thousands of dollars have never served a single day in prison.
He added later that the seriousness of the crime involves abusing the trust and power of a government position.
"It doesn't mean you're going to have to do five years or one year," he explained. "It's just something. The board of parole is still going to have discretion to let you out whenever they want to. What it means is that nobody gets just a slap on the wrist and gets sent to probation anymore."
Through executive action in 2016 by then Gov. Terry Branstad, the management of Iowa's Medicaid program went to Managed Care Organizations (MCOs).
Sand said Medicaid is something that has been pretty controversial in the state the last few years.
"I'm trying to take an approach to that, that doesn't involve jumping on one bandwagon or another," he said. "There are a lot of people who say privatization works great and a lot of people who say privatization is terrible and let's reverse it."
Sand said his office has a number of investigations to get information about what is working well with MCO-managed Medicaid and what is working not so well.
His hope, when those findings are issued, is that the governor will react to those parts that work better and those parts that work not as well and will work to make the system function better.
Law enforcement perspective
Sand said the state auditor's office has historically been staffed only by accountants and certified public accountants. He said the problem with that is they are conducting law enforcement investigations. He made the comparison that a staff solely composed of accountants and CPAs is like a football team with 11 quarterbacks on offense.
He explained that the job of auditor/investigator was added to the state auditor's office and that two people were hired to fill those positions.
Holly Ewing is a 12-year veteran of the Colorado State Patrol and then spent two years working in compliance for the Iowa Alcoholic Beverages Division.
Blair Johnston spent 20 years as a special agent with the Office of the Inspector General of Health and Human Services (HHS) which has as one of its agencies Centers for Medicare & Medicaid Services (CMS). Sand said Johnston worked exclusively with financial crimes. He added that Johnston is also an accountant and CPA, and just has to re-enact his CPA license.
He explained that the state auditor's office has the authority to examine things on a financial basis and on a compliance basis. He added that the state auditor's office is the entity that determines legal compliance with many different things. People may assume that would be the job of the attorney general's office, he said, but Iowa Code Chapter 11 gives that authority to the state auditor's office. The attorney general's office duty is to work in the courtroom.
"We are the investigating wing for the state and so you don't really start or consider a court action unless you have facts showing that one might be warranted, and it's really the auditor's job to determine when that might be the case," Sand said.