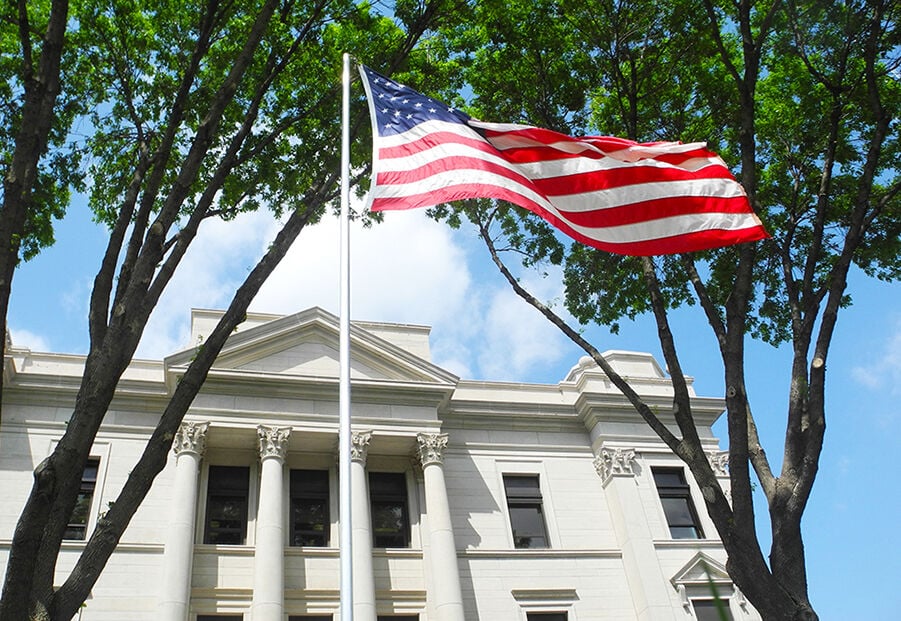 Information retrieval fees to be addressed by departments
The Crawford County Board of Supervisors on Tuesday voted 5-0 to amend the county's information request policy to add communication by telephone as an acceptable means of requesting information.
The policy change was made in response to a complaint from Dow City resident Beth Vogt to the Iowa Public Information Board (IPIB) concerning the county's public information policy.
Vogt said a Crawford County policy, enacted on July 1, 2020, improperly required information requests be submitted in writing when Iowa Code stated requests don't need to be in writing. IPIB agreed her claim had merit, but Vogt withdrew the claim last week when the county agreed to amend the policy.
In their discussion of the policy amendment, Assistant County Attorney Martha Sibbel told the supervisors that the only change to the policy was the addition of language adding telephone as an option when making a request.
Supervisor Eric Skoog asked if the supervisors had to be concerned about access for disabled individuals.
Sibbel said it would be a matter of county employees making sure that a handicapped individual had access to a copier they could use and that would allow the individual to take sitting breaks.
Chairperson Jeri Vogt asked about the acceptable charges that can be imposed on records requests.
Sibbel said county employees have to inform an individual requesting information as to what the charge will be when the request is made; the fee must be paid in advance.
If an individual chooses to look at the records and take pictures instead of having copies made, the fee paid for copies would be refunded.
Jeri Vogt, who is a former Crawford County Treasurer, said that the standard fee at the treasurer's office was $25 per hour with a minimum of a half-hour; that was added to whatever the costs were for reproduction of documents.
She said many individuals changed their minds when told the fee for making copies; she said she would invite them to come take pictures instead.
Supervisor Jean Heiden asked if the $25/hour fee is standard in all county offices.
Supervisor Kyle Schultz said it should be standardized.
Sibbel said each office is slightly different because different information is provided; she gave as an example the land records available at the recorder's office, where research is different than at the treasurer's office or the auditor's office.
"It's dependent on the request, as far as what has to be dug out of what boxes where, or up in the attic," Sibbel said.
"But wouldn't that be kind of easier to have it standardized?" Heiden said. "So that everybody knows you're being charged the same; so that you can't pick a number off the top of your head and say, 'Well, you're always asking for things, we'll charge you more.'"
Sibbel said some research is more time-consuming than other types (such as searching the attic for records from the 1920s), and a standard rate would have to be applied even if records were not found.
"But if it's $25 an hour, and it took five hours, you'd get paid for it," Heiden said.
A standard fee would let individuals know they weren't being overcharged just because they make repeated requests, she said.
Sibbel noted the policy requires that records be delivered within 20 days of receiving payment.
Individuals would have time to go before the supervisors to complain about overcharging during that time, she said.
Heiden said she would rather have a list of what everyone is charged per hour.
County Auditor Terri Martens said the issue should be discussed with county department heads.
"I think that's a brilliant idea," Schultz said.
"This table (the supervisors) doesn't necessarily want to dictate what that is – you'll get heels dug in," Martens said.
She said the departments could come up with an amicable number.
Martens said she agreed with a standardized fee because some individuals requesting records might feel they were being treated unfairly because of the type of request or because of the department from which the request was made.
"We don't want any kind of discrimination that way," Martens said.
Schultz said some individuals might game the system by making requests through departments with cheaper fees.
Sibbel asked the supervisors if they wanted to table the amendment under discussion and have her write another amendment.
Heiden said she felt that the fees are a department issue.
Vogt said the policy didn't need to be more complicated; she suggested a meeting of the department heads to discuss the issue.
"I don't know that the set fee needs to be in there (in the policy) as long as all the department heads agree to it," Schultz said.
The supervisors agreed that the question of fees could be handled at the department level and voted to pass the amendment to the policy.