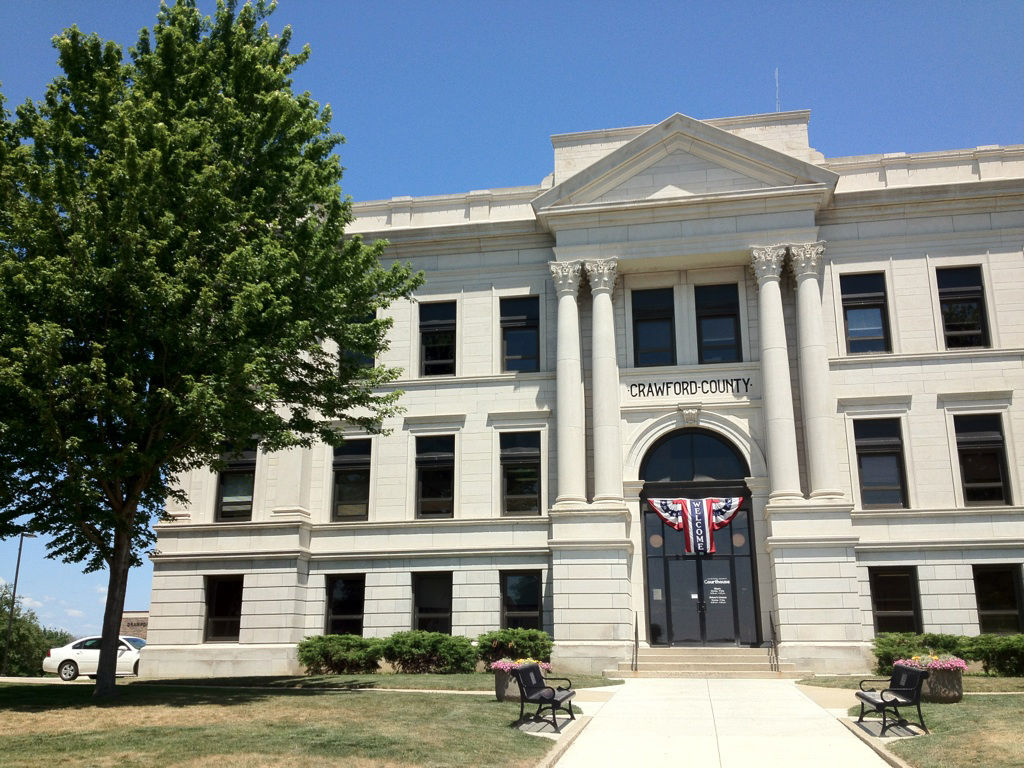 The Crawford County Board of Supervisors on Tuesday met with Rey Freeman of Rey Freeman Communications Consulting (RFCC) for an update on progress on the county's Land Mobile Radio (LMR) system.
The project stalled last August when the LMR Advisory Board members voted 4-1 to dissolve their board because of concerns about violating open meetings laws.
The supervisors decided in October to hire RFCC in partnership with Mazzitello Professional Services (MPS) to manage the completion of the radio system.
Mazzitello did not attend the meeting on Tuesday
Freeman thanked Duane Zenk, former LMR board consultant, for his help on the project.
The discussion covered the sites around the county where towers have to be built, purchased or leased and began with a discussion of a tower for the Charter Oak area.
"Obviously a lot of work has been done in planning for this site already and the use of Kyle's (Supervisor Kyle Schultz) property," Freeman said. "The approach we took (was) let's take a look at the work that's been done and the money that's been invested in how it looks as a site for the radio system."
The supervisors rejected a proposed contract for Schultz's land on a 2-2 vote in August 2020.
Freeman said Schultz's location was a good site.
He said it had good ground elevation, was close enough to Charter Oak, had good road access, nearby electricity and all the things they look for in a tower site.
"One of the issues, as we understand it, is the concern with some folks that the cart was put before the horse and so forth," Freeman said. "The question is - are there other properties that should be looked at?"
He said the baseline established at the Schultz property was ground elevation of 1,340 feet.
A lower elevation would require a bigger tower.
Freeman said he set the maximum distance from town the same as from the Schultz property, which was about a mile.
On a prepared topographical map, he noted that some areas south of town had a higher elevation, but wind turbines would interrupt a microwave path between those locations and the tower in Schleswig.
"The path we picked threads the needle between two of them and they're both considered too close," Freeman said. "You move that point east or west, you run into these turbines. We presumed that this had been looked at. We don't know if there is any documentation on that."
The microwave path from the Schultz property to Schleswig clears a wind turbine by 500 feet, which would be considered acceptable, he said.
Looking at the wind turbine and ground elevation issues, along with the amount of money already invested in the Schultz property, Freeman said his recommendation was to use that site.
"We understand that the lease agreement has not been established," Freeman said. "Kyle and I have talked about that and there are probably some details that need to be finalized on that but ultimately, as a site, it would be our recommendation to go ahead and move forward with that."
Freeman noted that the FCC license is in place and all the environmental, soil and historic reviews of the site had already been completed.
Freeman pointed out that there is a cemetery just down the road from the Schultz property – and normally a tower has to be three-quarters of a mile away from a cemetery.
"We did some checking," he said. "They say the cemetery has nobody… of historical significance, apparently, buried there."
Supervisor Ty Rosburg asked if a tower built now will still be of use, with regard to future technology, after 20 or 25 years.
"We don't see any end to the need for towers – vertical real estate is really what it is," Freeman said.
Rural broadband could make a county-owned tower more valuable, and renting space on an existing tower in the area could cost a fortune compared to building one, he said.
"The important thing is the lease agreement has reasonable terms and conditions in it," he said, noting that Schultz's land under consideration is a small piece of property.
Rosburg said he had a question as to whether the county should be looking to buy or lease the property in Charter Oak.
"I think the question of whether Kyle would be willing to sell that parcel or not – there's probably been plenty of that discussion before I got brought to the party here, but in talking to Kyle it sounds like they're not necessarily interested in that ," Freeman said.
"It's not my interest at this point to sell a parcel of property," Schultz and added that it would be covered under the negotiation process.
Freeman said that what he had seen of the lease seemed reasonable.
"I understand the desire to own the property, but in the tower business in general it goes both ways," he said.
Freeman said he was working on a project in Mahaska County for which three towers were being built.
"They paid $20,000 for an acre; one place they paid almost $40,000 for an acre, which is a lot of money," he said.
Rosburg said it wasn't a lot compared to the cost of the lease.
The proposed 20-year lease discussed last August was for $4,800 per year with increases of 3.5 percent per year until a cap of $6,000 was reached.
"Well, again you have a situation here where you kind of put the cart before the horse a little bit," Freeman said.
"I think the bottom line is, correct me if I'm wrong, but if you want to use that property it's going to be a lease and if you don't you're going to have to go look elsewhere and start the whole process again."
Rosburg asked Freeman if he had ever encountered difficulty when it came time to renegotiate a lease on a tower.
Freeman said he had never seen it be a big problem.
Rosburg asked what would happen if Schultz didn't own the property in 25 years.
"The lease needs to be structured to survive a property transaction," Freeman said.
"The last lease agreement that was brought before this (board) had those structures in place," Schultz said.
"From our perspective, that's where we're headed with the Charter Oak (site)," Freeman said.
Rosburg said he wanted to make sure that the board of supervisors in 25 years would not be mad at them for costing a lot of dollars to renegotiate a contract.