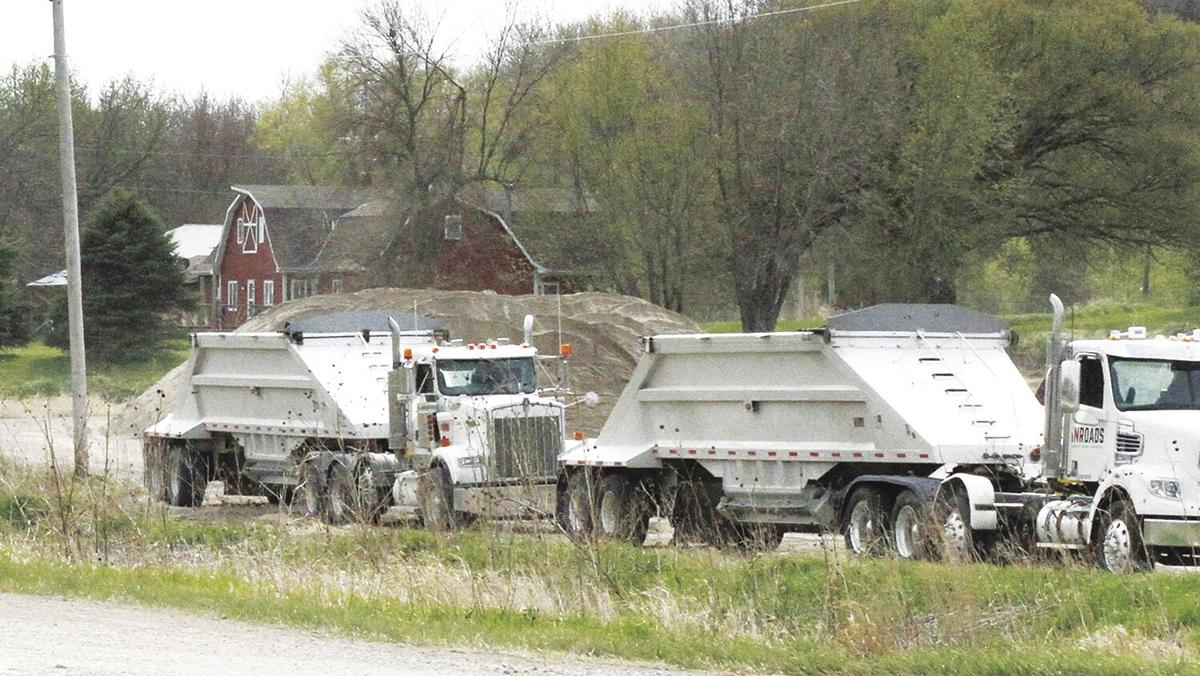 McComb takes concerns about wife to supervisors
County official says he believes company rep will try to work out solution with McComb
Vail resident Kay McComb visited the Crawford County Board of Supervisors on Tuesday for a second time to register a complaint about an asphalt mixing plant situated just east of his property about a half mile west of Vail.
McComb previously visited the supervisors in July 2017 to share his concerns about a different mixing plant set up on the same location.
On Tuesday of this week, he told the supervisors he went to their meeting only because Crawford County Sheriff James Steinkuehler told him to.
McComb noted that the supervisors were not able to do anything for him during his first visit.
He said Steinkuehler told him there was nothing he could do.
"What bothers me is the smoke and the particles of tar floating across my house, which is less than 600 feet from the center of that (mixing plant) to the edge of my house," McComb said.
He said his wife, Emmy, will be 89 years old next month, has COPD – a respiratory illness -- and a bad heart.
McComb said his wife was suffering that morning because the wind was blowing the smoke from the plant right across his yard.
A deputy sheriff was there a week ago, noticed the smell and heard his wife cough, he said.
"I am asking for all the help I can get," he said. "I could have loaded this audience with people. The minister, Rev. Cook over at Vail, wanted to bring a bunch of people in here. I said, 'Please stay away from here. I do not want you to get involved in this ugly mess.'"
McComb made several references to extreme actions that he could take to resolve the situation, but said he wouldn't do anything that would result in leaving his wife alone.
He said that he had worked around an ammunition dump and chemicals during his six years in the Navy.
"That was 10 times, 100 times more than what comes out of here. But it also had precautions, protections," McComb said. "I have no protection out there."
His wife is suffering very badly and he is on the verge of breaking down, he said.
He talked about how members of the armed forces deal with PTSD and end up using drugs and alcohol and have suicidal thoughts.
"I'm here only to ask for help for my wife," McComb said.
He said his youngest son encouraged him to use his inheritance money to get an attorney and file a lawsuit.
"Well, by the time I get through with that, they're going to be gone," McComb said. "And then … the court (case) will go on, but possibly Emmy's life will be gone, too."
His wife is very fragile, is on oxygen 24 hours per day, and has been in and out of hospitals and intensive care, he said.
"I'm just asking for all the help I can get," he said again. "I'll crawl on the ground just to plead."
McComb said he understood that the supervisors' time is valuable and they have other concerns.
"I've only got one concern: my wife," he said.
McComb said he thought a law from 1993 stated that an asphalt plant couldn't be closer than a third of a mile from a residence, but he couldn't find out if that law still exists.
"I don't know what you folks can do, but I'm pleading, help me, very much," he said.
McComb spoke with the supervisors for more than 10 minutes and then left the meeting. The supervisors and Crawford County Assessor Duane Zenk continued the discussion.
Supervisor Kyle Schultz said County Attorney Colin Johnson could be asked to research whether a law exists that prevents building a mixing plant within 600 feet of a residence.
Zenk said the asphalt mix plant property is owned by Moorhouse Ready Mix of Breda.
"They purchased that 10 acres (in) July of last year for $130,000," Zenk said.
He noted that the mix plant is on a state highway (Highway 30) and the county has no control over the access.
"My thoughts are that it most likely meets and exceeds Iowa DNR air quality," Zenk said.
He said the county could call the company and ask to see their air quality permits or whatever other documents are required.
Temporary asphalt, concrete and ready-mix plants are regulated by the Iowa DNR, Zenk pointed out.
He said the mix plant is a temporary installation and he did not know where the asphalt was being used.
Zenk said he empathizes with McComb – but the DNR has control.
After a short discussion of whether Johnson or Zenk should contact the DNR, Zenk said he would do it.
Late Thursday afternoon, Board of Supervisors Chairperson Jeri Vogt shared with the Bulletin and Review an email from Zenk.
Zenk said he had been in contact with the DNR.
InRoads Paving, which is the company that owns the asphalt mix plant, has an EPA, DNR air and storm water permit for the portable plant, Zenk said.
"Both the DNR and asphalt plant operator assured me there should be no airborne particulates," Zenk wrote. "Perhaps there are odors and dust from the site, which they try to keep minimal with wetting the traveled areas."
Zenk said he talked to Jeff Steinkamp with InRoads Paving.
Steinkamp said he had stopped by the McComb residence and was not able to locate anyone.
He requested contact information for McComb, which Zenk gave him.
"I believe Jeff will contact the McCombs and try to work out a solution," Zenk wrote.
Steinkamp also told Zenk "the plant would be finished with the project after seven days of operating."