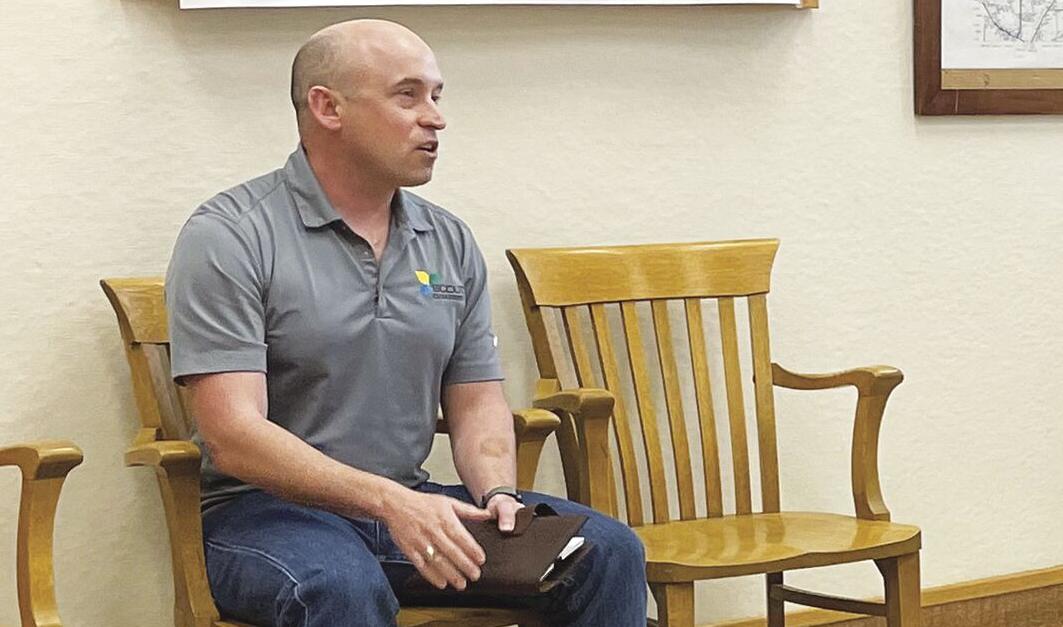 Mark Wengierski, Scout Clean Energy director of development, visited the Crawford County Board of Supervisors meeting on May 11 to discuss the company's 100-tower wind farm, known as "Silver Queen," under development south of Westside.
About 50 wind turbines would be placed in Crawford County as part of The Silver Queen wind farm, which is expected to have a lifetime of 35 years.
The supervisors enacted a temporary moratorium on new wind turbine tower construction on April 27 while they consider changes to the Crawford County ordinances that regulate the construction of wind towers in the county; the change most often discussed would be to increase the setback distance, currently 1,000 feet, from adjoining properties.
The moratorium expires on July 1.
Wengierski said Scout Clean Energy uses a "greenhouse model" to adjust the distance to non-participating properties; that model assumes a flat landscape with no trees, grain silos or other obstructions that would reduce "shadow, glare and flicker."
The rule of thumb for the company is that non-participating landowners should experience 30 hours or fewer of "shadow, glare and flicker" per year; in reality, the number would be lower because the landscape does have obstructions, he said.
The company models for 45 decibels or less for noise at occupied residences, which is lower than other wind industry companies that model from 47 to 50 decibels, Wengierski said.
He noted that the General Electric wind turbines Scout Clean Energy plans to use have their transformers mounted at ground level, which are louder than those mounted in the turbine nacelle.
"What we have to do is set back a little further from these residences to make sure we hit that 45 (decibels), he said.
The new wind farm will be 16 miles away from the Denison Western Area Power Administration (WAPA) substation; the company will put in new poles and new transmission lines where an existing line, used by Corn Belt Energy and Northwest Iowa Power Cooperative (NIPCO), is located.
"The wind farm will have the top circuit, which is going to be 230 kV (kilovolts) and Corn Belt/NIPCO will have the bottom circuit, which will be 69 kV," Wengierski said.
For the transmission line property, Scout Clean Energy bought their own easements, which are in addition to the easements maintained by the other power companies, he said.
Board of Supervisors Chairperson Jeri Vogt asked if wind turbine towers planned for the project could be relocated if the setback were changed to one-quarter mile.
"The challenge with wind farms is you don't want to pack your turbines on the site too close to one another," Wengierski said.
Wind on the back side of turbine blades is very turbulent and has to be given distance to recharge itself before it hits downwind wind turbines, he said.
Turbulent air puts a lot of stress on turbine blades and on the drive shaft, which causes gearbox issues.
"The rule of thumb that you use is you want roughly five rotor diameters between your upwind to your downwind string of wind turbines," Wengierski said.
Rotor diameters are about 500 feet, so nearly a half-mile is needed for the dominant wind direction and 1,500 feet for non-dominant wind directions, he said.
Moving one tower causes a domino effect, according to Wengierski.
"You move one and the next thing you know you're having to move four or five wind turbines in that string, and turbines upwind and downwind, as well," he said. "It gets to be very complex."
Supervisor Jean Heiden asked where the company is in the process of completing the wind farm.
Wengierski said the company expects to receive the first set of results on August 1 from a study of power capacity through the Southwest Power Pool; a facilities study for an eventual "generator interconnect agreement" will not be complete until summer 2022.
He expects the first dirt to be moved for the project in late 2022 or early 2023.
Vogt asked how the project will deal with people on small acreages who want peace and quiet, and how a 1,000 foot setback would affect such individuals.
Wengierski said the company uses "good neighbor" agreements in those situations.
"We want to go and meet that landowner and hear their concerns," he said. "We want to hear the concerns about how far they want the setback to be from the house and we ultimately want to match those concerns with the neighbors that are signed up (to have wind turbines on their property)."
The company can often work with a landowner and move wind turbines a little farther away, he said.
Scout Clean Energy will also make adjustments to which roads will and won't be used.
Vogt said that on one of the documents Wengierski provided she saw names of many people who live in Westside, Carroll and Arizona.
"The people that own this land are not going to be living anywhere near these," she said.
The landowners are a blend of people, Wengierski said.
"Just because the address might be here in town, it might be a nephew or a son farming that land," he said.