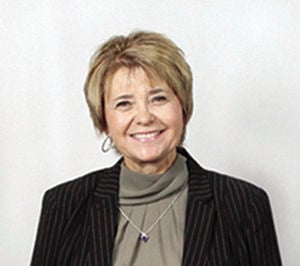 Jean Heiden turned in her papers to run for a seat on the Crawford County Board of Supervisors in early March but hasn't felt the timing was right to start her campaign.
"With COVID-19 everything changed, in my opinion, including campaigning for county office," she said. "We all planned on getting out there to see people and I just don't think that's going to happen in this election cycle."
She was planning on being in the St. Patrick's Day parade and had banners and t-shirts made, but she said running a local campaign doesn't seem appropriate when people are fighting for their lives.
The election is not the only thing in her life that has been upended by the ongoing coronavirus pandemic.
Heiden is currently a vice president at United Bank of Iowa, where she has worked for 27 years.
She plans to retire on May 29.
"My plan was to retire and go to baseball games," Heiden said. "I was supposed to have five grandchildren playing baseball games this year and I'm afraid that may not happen. It makes me very sad to think about the summer without baseball, but we all have to do what we have to do to keep everybody alive."
Her plan is still to retire in May and start a new chapter of her life.
She will continue to seek a seat on the board of supervisors.
Heiden was born and raised on a farm in Crawford County.
"My roots are deep in this county," she said.
Her conservative values were shaped by her parents, she said.
Heiden's mother was born in Charter Oak; her father was born in Manilla.
She has been married to her husband, Jerry, for 48 years.
Her son lives in Schleswig and her daughter lives in Denison.
"My family is very important to me," Heiden said.
Her career in banking started at the old First National Bank in Denison while she was still in high school.
"I worked there while I was raising my family," she said.
She is a 1972 Denison High School graduate.
Over the years, she has served the community in many ways.
"I'm not really one to stay home," Heiden said. "I've been very involved."
She was a member of the Denison City Council for 10 years.
Heiden is the current president of the Rotary Club of Denison.
"I strive to live by their motto, 'Service above Self,'" she said.
She pushed for the creation of the Early Childhood Care Center because the community didn't have any reliable daycare services.
"We did get that built and that was a cooperation between the school, the city and the county," she said. "I sat on the board for many years to help get it up and going."
Heiden is a past president of the Chamber and Development Council (CDC) of Crawford County and has been an ambassador to Crawford County for more than 20 years.
"I've seen a lot of new businesses start and a lot of changes, also," she said.
She is a voting member of the Region XII Council of Governments Policy Council, which is a board comprising supervisors and city leaders from Crawford County and surrounding counties.
She attends the Older Iowans Legislature (OIL) to discuss issues facing older Iowans.
"I was on the committee that discussed the needs and what we should change in Iowa to make sure the older citizens have a good quality of life," she said.
Heiden said she will continue to work to make the community a better place to live.
She would apply the knowledge she has gained through her experiences to the job of being a county supervisor.
"As a lender, sometimes you have to make tough decisions and deliver not the best news when someone is requesting a loan and they don't qualify," Heiden said. "It's given me lots of experience and skills dealing with the public.
"I spent 10 years on the Denison city council, so I do understand budgets; I do understand tough decisions," she said. "One of the things I've always prided myself on is I listen to both sides. I really do try to make a decision based on what the people are asking for and need."
She is a conservative and would work to stretch tax dollars, she said.
"I'm not afraid to say no," Heiden said. "I will fight to hold down taxes and fight to protect taxpayers from frivolous and careless spending."
The COVID-19 pandemic may soon cause problems that the board of supervisors will have to face, she said.
"I've been hearing recently that road use taxes are down between 30 and 40 percent and unfortunately that's how the secondary roads gets their funding," she said. "The projects we have lined up for that may possibly be impacted because people aren't driving."
Revenues from delinquent taxes may also be affected, she said.
"I believe that COVID-19 is going to change the way we have to do our budgets," Heiden said.
"I think it's going to take somebody who can think outside the box, somebody who has lived through some tough times, because I don't think it's going to be the same."
She said she feels the board of supervisors has done a good job of maintaining and repairing the county infrastructure and she would continue to support those projects.
"The roads are very important to get crops back and forth and get people to work," she said.
The mental health services available to county residents is another area Heiden would work to strengthen.
"We need to keep funding those programs to make sure that we're helping our constituents," she said.
Public Health remains important for the county, particularly in the current situation, she said.
"We need to make sure they have the resources they need to fight this virus," Heiden said. "Our public health professionals are under a great amount of stress and strain keeping everybody safe."
She said she will dedicate her time and efforts to make the county a safer place to live and raise a family.
"For whatever comes in front of us, I think we need to do our best to serve the citizens of Crawford County," Heiden said. "I've seen a lot in my life and I feel I have something to give back to the community."
Note: Heiden, Ty Rosburg, of Charter Oak, and Nick E. Ohl, of Dow City, are running in the Republican primary for two seats up for election on the board of supervisors, one currently filled by Cecil Blum, who is not seeking re-election, and the other by Dave Muhlbauer, who is unopposed on the Democratic Party primary ticket.
The Bulletin and Review published a story on Rosburg in January when he announced his candidacy and plans to interview Ohl.