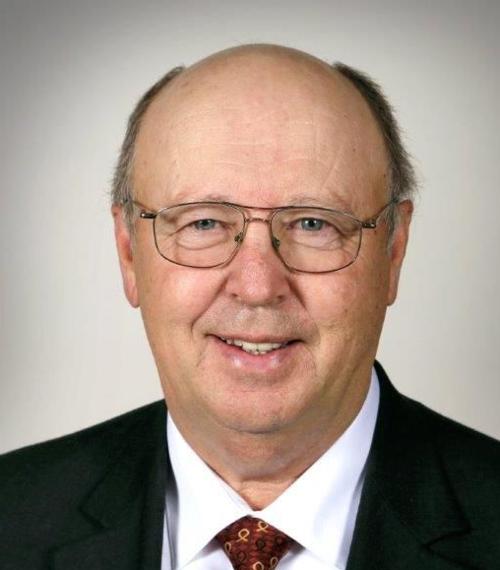 The Iowa Legislature is a lot like a baseball game; hours of boredom, punctuated by seconds of great excitement. We had great excitement this week on Wednesday when hundreds of FFA members visited the capitol.
This group is from IKM-Manning. There were also groups from CAM, East Sac, and Alta /Aurelia Schools. They were a great bunch. I enjoyed showing them around and talking politics. The Audubon school superintendent also came to talk about school funding for next year.
He brought along other staff and a school board member. The legislature needs to set SSA by February 13.
Week three has finished in the Iowa Senate and we remain busy as ever running from subcommittee to subcommittee and visiting with constituents between meetings.
One of the highest profile news items this week was the release of our education funding proposal for the next fiscal year. As we worked to put together this budget, it was important to keep the promises to help equalize transportation costs, per-pupil spending, and also ensure other priority areas in our budget would be properly funded.
 We released three bills (SSB 3097, SSB 3096, and SSB 3080) to offer additional money for transportation and per student equity, setting the increase in education funding, and allocating money to address behavior problems in the classroom.
 These bills bring the total for new education funding this year to $91.7 million, in addition to last year's total funding levels. Taking up nearly 43 percent of our budget, K-12 education funding is a priority and this proposal not only demonstrates it, but also provides a sustainable and responsible budget for education funding. When federal and local dollars are included, the average money spent per student in Iowa is more than $15,000.
 Every dollar we have ever promised to K-12 schools over the last three years has been fulfilled, and this proposal would be no exception. Under this proposal, the total increase in K-12 education funding since FY 17 is over $300 million, including $26.6 million specifically for transportation equity.
 Several years we ago, we promised to find a solution for the high transportation costs rural schools experience. This year, we will have fully kept our promise and leveled the playing field between rural and urban schools by buying all school districts down to the statewide average.
 Education funding is typically the biggest policy issue tackled in the first weeks of session, and we are looking forward to working with the House of Representatives on finalizing a responsible and sustainable education budget.
 Addressing Violence in the Classroom
Media across the state have reported on many incidents of violence against teachers, classroom disruptions inhibiting an environment of learning, and a climate of uncertainty in many Iowa schools. These stories demonstrate that the status quo must be fixed, and Iowa schools need help to properly deal with this problem. SSB 3080 creates policy and funding solutions to give schools a chance to help students with serious violent behavior problems and also ensure the education for other students is not shortchanged.
 This bill limits the use of "classroom clears" as a regular method of student behavioral management. A classroom clear happens when all the students except a student with behavioral challenges leave the room during a student's outburst. This technique disrupts the learning of too many Iowa students.
 SSB 3080 would prohibit classroom clears from being written into an individual education plan (IEP). If a classroom clear occurs, the parents of students who are displaced from a classroom must be notified by the school district within 24 hours and the parents of a student responsible for a classroom clear must meet with school administration prior to that student returning to the classroom.
 Further, SSB 3080 creates an incentive for schools to establish alternative placement options for students with serious behavioral problems. Some students need alternative settings to succeed academically. This bill also creates comprehensive professional development on the meaning of "least restrictive environment," giving administration and teachers clarity on classroom placement options.
 This new policy also provides teachers training and legal protection from professional and legal liability for using reasonable physical contact in crisis situations. It also creates comprehensive, statewide training and professional development for teachers on violent student behavior. Additionally, SSB 3080 clarifies legal protection for teachers and adds professional protections from retaliation for reporting incidents. It also requires teachers to report violent behavior to their principal and encourages them to report incidents to the Department of Public Safety.
 Improving Integrity in Public Assistance Programs
 A bill aimed at expanding the verification databases, in order to make the State of Iowa public assistance programs stronger and more efficient, advanced this week in the Iowa Senate.
Senate Study Bill 3068 now goes to the full Labor and Business Relations committee for consideration. The purpose of the bill is simple – eliminate millions upon millions of dollars in inefficiencies and encourage able bodied people to enter the workforce.
 Under the legislation being considered, Iowa Department of Human Services would be directed to implement Federal requirements for dual-enrollment verification. The bill goes further to require the department to utilize existing public databases to verify qualification in those applying for and receiving Medicaid and other public assistance from the State of Iowa. Using these additional databases, DHS would be able to verify financial information, identity, and other assets within minutes of applying for assistance. The state can utilize existing technologies available from private vendors to access these real-time databases. The information received would be reliable, accurate, and timely.
 Presently, 600,000 Iowans receiving state public assistance benefits are checked manually by just under 500 states employees. This requires workers to monitor and close 10 to 12 cases each day in order to meet federal and state verification requirements.
 The goal of this legislation is to protect public assistance programs and ensure they serve those who truly need them.