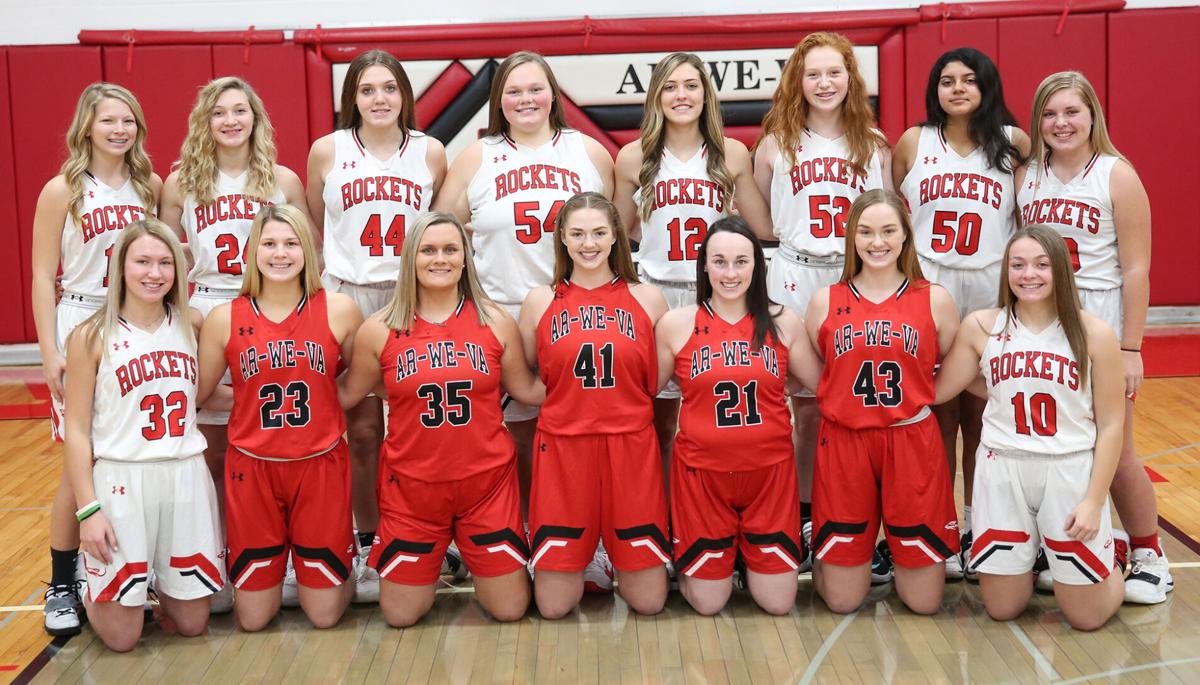 The Ar-We-Va girls will take the basketball court for the 2020-21 season with one of their most experienced teams in years.
Nine letterwinners return to the hardwood floor, including five girls who saw considerable time on the court a year ago as starters for a Rocket squad that went 5-11 in the Rolling Valley Conference and 5-16 overall.
Ar-We-Va will be guided by first-year head coach Jeremy Smith, who spent the last two winter campaigns as the team's assistant coach under Dan Kock, who stepped down after a six-year stint on the bench.
"Our strengths begin with experience and athleticism. We have five seniors along with some younger girls that got valuable minutes a year ago," commented Smith, who will joined on the bench by first-year assistant coach Lisa Leiting.
"I think we have a great opportunity to improve from last year. With the experience we have back mixed with some talented young players, I really think the potential is there to have a great year," he added.
Returning players with varsity starting experience are senior forward Jadeyn Smith, senior guard Sara Schurke, senior guard Hannah Kraus, senior forward Bridget Cameron and sophomore guard Maggie Ragaller.
Daughter of the head coach, Jadeyn Smith led Ar-We-Va a year ago in scoring and rebounding, averaging 14.7 points and 9.1 boards per contest en route to being named an RVC first-team selection.
She also led the team with 14 shot blocks and was second in steals with 51.
Schurke averaged 5.4 points and 5.0 rebounds per game. She led the team with 18 three-point baskets and was among the leaders with 42 assists and 31 steals as well.
Kraus averaged 3.5 points and 4.0 boards per game last winter. She led the Rockets in assists (44) and steals (53) a year ago.
Schurke and Kraus both were honorable mention selections in the RVC a year ago.
Cameron averaged 5.1 points and 4.4 rebounds per game last winter. She also had 28 steals to her credit.
Ragaller netted 5.5 points and pulled down 1.8 rebounds per game a year ago.
Other veterans back for Ar-We-Va are senior forward Maris Cameron, junior forward Sophie Jackson, sophomore guard Jamie Hausman and sophomore guard Timberlen Koch.
"Shooting is one of concerns. We were statistically a poor shooting team last year. I believe we have better shooters than the numbers showed," Smith said.
"Losing our point guard and facilitator Leslie Luft to an injury pushed a lot of girls into new roles quickly which affected that," Smith remarked.
Luft suffered a torn ACL early in the second half of the season a year ago.
Smith feels that the RVC will be strong from top to bottom.
"The conference will be tough. There are a lot of well-coached teams that have improved the last couple of seasons," Smith said.
"I think night-in and night-out, we will have to play at our highest level to have any chance at success," noted Smith, who said that Boyer Valley, CAM and Exira/Elk Horn-Kimballton are expected to be at the top of the conference.
1 - vs. Paton-Churdan; 4 - at Boyer Valley; 8 - vs. West Harrison; 11 - vs. CAM; 15 - at Coon Rapids-Bayard; 17 - at Westwood Sloan; 18 - vs. Glidden-Ralston; 22 - at Exira/Elk Horn-Kimballton
4 - at Storm Lake St. Mary's; 5 - vs. Woodbine; 7 - vs. Audubon; 12 - at Paton-Churdan; 15 - vs. Boyer Valley; 19 - at West Harrison; 22 - at CAM; 25 - vs. Ridge View; 26 - vs. Coon Rapids-Bayard; 29 - at Glidden-Ralston