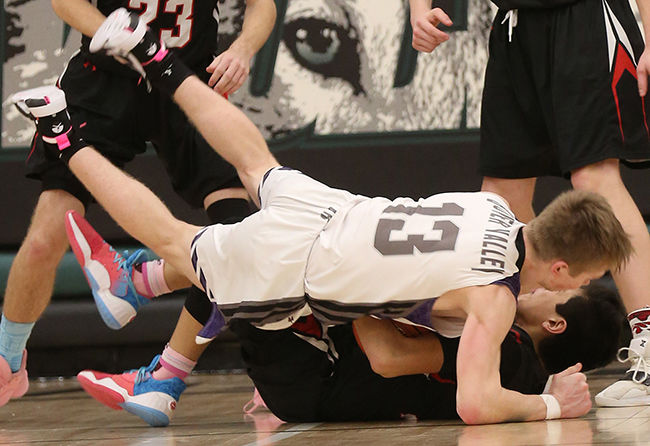 Shane Reineke's Boyer Valley squad landed three boys in double figures on Thursday night, as the Bulldogs began their postseason run with a 61-26 victory over Ar-We-Va in a Class 1A district quarterfinal basketball game at Manning.
In beating Ar-We-Va for the third time this season, BV picked up its 20th victory of the year versus only two losses, as the Bulldogs will now take on Woodbine (12-10) in a District 15 semifinal game tonight (Tuesday) at Council Bluffs.
Woodbine advanced to play BV after upsetting Logan-Magnolia (52-49) in a district quarterfinal game on Thursday night at Council Bluffs.
BV won both regular season matchups with Woodbine, winning 42-36 on December 17 at Woodbine and 56-33 on Jan. 28 at Dunlap.
Ar-We-Va, which beat Heartland Christian (53-32) in its first postseason game last Monday night at Westside, saw its season end at 6-17 overall after Thursday's 35-point loss to BV.
The BV boys took control against Ar-We-Va midway through the first quarter, as the Bulldogs went on a 19-0 run, turning a 10-6 lead with three minutes left into a 29-6 advantage with four minutes left in the second period.
BV led 35-13 at halftime.
Ar-We-Va then went four-plus minutes without a point in the third, as the
Rockets trailed 45-21 going into the final eight minutes of play.
Leading 50-23 with six minutes remaining, BV then outscored Ar-We-Va 11-3 the rest of the way.
Jaidan Ten Eyck netted 10 first-half points and a team-high 16 for the game to go with four assists and four steals.
Dylan Berens tossed in 15 points with six boards, two assists and one steal.
Gavin Reineke added 11 points, four boards, five steals and three assists.
Lucas Berens chipped in with nine points, seven boards, two assists, one steal and one shot block.
Kyle Hast wound up with five points, six boards and three assists as well.
Adam Puck had three points and two boards, while Connor Kenkel finished with two points for the winners.
"We knew Ar-We-Va was going to bring their 'A' game for us. We knew we had to slow down the Ragaller (Will) kid and I was a little concerned about their high post against our zone," commented BV head coach Reineke.
"Offensively, we knew that we had to take the ball at them. In this type of game, you don't want the other team to believe or let them hang around and gain confidence, so I thought we did a pretty good job of getting out strong and taking control of the game midway through the first quarter," he added.
"After a not-so-good third quarter, we tried some different things offensively in the fourth quarter to try and take time off the clock, but still look to score."
"Defensively, I was pleased as we limited Ar-We-Va to only 26 points, and I'll definitely take that. You know, I thought they outhustled and outscrapped us at times tonight and that's something we're prone to have happen to us and that put us back on our heels a little bit, so we need to fix that," Reineke remarked.
For Ar-We-Va, Ragaller led the Rockets with 12 points and six boards.
Brady Miller, the team's lone senior, added three points and three boards in his final game.
Conner Kirsch also had three points, as did Kyelar Cleveland. Braeden Kirsch had three points and two assists.
Cooper Kock finished with two points, two boards and two assists before fouling out late in the contest. Damon Ehlers wound up with two points and three boards.
Ar-We-Va coach Matt Wilken commented after the game that he knew it was going to be tough matchup with the Bulldogs.
"They won 20 games for a reason. They're a pretty good basketball team. We tried to be patient and not allow them too many easy baskets, but there just wasn't a lot we could do once they got rolling offensively," Wilken said.
"When it was 10-6 early on, I thought that we just needed to hang on for as long as we could, but once the floodgates opened, like I said, we just didn't have a whole lot to counter against a very good and more experienced team," he added.
"Even though we struggled, I thought the guys competed. It definitely was a learning curve for a lot of our guys. I like how we didn't quit. Yeah, we were hoping to make it a game after halftime and put a little pressure on them, but it just didn't happen tonight."
Ar-We-Va's youth was showcased this past season, as the Rockets' starting lineup on Thursday night included Miller and four sophomores.
Among Ar-We-Va's reserves are two juniors, four sophomores and two freshmen.
"They guys improved a ton this season. The kids listened and tried. They have the capability of being a good team if they all stick together. They tried hard. Even though it may have looked rough at times, they really tried hard and that's what I liked about this group of guys," Wilken said.
The Rocket coach had nothing but praise for his lone senior in Miller.
"Just look how much he has progressed from his freshman year to his senior year. He put in a lot of hard work and it was all on his own, so that's something the younger kids have to look at and try and do the same," Wilken said.