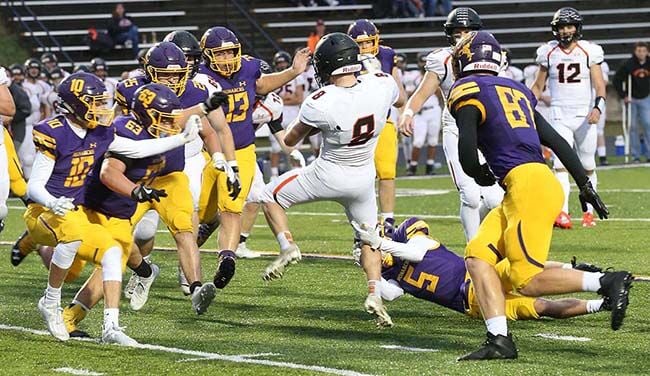 Carroll High posted a 35-0 shutout in the second half on Friday night, as the Tigers spoiled Denison-Schleswig's initial home game of the 2020 football season with a 42-7 triumph over the Monarchs at Denison.
It was the Class 3A, District 9 opener for both D-S and Carroll.
With the win, Carroll moved to 2-1 overall on the year. For D-S, the loss dropped Chad Van Kley's Monarch squad to 0-3 overall heading into this Friday's District 9 matchup at 3-0 and 3A third-ranked Harlan.
After forcing D-S to turn the ball over on downs on the Monarchs' first offensive possession, Carroll responded with a 30-yard touchdown run by Ryan Johnston on its first offensive drive to give the Tigers a 7-0 early lead.
That was the score after one quarter.
D-S scored its only touchdown of the night defensively, as Trey Brotherton had a bobbled pitch bounce right into his hands en route to racing 65 yards for a score.
Carson Seuntjens' PAT kick tied it at 7-7, which was the score at halftime.
Carroll then scored 21 points in the third quarter on TD runs of seven yards by Johnston and two scoring runs of 3 and 2 yards by Caden Kock to go up 28-7 after three quarters.
In the fourth, Johnston posted his third rushing TD of the night on a 49-yard scamper, while the Tigers also got a 50-yard punt return for a score by Zack Dirkx.
Johnston led all ballcarriers in the game with 18 carries for 180 yards with his three TD runs.
Carroll finished with 274 total yards, including 222 yards rushing.
D-S, on the other hand, wound up with 141 total yards, including 95 rushing and 46 passing.
Leo Araujo led all Monarch runners with 17 carries for 53 yards. Jaxson Hildebrand also had eight carries for 30 yards, while Nathan Gallup ran seven times for 13 yards.
D-S quarterback Carter Wessel, who seemed to have a Tiger defender in his face all night, was 6-of-12 for 46 yards in the passing department with two interceptions.
Wessel was sacked four times on the night for minus 40 yards in rushing on seven attempts.
Brotherton had two pass receptions for 20 yards to lead D-S. Matthew Weltz also had one catch for 11 yards.
"Again, a story of two halves. I thought we competed well in the first half and fought to a 7-7 tie, but then Carroll just seemed to wear us down in the second half," commented Van Kley.
"We stressed going into the game that we wanted to set the tone with our running game and keep possession of the ball with good weather conditions," he added.
Rain hampered both teams in the second quarter.
"Honestly, it just came down to effort and attention to detail. We need to find a way to compete for four quarters," Van Kley said.
"Wessel didn't have a lot of time to throw the ball and we talked about that. We have to do a better job of protecting him, but at the same time, we have to find a way to get rid of the ball faster.
"Offensively, we didn't execute the way we wanted to and that gave Carroll a lot of short fields to work with. Our defense spent a lot of time on the field and that was evident in the second half," Van Kley said.
Defensively for D-S, Gallup had five solo tackles and two assists. Hildebrand also had five solos. Edgar Guillermo finished with four solos, while Austin Wessel had three solos and two assists.
Jesse Velasquez picked off a pass, while Colin Reis and recovered a fumble for the Monarchs.
Carroll..................7 0 21 14 - 42
D-S.......................0 7 0 0 - 7
C - Ryan Johnston 30 run (Nolan Mohr kick)
D-S - Trey Brotherton 65 fumble return (Carson Seuntjens kick)
C - Johnston 7 run (Mohr kick)
C - Caden Kock 3 run (Mohr kick)
C - Kock 2 run (Mohr kick)
C - Johnston 49 run (Mohr kick)
C - Zack Dirkx 50 punt return (Elijah Lee kick)
Comp/att/int: 6-12-2 4-8-1
Punts/avg.: 7-22.0 2-40.0
Penalties-yards: 4-20 2-10
D-S Individual Statistics
Rushing: Leo Araujo 17-53; Jaxson Hildebrand 8-30; Nathan Gallup 7-13; Jordan Von Tersch 1-4; Carter Wessel 7 minus 40
Passing: Wessel 6-12, 46 yards, 2 intereptions
Receiving: Trey Brotherton 2-20; Matthew Weltz 1-11; Carson Seuntjens 1-7; Colin Reis 1-4; Aiden Schuttinga 1-4
Scoring: Brotherton 6 points; Seuntjens 1 point
Tackles: Gallup 5 UA, 2A; Hildebrand 5 UA; Edgar Guillermo 4 UA; Austin Wessel 3 UA, 2 A; Araujo 2 UA, 1 A; Schuttinga 2 UA; Joe Graeve 2 UA, 2 A; Javier Gonzales 1 UA, 1A
Interceptions: Jesse Velasquez 1
Fumble recoveries: Reis 1