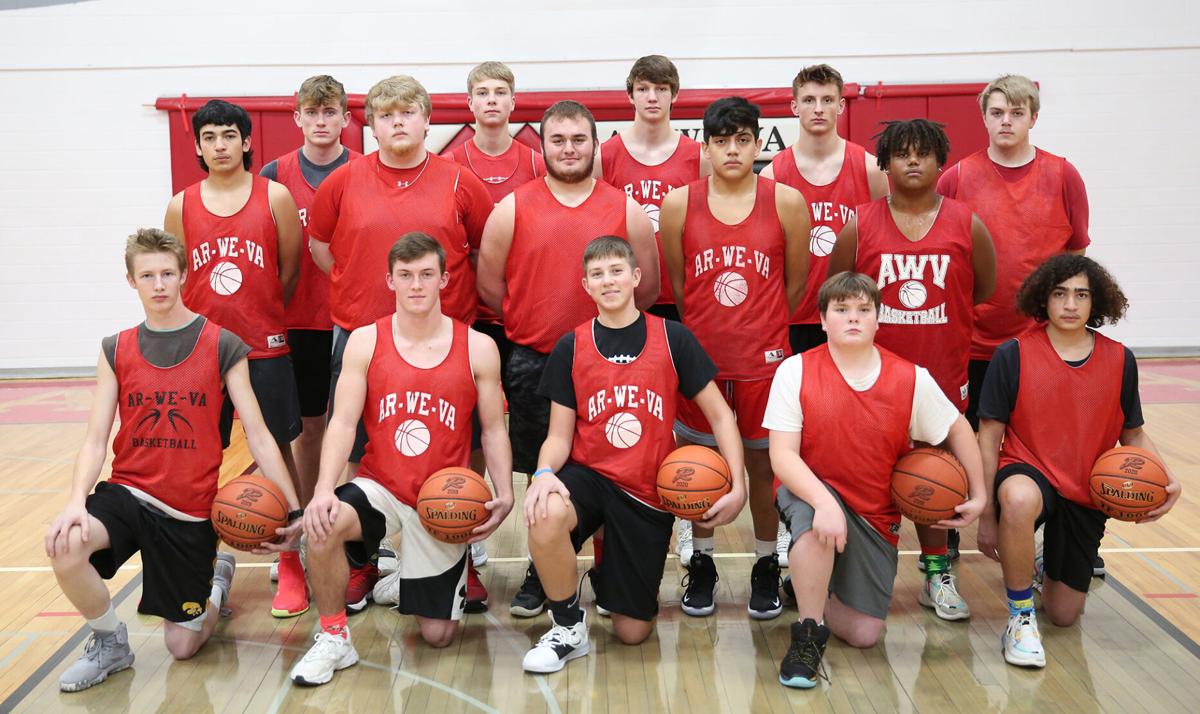 A lot of athletes earned valuable playing time on the basketball court for the Ar-We-Va boys a year ago.
Fifth-year head coach Matt Wilken is hoping to use that depth to his advantage with the 2020-21 hardwood season approaching.
Ar-We-Va went 2-14 in the Rolling Valley Conference and 6-17 overall last winter with a roster that truly saw its first taste at the varsity level.
"We should be a deeper team, which will allow us to keep guys fresh instead of out of gas at the end of games. All of the experience we gained from a lot of our first-year players last year should help this year," commented Wilken, who again will be joined on the bench by assistant coach Austin Stoelk.
"We need to improve in shooting as a team and I would like to see us take the ball to the hoop more this season," he added.
Ar-We-Va returns nearly its entire roster from a year ago, including its top five scorers and seven lettermen in all.
Returning lettermen are senior Kalon Cleveland; juniors Will Ragaller, Cooper Kock, Damon Ehlers and Braeden Kirsch; and sophomores Andres Cruz and Kyelar Cleveland.
Ragaller averaged 15.6 points per game last winter to lead all Ar-We-Va scorers. He also pulled down 6.4 rebounds per game, while leading the Rockets with 34 three-point baskets, 68 assists and 52 steals.
For his effort, Ragaller was recognized on the RVC second team.
Kock averaged 7.0 points and a team-high 9.5 boards per game a year ago.
He also collected 33 steals and had a team-high 13 shot blocks en route to earning honorable mention all-league recognition.
Cruz averaged 6.5 points and 3.2 rebounds per game last winter to go with 36 assists and 36 steals.
Braeden Kirsch averaged 4.1 points and 3.4 boards per contest a year ago. He was second on the team with 23 three-point baskets to his credit.
Kyelar Cleveland averaged 3.7 points and 3.0 rebounds per game last winter. Kalon Cleveland netted 2.8 points and grabbed 1.6 boards per game.
Ehlers averaged 1.5 points and 1.7 boards per game for the Rockets.
Filling out Ar-We-Va's roster are seniors Jeffrey Molina and Zach Schimmer; juniors Conner Kirsch and Jokow Tuguar; sophomore
Tristan Beam; and freshmen Emmet Neumann, Harley Molina and Trenton Allen.
When looking at the RVC race this season, Wilken pointed to Boyer Valley and Woodbine as two of the top teams.
"Both Boyer Valley and Woodbine should be pretty good again. West Harrison, CAM and Coon Rapids-Bayard won't be far behind if at all," noted Wilken, whose squad will open its regular season on Tuesday, December 1, against Paton-Churdan at Westside.
1 - vs. Paton-Churdan; 4 - at Boyer Valley; 8 - vs. West Harrison; 11 - vs. CAM; 15 - at Coon Rapids-Bayard; 17 - at Westwood Sloan; 18 - vs. Glidden-Ralston; 22 - at Exira/Elk Horn-Kimballton
4 - at Storm Lake St. Mary's; 5 - vs. Woodbine; 7 - vs. Audubon; 12 - at Paton-Churdan; 15 - vs. Boyer Valley; 19 - at West Harrison; 22 - at CAM; 25 - vs. Ridge View; 26 - vs. Coon Rapids-Bayard; 29 - at Glidden-Ralston