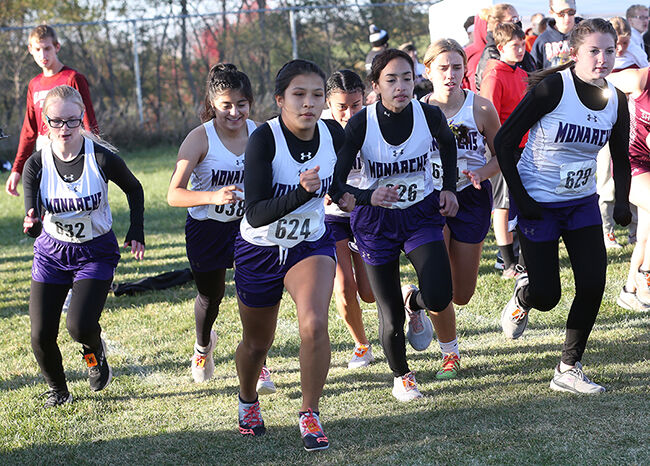 The Denison-Schleswig boys ran eighth and girls ninth in their respective divisions at the Hawkeye 10 Conference Cross Country Meet on Thursday at Denison.
The competition took place at the Northside Recreation Complex located just east of Denison High School.
The D-S boys netted 192 team points on the day.
Glenwood captured the boys' team championship with 63 points. Lewis Central was second to the Rams with 70 points.
On the girls' side, D-S finished with 233 team points.
Glenwood also won the girls' conference team title with 42 points. Harlan was runnerup with 57 points.
"The Hawkeye 10 has some of the best runners in the state. This was an extremely difficult meet," commented Denison-Schleswig coach Nick Bradley.
"I was so proud of the runners. Almost everyone of them ran or minute or more faster than we did on this same course two weeks ago."
"It was awesome to see the kids really push today during the meet," Bradley remarked.
Leading the way for D-S on Thursday was Leo Flores, who placed 22nd overall out of 74 runners in a time of 18 minutes, 12.36 seconds.
Atlantic senior Craig Alan Becker claimed the H-10 individual title in 16:25.18.
Ricky Ledesma ran 33rd for D-S in 18:49.14.
Ethan Perrien crossed in 43rd in 19:13.72.
He was followed by Adolfo Vargas (45th, 19:15.50), Esteban Castellanos (19:49.67), Brian Ibarra (62nd, 20:21.87) and Bradyn Schillerberg (74th, 22:25.82).
Senior Bella Araujo led the attack for the D-S girls on Thursday, as she placed 41st overall out of 70 athletes in 23:38.36.
Taking home the H-10 individual title was Creston senior Braelyn Baker in 19:51.75.
Elizabeth Cary finished 48th for the Monarchs in 24:30.75.
She was followed by Olivia Gunderson (53rd, 24:56.64), Juliana Barajas (56th, 25:02.65), Alison Fink (67th, 27:32.50), Kaily Kano (68th, 27:39.65) and Evelyn Lopez (70th, 30:42.37).
24. Chris Campos, 20:31.18; 46. Alex Garcia, 21:30.96; 49. Jason Castillo, 21:46.40; 52. Reed Bowker, 21:57.81; 63. Kaiden Krajicek, 22:40.50; 77. Chris Ochoa, 23:59.11; 87. Carlos Alvarenga, 25:16.17; 90. Tanner Gotto, 26:57.19 (92 runners)
1. Lola Mendlik, 13:25.36; 9. Charlotte Schrum, 14:32.00; 27. Emily Bahnsen, 15:33.31; 67. Janet Castillo, 18:58.19 (86 runners)
8. Yohannes Brihane, 14:01.36; 9. Ethan Olsen, 14:08.31 (73 runners)
1. Glenwood 63; 2. Lewis Central 70; 3. Atlantic 77; 4. Harlan 122; 5. Kuemper Catholic 137; 6. Clarinda 147; 7. C.B. St. Albert 161; 8. Denison-Schleswig 192; 9. Red Oak 196; 10. Shenandoah 238
1. Glenwood 42; 2. Harlan 57; 3. Atlantic 75; 4. Creston 114; 5. Lewis Central 120; 6. Shenandoah 159; 7. Red Oak 185; 8. Kuemper Catholic 221; 9. Denison-Schleswig 233
1. Glenwood 24; 2. Lewis Central 49; 3. Atlantic 60; 4. Clarinda 137; 5. Kuemper Catholic 141; 6. Harlan 163; 7. Denison-Schleswig 174
1. Glenwood 24; 2. Harlan 32; 3. Lewis Central 97; 4. Atlantic 100; 5. Red Oak 145