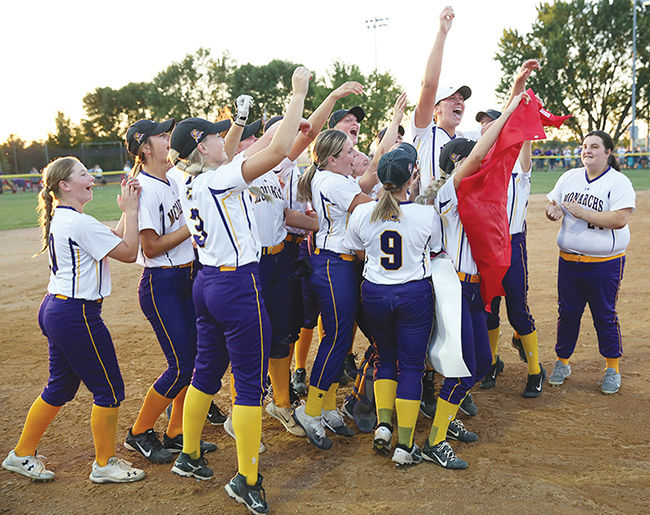 Denison-Schleswig was determined not to let it happen again.
After falling just one game short of reaching the state softball tournament in 2017 and 2018, the Monarchs were finally able to punch their ticket to Fort Dodge with a 3-0 victory over Sioux City Heelan in the Class 4A, Region 8 championship game on Tuesday night at Denison.
D-S, winners of four in a row and 13 of 15, improved to 26-13 overall and will take on top-ranked and No. 1 seed Carlisle (35-3) in a state quarterfinal game on Tuesday at 1 p.m. at the Harlan Rogers Sports Complex at Fort Dodge.
Carlisle, which will be making its 16th trip to the state tournament and sixth in Class 4A, heads to Fort Dodge riding a 12-game win streak, including an 8-4 triumph over Boone in the Region 2 title game on Tuesday night at Carlisle.
In contrast, D-S is making only its second trip in school history to the state tournament and first since the 2013 summer campaign.
Despite both teams having plenty of scoring opportunities early on in Tuesday's regional final at Denison, no runs were scored until the Monarchs pushed two across in the bottom of the fifth.
With Alex Mohr on third, teammate Sarah Heilesen blooped a single to short left field scoring Mohr with the game's initial run. Heilesen eventually came around to score to make it 2-0.
D-S then made it 3-0 in the sixth, as Kailey Pick singled up the middle and eventually came around to score on a RBI-single by Mohr, who went 2-for-4 overall with a double and one stolen base.
Heilesen also went 2-for-2 with one RBI and one run. Tatum Fink was 2-for-3 and Pick finished 1-for-2 with one run.
Heilesen went the distance in the circle for the win, but it wasn't easy, as the senior hurler escaped danger in several innings.
Heelan stranded a total of 10 runners on the bases, including seven in the first three innings combined. The Crusaders also loaded the bases in the seventh before Heilesen was able to strike out Heelan's Ellie Gengler to end the game.
Heilesen, who struck out eight, walked six and hit three batters on the night, allowed the only Crusader hit of the game in the seventh on a single up the middle by Kjana Fjeldheim with no outs at the time.
Heelan was 0-for-8 with runners in scoring position in the game.
The Crusaders finished 16-14 overall with the loss.
Tuesday's was Kevin Dau's 267th career win in this his 11th year as head coach of the D-S girls.
"I'm just so happy for the girls and for the community. We've been in this position three years in a row, so it was great to see us finally get over the hump," commented Dau, whose two previous teams lost regional finals to Ballard, Huxley (7-0) and Sergeant Bluff-Luton (4-3).
The Monarchs knocked out SB-L (6-3) in a regional semifinal game last Saturday night at Sergeant Bluff.
"It was a grind most of the way through. We ended up getting a big hit by Heilesen in the fifth to score our first run. We got another after a throwing error to make it 2-0 and then Mohr came through with a big two-out single to score Pick in the sixth for another big insurance run," he added.
"Again, I'm just so excited for the kids. They've worked hard to get to this spot. This is my second trip to the state tournament and only the second for the school, so it's just an unbelievable feeling right now."
"It got a little shaky at times. Heilesen got herself in trouble with a few too many walks, but she always found a way to get out of it, so I guess that's all that matters. It ended in a 3-0 win for us, so I'm just so proud of the girls," noted Dau, who has never had a losing season as the team's head coach.
After going 16-16 in year one in 2009, Dau has led the Monarchs to 10 consecutive 20-plus win seasons with this year's team recording his sixth season of 25-plus victories.
"We know we have a team that can win a lot of games. I told the girls that they were going to be a tough out if we can put the three phases of the game together," Dau said.
"We've been brilliant down the stretch. The kids have been putting the ball in play. Just a total team effort from one to nine and we got the job done tonight," the Monarch boss remarked.
Dau said that playing in front of a large home crowd was tremendous for his squad.
"Our fan support is unbelievable. Not only for softball, though. Our fans love to support the kids and they showed that again tonight. We had fans all around the softball field. Heelan had one small section of the bleachers," Dau said.
Dau had a feeling his team would draw Carlisle.
"We're the only unranked team among the 4A qualifiers. It's the state tournament. Why not go and play the best and see where the chips fall. We have nothing to lose," Dau said.
"I do know we're going to have fun. We deserve to be there and I know we're going to have a tremendous fan following," the Monarch boss added.