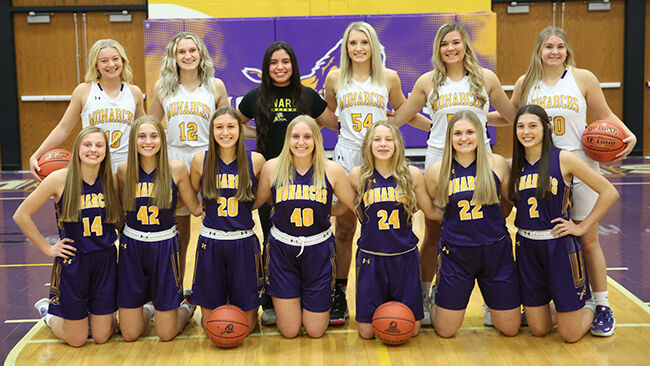 The Denison-Schleswig girls won 18 of 23 games on the basketball court a year ago and got to within one game of the state tournament in Class 4A.
Graduation hit hard, though, as the Monarchs lost a talented senior class of six, including two all-state performers in Paige Andersen and Hannah Neemann, who combined for 758 points and 379 rebounds last winter.
In fact, the six graduates accounted for 1,040 of the team's 1,229 offensive points a year ago.
"Obviously, we graduated a really strong senior class. Our offense was geared toward their strengths," commented veteran head coach Adam Mich, who will begin his 14th season at the helm with an overall record of 177-119.
"All of our players are going to have to develop into new roles. We should be a deeper team this season, as all 12 girls suiting varsity are going to have opportunities to compete for playing time all season," he added.
"We are going to go with the hot hand on each night and that could mean a variety of kids playing each night," remarked Mich, who will be joined on the bench by assistant coaches Adam Burns (ninth year) and Nate Pardun (second year).
Mich will return four letterwinners from a year ago with one full-time starter back on the court in 5-6 senior guard Cambri Brodersen.
Other returning veterans for the Monarchs are 5-6 senior guard Sophie Sonnichsen, 5-9 senior forward Kira Langenfeld and 5-8 senior forward Hannah Slater.
Brodersen averaged 3.9 points and 2.9 rebounds per game last winter.
She leads all returning players in made three-pointers (13), assists (41) and steals (21).
Sonnichsen averaged 3.7 points and 2.7 boards per contest a year ago.
She sank seven three-point baskets last season and finished with 39 assists and 18 steals.
Langenfeld averaged 1.9 points and 2.0 boards per game a year ago.
Slater saw limited time at the varsity level last winter, netting 12 points and pulling down 12 boards in 18 games for the Monarchs.
Filling out the varsity roster for D-S are 5-5 senior guard Autumn Nemitz, 5-9 junior Kaitlyn Bruhn, 5-9 junior forward Lauren Bowker, 5-7 junior guard Olivia Meyer, 5-6 sophomore guard Claire Leinen, 5-7 sophomore guard Kiana Schulz, 5-8 sophomore guard/forward Whitlee Auen and 5-9 sophomore forward Addison Inman.
Due to the lack of height, Mich said he will have to change things up this season.
"We will have to change our style of play that we have had over the past decade. We will look to be more aggressive from the perimeter than we have in the past," Mich said.
"Our kids are getting better each day and doing a good job of being coachable. We just need to continue to buy in to what the coaches have put in place and trust the process," noted Mich, whose team will open its regular season on Tuesday, November 23, at Atlantic.
When looking at the Hawkeye 10 Conference race this season, Mich said that Glenwood will be the favorite and more than likely will start the season as the top-ranked team in Class 4A.
Glenwood advanced all the way to the 4A state championship game last winter and settled for second place after a 47-45 loss to Ballard of Huxley.
"After Glenwood, I think most of the teams are pretty comparable, as a lot of the teams lost a good number of girls to graduation. Teams will look different this season," Mich said.
23 - at Atlantic, JV/V, 6 p.m.
30 - at Maple Valley/A-O/CO-U, V G-B, 6 p.m.
2 - vs. Storm Lake, V, 6 p.m.
4 - at Kuemper Catholic, JV/V, 11:30 a.m.
7 - vs. Glenwood JV/V, 4:30 p.m.
10 - at Harlan, JV/V, 4:30 p.m.
14 - at O-A/BC-IG at Ida Grove, JV/V, 4 p.m.
17 - vs. Clarinda, JV/V, 4:30 p.m.
21 - at Red Oak, JV/V, 4:30 p.m.
4 - vs. Kuemper Catholic, V/JV, 6 p.m.
7 - vs. Creston, V, 6 p.m.
13 - at Sergeant Bluff-Luton, JV/V, 4 p.m.
14 - at Boone, JV/V, 4:30 p.m.